When you mention the words "cozy mystery" these days, what probably comes to mind most often is "female sleuth." That's because 99% of cozy mysteries these days do have female main characters, usually amateurs, who do the crime-solving. Two writers who have bucked that trend recently are Jeffrey Cohen, with his Elliot Freed series, and Miranda James (aka me), with the "Cat in the Stacks" series featuring not one, but two, males as lead characters: Charlie Harris and his Maine coon cat, Diesel.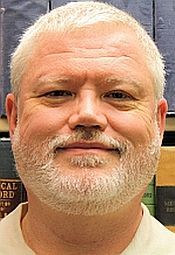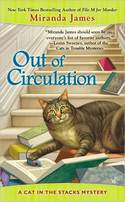 Charlie Harris is a widower with two grown children, and in the first book, MURDER PAST DUE, he has moved back to his hometown, Athena, Mississippi, after the death of his wife. About a year after the move he found a kitten in the parking lot at the public library. He named the kitten Diesel for his rumbling purr and discovered that Diesel was a Maine coon. The average male Maine coon often weighs about twenty-five pounds, but Diesel (based on an actual Maine coon I once met) weighs closer to forty pounds in OUT OF CIRCULATION.
Charlie is also a librarian, and when that word is mentioned, most people probably again think "female," since the profession seems to be dominated by women. But there are male librarians, and I thought it would be fun not only to have a librarian as the sleuth in a series, but also to make that librarian a man. Why should characters like Sarah Booth Delaney, Aurora Teagarden, or Annie Darling have all the fun?
The marketing departments at most major publishers seem to think that women readers – whom they identify as the chief consumers of cozies – want to read only cozies by women authors featuring women characters.
I'm happy to say that Charlie, Diesel, and I have proved them wrong. Cozy readers responded by putting the first book in the series, MURDER PAST DUE, on the extended New York Times mass market paperback bestseller list for four weeks in 2010. The most recent book, OUT OF CIRCULATION, just spent three weeks on the print list (aka the top twenty, the ones they print in the Book Review). Several other cozies made the list at the same time, so it looks like readers are making their wishes known.
Right now I'm busy working on the fifth book, THE SILENCE OF THE LIBRARY, and having great fun. This book will be out in February 2014. Charlie and Diesel send their thanks to all the readers who embraced them so warmly. (And so do I, of course!)
Two commenters will each win a copy of MURDER PAST DUE
To comment on Miranda James's blog please click here.