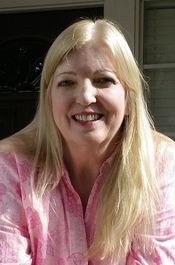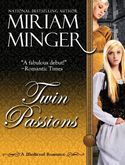 "Miriam, you write such unusual historical romances.  Medieval Russia, medieval Ireland, Vienna, Austria, pre-American Revolution, and even a Viking romance featuring twin sisters!  Where do you get your ideas?"
I'm sure every romance author has been asked where she gets the ideas for her books, but the "unusual" aspect of that question surprised me.  I don't recall that I set out to write unusual historical romances as a goal when I began my writing career.  I believe the inspiration for my stories came simply from life's events, a romantic spirit, and probably too much imagination for my own good!
My first historical romance TWIN PASSIONS was a tribute to my Norwegian grandmother and my fascination with Norway and its history.  Nana and I visited Norway for six weeks one summer when I was an impressionable teenager to reconnect with family, and I've considered that stunningly beautiful country as my second homeland ever since.  I even developed a major crush on a Norwegian sailor during that trip so I guess once a romantic, always a romantic.
At every turn as we travelled across the country, I envisioned Viking dragon ships cutting across the water of those deep mysterious fjords.  On every imagined deck I could see strapping blond Vikings manning the oars.  The magnificent beauty of the land with its snowcapped mountains, lush green valleys, and thunderous waterfalls enchanted me.  I'm not surprised at all after that life-changing trip that my first historical romance would be a Viking story, but I also knew it had to be different and special.
So what did I do?  Instead of one romance I packed two romances into an adventure-filled novel featuring twin sisters, Gwendolyn and Anora.  Perhaps this one twist made TWIN PASSIONS unusual from the start.  As the story opens in Saxon England, Anora is happily preparing for her wedding to her fiancé Wulfgar.  But fate soon intervenes and Anora and Gwendolyn find themselves kidnapped by Vikings and bound for Norway.  And here's another plot twist that sets this story apart and makes it unusual.  Tomboyish Gwendolyn with her short hair and male garb is mistaken by their captors for a young man—a fortunate oversight that she uses to her advantage as she vows to her sister that she will somehow find a way for them to return home and Anora to her beloved Wulfgar.
I had so much fun writing TWIN PASSIONS with its twists and turns, high emotion, and yes, incredible passion… just as I had fun creating my nine other unusual and award-winning historical romances.  Have you ever read a Viking romance set in medieval Russia?  THE PAGAN'S PRIZE–winner of a Best Medieval of the Year Award from Romantic Times–is one of my personal favorites.  Have you seen many stories set in Tidewater Virginia some twenty years before the American Revolution?  DEFIANT IMPOSTOR might just be your cup of tea with an amazing hero and heroine who came into the world with nothing and had to fight for everything they had…including love.
Or what about a pair of stories set in medieval Ireland, the O'Byrne Family Series?  In WILD ANGEL, Triona O'Toole wields a bow as well as any man and defies her handsome and exasperated guardian, Ronan "Black" O'Byrne, at every turn, while in WILD ROSES, Ronan's little sister Maire finds love with one of his sworn enemies.  I hope you enjoy reading all of my historical romances as much as I enjoyed writing them for you.  I also hope you take a moment to visit my website and Facebook page for updates on freebies, contests, and other fun news about my ebooks and those of my author friends.  Much love to you all!
To comment on Miriam Minger's blog please click here.