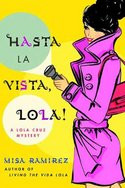 I'm so glad to be here at Fresh Fiction, and I'm geared up to celebrate the release of Hasta la Vista, Lola, the second book in my Lola Cruz Mystery Series. The release date is February 2nd, and the book is getting tons of buzz!
I thought I'd share a story today about one of the questions I get asked most (and sometimes not asked verbally, but with raised eyebrows) as a writer of a Latina mystery series. Bet you can't guess what the question is. I'll give you a hint. I'm not Latina. In fact, I say in my bio that I'm proud to be Latina-by-marriage.
So, the question is… drum roll…
"Why do you write a Latina character, and how did you manage to make her so authentic?"
To read more of HOW I LEARNED ABOUT MY CHARACTER and to comment for a chance to win please click here.