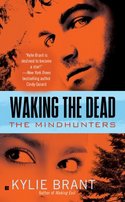 The Mindhunters #3
November 2009
On Sale: November 3, 2009
Featuring: Caitlin Fleming; Zach Sharper
304 pages
ISBN: 0425231143
EAN: 9780425231142
Paperback
$7.99
Romance Suspense
Former forensic anthropologist Caitlin Fleming knows bones. So the investigator is the first one called when seven sets of skeletal remains are found dumped in a makeshift graveyard in the Oregon wilderness. Each skeleton bears the same distinctive marks. And each is minus a skull.
Cait needs ourdoors guide Zach Sharper for one reason only— to help her find her way through the Willamette Forest as she pieces together clues. Despite the attraction that burns between them, nothing will be allowed to shake her focus. Until the killer closes in to terminate the investigation…and the ones on the verge of unmasking him…

Get ready for lots of twists and turns with an abundance of suspense in this thrilling romance.
Excerpt
Chapter One
Seven stainless steel gurneys were lined up in the morgue, each occupied by a partially assembled skeleton and a large garbage bag. The bones gleamed under the florescent lights. An eighth gurney was heaped with the stray bones that had been found lying separately. Caitlin Fleming's first thought was that the extra bones looked forlorn. Deprived of their dignity, until they could be rejoined to form the remnant of the person they'd once belonged to.
Her second thought was that without the skulls, the chances of identifying those persons decreased dramatically.
"What do you think?" Sheriff Marin Andrews demanded. Her booted feet echoed heavily as she walked from one gurney to the next. "The bones were pretty much loose in the bags, but the medical examiner made an attempt to re-assemble them. We brought out the bones Read More… Previous Picks