I sometimes jest that if ever I get arrested I'm sure to be thought a professional criminal because I have so many aliases: Mary P. Kuhfeld, Mary Monica Pulver, Monica Ferris, Margaret Frazer, Margaret Shaftesbury. I try always to carry some of my bookmarks with me because they list my various names and the names of the books I've written under those pseudonyms.
Why do authors sometimes have more than one name? Usually it's because they are writing more than one type of book. I have written police procedurals, medieval mysteries and needlework mysteries. It's unkind to fool a fan of my sweet needlework cozies into buying something a little harsher set in fifteenth century England. Hence, Monica Ferris and Margaret Frazer.
So why do I write different kinds of stories? I suppose it's like not always eating the same thing for dinner. I like chicken, but sometimes I want ham. Or perhaps it's because I've come across a big chunk of information that gives me a gangbuster idea for a story, but it's well outside the usual vein I've been mining. Or sometimes the vein is exhausted and I'm digging for something new.
One way I keep my needlework mysteries fresh is by exploring something different in each story. I try to find a new angle on needlework – which is itself an enormous area: counted cross stitch, needlepoint, crewel, bobbin lace, knitting, crochet, etc., etc. But I also try to find something different as a background: Restoring a historic boat, caring for Alzheimer patients, running craft fairs, finding treasures in a hoarder's house, meeting people who collect and drive one-hundred-year-old cars, discovering a friend practices Wicca – and it's in these niches I'll find a motive for murder. Murder is the one silver thread that winds and twists its way through all these stories. A police detective from Saint Paul once told me I have a criminal mind, because no matter where I go or what I do, I look for a way to put a murder into it. He's right, I'm a habitual criminal. Fortunately, it's only on paper. I'm sure that if I tried to commit an actual crime I'd be caught at once!
The main reason I am sure is that I'm really bad at solving mysteries. I think in all my life I knew in advance who dunnit in exactly one Agatha Christie novel – and she was a great fair player! She dropped clues all through her stories; on reading them a second time I was embarrassed to see how I read right past them. I don't go to murder games or mystery dinners anymore because I'm hopeless at reading the clues. People think that because I write them, I must be good at solving them and are incredulous at my inability to play the clever sleuth. (Actually, my husband and I were specially invited to be the sleuths at one murder game and we decided not to play amateur sleuth but to go at it like a police investigation. We ignored all the fun clues and motives and misdirection pushed at us and, using a wonderful book called THE GENTLE ART OF INTERVIEWING AND INTERROGATION, focused on suspects' alibis, and broke that case wide open!)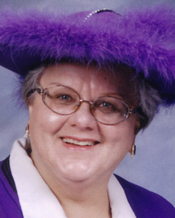 Mary Monica Pulver (her maiden name) is an incidental Hoosier — Terre Haute, Indiana, had the hospital closest to her parents' home in Marshall, Illinois. She spent the later part of her childhood and early adult life in Wisconsin, graduating from high school in Milwaukee. She was a journalist in the U.S. Navy for six and a half years (two in London), and later attended the University of Wisconsin at Madison. She is married to a museum curator.
Mary Monica sold her first short story, "Pass the Word," to Alfred Hitchcock's Mystery Magazine, in 1983, and has since sold more than two dozen short stories to anthologies and magazines, including some in Germany, England, Italy and France. She has appeared in such anthologies as The Mammoth Book of Historical Detectives, The Mammoth Book of Historical Whodunnits, The Mammoth Book of Historical Detectives, Shakespearean Mysteries, Royal Whodunnits, Unholy Orders, Murder Most Crafty, and Silence of the Loons.
Her first mystery novel, Murder at the War, appeared from St. Martin's Press in 1987 and was nominated for an Anthony as Best First Novel. The Unforgiving Minutes and Ashes to Ashes followed in 1988; but Original Sin was sold to Walker, who also presented the fifth book, Show Stopper, in May of 1992. Berkley Diamond brought these mysteries out in paperback. They feature detective Peter Brichter – a cop one reviewer said was "a hardboiled sleuth who's somehow landed in a cozy mystery".
Berkley published six medieval mysteries Mary Monica wrote in collaboration with Gail Frazer under the pseudonym Margaret Frazer: The Novice's Tale, The Servant's Tale (nominated for an Edgar as Best Original Paperback of 1993), The Outlaw's Tale, The Bishop's Tale, The Boy's Tale, and The Murderer's Tale. The detective in the mysteries is a nun, Dame Frevisse, a niece by marriage of Thomas Chaucer, the legendary Geoffrey's son. The stories take place in England in the 1430s. Gail continued the series alone.
In 1998 Mary Monica began writing a new series for Berkley featuring amateur needleworking sleuth Betsy Devonshire. Set in Excelsior, Minnesota, Crewel World came out in March and was followed by Framed in Lace, A Stitch in Time, Unraveled Sleeve, A Murderous Yarn, Hanging by A Thread, Cutwork, Crewel Yule, Embroidered Truths, Sins and Needles, Knitting Bones, Thai Die, Blackwork, Buttons and Bones, Threadbare, and And Then You Dye. The first six were paperback originals, then they became hardcovers followed by paperback editions. These light and traditional novels are written under the pseudonym Monica Ferris, and all have gone to multiple printings – the first one is in its eighteenth printing!
Mary Monica has taught courses on mystery writing to children at North Hennepin Community College, gifted children in District #287, and adults at one-evening seminars at Hennepin and Ramsey County libraries. She does lectures and signings, and has appeared on panels at mystery and science fiction conventions, including Bouchercon, Minicon, Diversicon, Magna Cum Murder, and Malice Domestic. She has spoken to stitchery guilds on local, state, and national levels. She has won a place on national and local best-seller lists, including USA Today and the independent mystery bookstore compilation. She is a member of Sisters in Crime (a national organization that promotes women who write mystery fiction), remains a paid speaker on the life of a mystery author, and is a volunteer for Wildlife Rescue and Rehabilitation, and in area public schools.
Mary Monica studies the medieval period as an amateur, and does needlework. She is a Lay Eucharistic Visitor and Lector at the Episcopal Church of St. George in Minneapolis. She collects and is often seen in exuberant hats.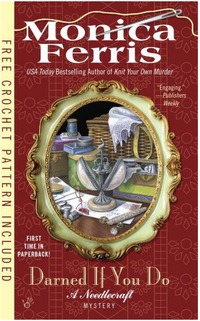 The USA Today bestselling Needlecraft Mysteries have shown that when it comes to murder, Betsy Devonshire, owner of the Crewel World needlework shop, doesn't mess around. But when a local hoarder is murdered, she'll need all her wits to dig a new friend out of a heap of trouble
After a tree falls on Tom Riordan's house, landing him in the hospital, the police discover a mountain of junk piled high in his home. Locals in Excelsior, Minnesota—including Betsy and her Crewel World Monday Bunch—offer to help with the cleanup while Tom recuperates.
But when Tom is found murdered in his hospital bed, the sole heir to his property—his cousin Valentina—becomes the number one suspect. Betsy believes there's more to the case than meets the eye, but finding clues to the killer's identity in the clutter Tom left behind will be like looking for a needle in a haystack …
FREE CROCHET PATTERN INCLUDED