My parents gave me a long brown wig for my seventh birthday. It's unclear how they knew that this would be an awesome present for a second grader, but I remember being delighted beyond my wildest dreams. One summer day, while my mom and dad were lounging out back of our house, I dressed up in my yellow dance leotard, a yellow, pink, and light blue maxi skirt, the long wig, and my mom's oversized sunglasses and then went out back to join them.
I was surprised by how hard they laughed.
Throughout my growing-up years, costumes came and went. Sometimes they were in the form of inherited clothes from a great grandparent that were inappropriate for every day but possible for Halloween (a long, full black skirt with layers of netting underneath—perfect for a witch costume, a pair of baggy men's pants from the forties—perfect for a hobo). Sometimes they were styles that went out of fashion but were relegated to the box of paint clothes (a pair of denim bell bottoms that were printed with seashells). Sometimes they were items made by my mom (a blue and white checkered dress inspired by Dorothy in The Wizard of Oz). I didn't play dress up to be someone else, I played dress up because I was figuring out who I was.
As I got older, I started to develop my own sense of style. In the eighties, that meant neon, fishnet, and a punk-meets-preppy vibe. Clothes that others would have thought of as costumey felt completely normal to me. Thrift shop purchases mixed with sweaters worn backwards, two different colored shoes, men's vintage tuxedo jackets and my mom's bowling shoes became "me." I went from being a quiet wallflower to having an identity.
Fast forward to today. Many of my outfits have names: there's the Amelia Earhart (sage green leather dress with cargo pockets), the Coco Chanel (black boatneck sweater, wide leg pants, tons of pearls and a white camellia), my Chinatown suit (ivory pants and blazer). My black crocheted poncho makes me feel like Batman and I have no less than five dresses to choose from if invited to a luau. Like Margo in A DISGUISE TO DIE FOR, to me, costumes are clothes—or should I say clothes are costumes? Either way, I love getting dressed in the morning!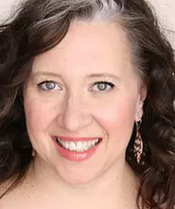 After two decades working for a top luxury retailer, Diane Vallere traded fashion accessories for accessories to murder. CRUSHED VELVET, the second book in the nationally bestselling and Lefty-Nominated Material Witness Cozy Mystery Series, comes out August 4. Diane is the current president of Sisters in Crime Los Angeles and was co-chair of the 2015 California Crime Writers Conference. She also writes the Madison Night and Style & Error Mystery Series. Diane started her own detective agency at age ten and has maintained a passion for shoes, clues, and clothes ever since.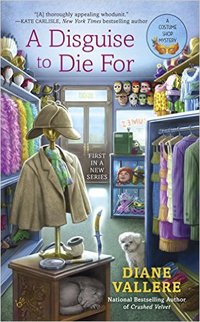 Someone is dressed to kill in the debut Costume Shop Mystery from the national bestselling author of the Material Witness mysteries.
No sooner does former magician's assistant Margo Tamblyn return home to Proper City, Nevada, to run Disguise DeLimit, her family's costume shop, than she gets her first big order. Wealthy nuisance Blitz Manners needs forty costumes for a detective-themed birthday bash. As for Blitz himself, his Sherlock Holmes is to die for—literally—when, in the middle of the festivities, Margo's friend and party planner Ebony Welles is caught brandishing a carving knife over a very dead Blitz.
For Margo, clearing Ebony's name is anything but elementary, especially after Ebony flees town. Now Margo is left to play real-life detective in a town full of masked motives, cloaked secrets, and veiled vendettas. But as she soon learns, even a killer disguise can't hide a murderer in plain sight for long.
INCLUDES RECIPES AND COSTUME IDEAS!