Ah, summer. It's a time that's ripe for romance, don't you think? I love it when weather places a central part in the story. Sounds kind of crazy but hey, if it's cold outside, don't you want to snuggle up with a big, warm man under a cozy blanket? Or stare at that gorgeous guy wearing only swim trunks as he struts around the pool on a hot summer day?
Yeah. Me too.
Currently in central California (where I live), we are in the depths of summer. We're talking it's bone melting hot. Add smoke from nearby fires and the air quality is awful. This doesn't make me feel very romantic. It just makes me wish for cooler temperatures and pumpkin spice lattes…
But I digress. What I do adore is a fun summer romance novel. There are so many out there, I can't name them all, and yeah, I've read too many to count. Jill Shalvis is my go to for a solid, sexy contemporary romance—and she uses weather in her stories almost like a secondary character. I love that!
I like to lose myself in the summery details. The characters are hanging out by the pool or the beach. Or maybe they're on a boat out on the lake. They're barbecuing hamburgers and eating potato salad and saving room for dessert because they're having homemade ice cream. The stars are bright in the sky, the breeze is warm and the green, green grass is soft…
Well, that last part is a total lie. Grass can be pretty sharp and itchy if you don't watch it.
Yet again, I digress. Back to romances.I took the summer theme a step further in my new YA novel DARING THE BAD BOY. The entire story takes place at a summer camp for kids and teens. I knew when my editor put out the submission call for summer camp-themed YA romances, that I had to write it. Sounds like fun, I told her. But hey, guess what?
I've never been to summer camp before!
My editor reassured me that I could handle it. I read a couple of cute romances featuring summer camps. I watched the movie Wet Hot American Summer (hilarious and crazy). I reached into the far depths of my brain to pull up memories of my week at ecology camp in the sixth grade…
That was the closest I ever got to going to summer camp. We spent five days and four nights at a camp near Whiskeytown Lake in Redding, California (where I grew up) in the springtime. I was with my sixth grade class along with a few others from nearby schools. Our counselors were teenagers from the local high schools, and I adored them. We went on a night hike and explored a cave while knee deep in water. We mined for gold (of course, I found nothing), we told ghost stories, we put together skits for the talent show—it was everything I could've ever wanted from camp!
My friends and I cried on the bus ride back to school where our parents were waiting to pick us up. We didn't want to go home, we wanted to stay at the magical camp where all of our dreams came true! Where we flirted with cute boys and played tricks on each other and gossiped about the weird adults who ran the place and ate awful food. It was wonderful and exciting, the complete opposite of what our lives were usually like at home.
But I never had a romance while at camp. I was barely twelve when I went in the sixth grade, and not totally interested in boys yet, so I guess that was no surprise. As I got older though, I started to wonder what might've happened if I could've gone to summer camp and had a romance with a cute boy. How much fun would that have been? Ah, teenage me would've been in swoon city.
This is the great thing about being a romance writer. Yeah, maybe I didn't get to experience that summer romance while at camp, but guess what? I could write about one, create my characters and let them have the dreamy, swoony romance that I never could. And that's exactly what I did with Annie and Jake in DARING THE BAD BOY. I hope you enjoy their sweet summer romance as much as I enjoyed writing it!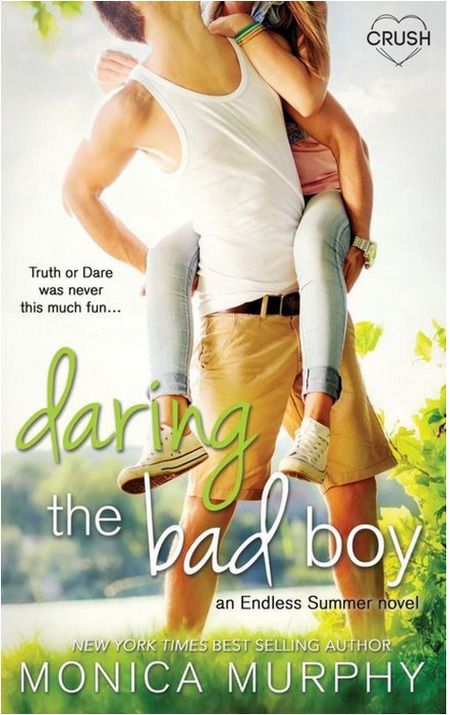 Disclaimer: This Entangled Teen Crush book contains references to drinking, sexual situations, adult language, and an intense bad boy hero who will melt your heart.
Annie McFarland is sick of being a shy nobody. A session at summer camp seems like the perfect opportunity to reinvent herself—gain some confidence, kiss a boy, be whoever she wants to be. A few days in, she's already set her sights on über-hottie Kyle. Too bad her fear of water keeps her away from the lake, where Kyle is always hanging out.
Jacob Fazio is at Camp Pine Ridge after one too many screw-ups. Junior counseling seems like punishment enough, but the rigid no-fraternizing-with-campers rules harsh his chill. When a night of Truth or Dare gets him roped into teaching Annie how to swim, she begs him to also teach her how to snag Kyle.
Late-night swim sessions turn into late-night kissing sessions…but there's more on the line than just their hearts. If they get caught, Jake's headed straight to juvie, but Annie's more than ready to dare him to reveal the truth.
New Adult | Young Adult [Entangled Crush, On Sale: August 22, 2016, Paperback / e-Book, ISBN: 9781682812716 / eISBN: 9781633757219]