There are a few things that are an absolute must in the world of cozy mysteries, but first and foremost are the animals. A quirky, troublesome pet defines the genre—at least for me it does. I look for the image on the cover, a hint of a fur baby in the title or the series, and absolutely eat up the pages where the characters spend time with their ever loyal pet(s). Whether it's a cat on the prowl, or a mischievous dog digging up trouble, the animals add a dimension to the story that you don't normally find in other genres. They define cozy and keep me coming back for more.
Watch for these new pet-tastic mysteries this month!
**Giveaway Alert!**
Click here, on my Fall Thriller Giveaway to enter for your chance to win all five of these cozies!
Until Next time, get cozy and read on!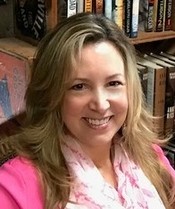 Kym Roberts is a retired detective sergeant who looks for passion, mystery and suspense in every book she reads and writes. She can be found on the web kymroberts.com, on Facebook at Kym Roberts (author) and on Twitter @kymroberts911. Look for her new romantic suspense release, Red Lace, A Hard Men of the Rockies Novella and upcoming mystery release, Fatal Fiction, A Book Barn Mystery available for pre-order now.