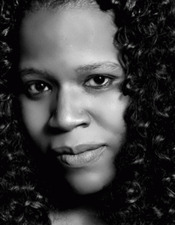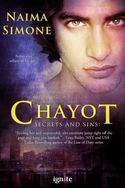 On a regular basis I commit one of the worst sins that a reader can perpetrate… I skim through a book before buying it. And not just to discover how it ends—I mean, I do that, too.  But I freely admit, I search through the pages to find out if the lovemaking between the hero and the heroine is, well…hot. It's what I write, it's what I love to read. For me, sex is important to the relationship between the hero and heroine. No closed door for me. It's a form of communication, of bonding, sometimes healing. The characters don't have to engage in acrobatics for it to be scorching—chandeliers or shower rods not necessary—but the sex does need to have at least 5 of the following 6 criteria:
Emotion
Sexy dialogue aka Dirty talk
Graphic description
At least 3 pages in length
A purpose
No euphemisms
In SECRETS AND SINS: CHAYOT, my newest release from Entangled Publishing's Ignite line, my hero and heroine, Chayot Grey and Aslyn Jericho, burn up the sheets. And the floor. And the shower tiles. It's through their lovemaking, though, that both find freedom, acceptance, redemption, and healing. Below are some of my fave love scenes from some pretty fabulous books.
SON OF THE MORNING by Linda Howard 
SON OF THE MORNING is my favorite book other than THE LION, THE WITCH, AND THE WARDROBE. When Niall and Grace first make love after literally centuries apart, it is…cataclysmic. He hunts her down after this fierce battle, his initial intent to kill her, but ends up making love to her. And it's so incredibly primal. And fierce. It's what breaks Grace's protective shields of ice that she's built around her heart to keep her from crumbling after her husband and brother's murders. Memorable. Passionate. Sexy. Heartbreaking. They all describe the love scenes between Niall and Grace.
WICKED BURN by Beth Kery 
It's not a coincidence that three of the books on this list include dirty-talking heroes. And Vic Savian is one of the best. After he comes to the rescue of Niall Chandler when an overly ardent date gets pushy, Vic demonstrates to the reserved, poised Niall what true, erotic, no-holds barred passion is like. It's not just the eroticism, dialogue, and creativity that make the sex in WICKED BURN amazing. It's also how the sex plays into this story of two wounded and betrayed people who find their way to one another through desire. It's a must-read. Sigh. And one of my favorites.
ASKING FOR TROUBLE by Tessa Bailey
Enter my second dirty-talking hero, Brent Mason. And Hayden Winstead, the woman on the receiving end, isn't a slouch either. The heat between these two is combustible. But the passion starts and continues out of the bedroom with their sarcastic and hilarious banter. It's the chemistry, battle for control, and finding acceptance with one another that gives this book a permanent place on my Love Scenes of All Time list. Oh…and did I mention the dirty talk? I'm just sayin'…
ARCHANGEL'S BLADE by Nalini Singh
Put aside the fact that Dmitri is a vampire and the right hand of an archangel. And that Honor is a Guild Hunter and survivor of a sadistic, vampire attack. What makes the love scenes in ARCHANGEL'S BLADE so brilliant is the depth of emotion as well as the sexiness. When these two put their mistrust aside and lose themselves in one another, it's…magical. Healing. Redemptive. Joyous. Both have hurt and been hurt, and to see them come together and find pleasure neither thought they would have again… Yeah, I'm about to go reread that book…
LEAVE ME BREATHLESS by Cherrie Lynn
Let me tell you why LEAVE ME BREATHLESS did exactly that. The hero and heroine. Seth "Ghost" Warren and Macy Rodgers are the definition of opposites attract. She's country—like barrel racing, horse-loving country—wealthy, reserved, and smooth-skinned. He's metal, tatted up, a tattoo artist, plays in a rock/metal band, and is prone to say inappropriate things in public. Oooh, and did I mention he's number three on the dirty-talker list? Yes, Ghost is awesome at it! The good girl takes a walk on the wild-side and learns a few wild things about sex—and herself—in the process. It's smoking hot, funny, emotional, and just fun.
So those are my top 5 fave love scenes. What're yours? Who makes you shush the kids, close the door, and check out with chocolate? For eating, people! For eating…