CHAPTER 1
"You look amazing, Allie," Frances said to me. "Like the scariest of the walking dead."
I laughed. I could feel the makeup cracking, and so I tried really hard to get it together. "At least I don't look like a real dead person. I've got skin flapping off my cheek." I pushed on the latex flap that concealed the gory makeup underneath. "Thankfully, zombies aren't real."
"I love the idea of the zombie walk," Frances said. "The fact that the profits all go to the Red Dress Foundation is fantastic."
"I like the idea that all the bars and restaurants pitched in to supply food for the hungry masses," I said.
"Fudge isn't exactly food," she pointed out.
"I bet there are a lot of people who would argue with you on that," I teased.
Frances was my hotel manager. She'd worked at the Historic McMurphy Hotel and Fudge Shop since before she retired from teaching. Thankfully, she had stayed as an employee after my papa Liam McMurphy died and I inherited the family business.
At this very moment, I was putting the finishing touches on my zombie pinup girl costume. I didn't usually participate in late night events because I was a fudge maker, and I had to get up very early in the morning to make said fudge. But October was off-season, and I sold most of the fudge online. That meant I didn't have to have fudge ready for when the tourists came in the morning. Yes, sometimes I even got to sleep in as late as 8 A.M. if I wanted.
This event was extra special and benefited a charity close to my heart, the American Heart Association. It was to remind everyone that heart disease is the number one killer of women. The senior center put together the event, called the "Night of the Walking Red." Mrs. Tunisian—one of my favorite seniors—was the head of the committee, and she'd insisted I come to the event and enter the costume contest.
I had made pumpkin chocolate chip fudge for the occasion. "You and Mr. Devaney should come out for the walk," I said to Frances. "You would make great zombies. I know you like to play with makeup."
"Well," she stood in front of me and adjusted the collar on my cardigan. "I did sell Mary Kay for twenty years, so I am trained in makeup application."
"I have a lot of leftover stage makeup upstairs. You can use it. You and Mr. Devaney would look great as a married couple of zombies."
"I don't think Douglas is into that kind of silliness," she said.
"What kind of silliness?" I turned to see Mr. Devaney walking through the door from the basement. He paused when he saw me. "Have you been in a car accident?"
"There are no cars on Mackinac Island," I said. Mackinac Island, Michigan, was known as the fudge capital of the world. We were a small island in the straits between the Upper and Lower Peninsulas of Michigan. The entire island had been combustion engine-free for over a hundred years. That meant the only way to get around was walk, bike, or take a horse-drawn carriage. I loved the traditions of the island. Things were slower here, and the sights and sounds of modern life were left behind.
Huge Victorian cottages with their turrets and gingerbread trim lined the streets. For centuries, the wealthy from Chicago and Detroit would escape the hustle and bustle of the big city to spend the summer season on the island. They usually came by ferries, although some came by private jet these days. My friend Sophie was a private pilot. She worked for the Grander Hotel during the season, but she also had regulars who asked her to fly them on and off the island when the ferries quit running.
Sophie Allison was meeting me for the Walking Red event. My best friend, Jenn Christensen, had left the island for an important job in Chicago. Sophie and Liz McElroy, the editor and lead reporter for the Mackinac Island Town Crier newspaper, had stepped in to keep me from moping too much about the loss. Jenn was an excellent event planner, and when she had come to Mackinac to help me through my first season, she'd connected with the islanders like a pro. Me, on the other hand? Not so much. Even though my family had owned the McMurphy for over one hundred years, I had grown up in Detroit and gone to school in Chicago. I kept trying to fit in, but I knew I still wasn't quite accepted as a true local. I was slowly getting there, but there had been a few bumps in the road.
Things had been going smoothly since Jenn left several weeks ago. But it was the off-season, it hadn't been that long, and Jenn had left me with strict instructions on how to make friends. I followed them as closely as possible, but I didn't have the same knack with people that Jenn had. Even with Sophie and Liz, I missed Jenn.
I got a bump on my leg and looked down to see my bichon poo puppy, Marshmallow—Mal for short—nudging me with her nose. She jumped up, and I scratched her behind the ears. "What do you think of my zombie look?" I asked the dog.
She seemed unfazed by the red and white makeup.
"I think I'll skip the zombie look," Mr. Devaney said, pouring himself a cup of coffee from the coffee bar at the far side of the lobby. "But you go ahead and do it if you want to, Frances," he said with a warm look in his eye. "I'd love to see you have some fun."
"Oh, pooh," she said. "I've got to watch the front desk. We have a couple of families coming in for the weekend."
I glanced at my watch. It was getting dark already at 5 P.M. "Did they say if they expected to arrive late?"
"Sophie is bringing them in the next few minutes," Frances said. "I know it's close to Halloween, but I don't want to give them the impression that we aren't a warm and welcoming place."
"What's not warm and welcoming about zombies?" I asked with a laugh, raising my hands like claws. "We only want to eat your brains."
The door to the McMurphy opened and Liz walked in. She was dressed like a ballerina with zombie makeup. Her dark, curly hair was pulled up in a tight bun, and she had fake bite marks created with makeup on her neck. Her leotard was dirty and torn, and her tutu was a bit ragged.
"Oh, my goodness, what happened to you?" Frances asked her.
"Nothing," Liz said with a smile. "I'm a zombie and a prima ballerina. Two things I always wanted to grow up to be. Thanks for sponsoring us."
"It was my pleasure," Frances said. "Douglas pitched in half."
"Thanks, Mr. Devaney," I said. Mr. Devaney was a retired schoolteacher who I had brought on as the new handyman for the McMurphy. It hadn't taken long before Mr. Devaney and Frances had started secretly dating. In a whirlwind courtship, the two seventy-year-olds had gotten engaged, and last month they'd gotten married. You could see the joy on their faces every time they were in the room together. It made my heart fill with hope that someday I, too, might find the love of my life.
Right now, I was sort of single. My ex-boyfriend, Trent Jessop, was in Chicago for the next few months. And my attraction to Mackinac Island's top investigator, Officer Rex Manning, was progressing slowly. The problem with having two handsome men competing for your attention was sometimes they both backed off. I think they were giving me room to decide. Maybe I needed the room.
"Mal can go," Liz said, her eyes lighting up. "They have zombie dog costumes."
"That's creative," Frances said.
"I don't have any doggy costumes," I said with a frown. I could feel the latex on my face crinkle again, so I smoothed out my expression.
"We can give her a black tee shirt with white bones panted on it."
"A black tee shirt?" I said. "We'd need a very small one. Mal only weighs twelve pounds."
"Oh, a onesie will do," Liz said with glee. "I'm going to run over to Doud's and see if they have anything on the shelf."
"I'll go with you," I said. We headed out the door. The McMurphy was on Main Street and only a block or so from Doud's Market, the oldest market on the island. It was almost fully dark outside now, and the air smelled of falling leaves, horses, and the lingering scents of fudge and popcorn. People were beginning to gather. The costumes were equal parts terrifying and funny.
We pushed into Doud's with the doorbells ringing behind us. Mary Emry stood at the cash register dressed as a zombified Minnie Mouse. She was waiting on a burly trucker guy with a cleaver buried in his skull. It almost looked realistic.
"This way," Liz said, drawing me toward the back where they kept a few items of clothing.
"Maybe we should have checked out one of the tee shirt places," I said as I eyed the sparse selection.
"No, this is perfect." Liz pulled a tiny black sundress out of the racks. "Now we need a little blood . . ."
"I have extra makeup." I followed Liz through the store.
"This will do," she said, grabbing some red decorator frosting. "Come on." We approached Mary.
Mary was a regular cashier at Doud's. She wasn't much for talking, at least not to me. "What's this for?"
"We're going to dress up Allie's dog, Mal," Liz said, rubbing her hands together. "With any luck, the red frosting will stain the dress, and the dog will lick it and get red on her face."
"Disgusting," Mary said.
"But effective," I said. "Are you going to be in the Walking Red zombie walk?"
"Sure," Mary said. "It's for a good cause."
I paid for the purchases, and we walked out of Doud's and into the now crowded street. "I didn't know there would be so many people here," I said.
"It's the cause," Liz said. "People care. My mom died of a heart attack."
"I'm sorry, I didn't know that," I said.
Liz blinked back tears, looking away. "This crowd is crazy, let's go around and through the alley." We turned down the side street. It, too, was filling up with zombies and humans alike. People not in costume carried blankets and came out to watch all the craziness.
When we were a half a block away from the McMurphy, in the alley just behind the Old Tyme Photo Shop, I noticed the stray calico who I had named Carmella walking ahead of us.
Carmella had adopted me and the McMurphy when I first came to Mackinac. She wasn't a fan of Mal, who was a bit rambunctious at only six months old, but Mella escaped puppy shenanigans by jumping up on the countertops. My cat was an indoor/outdoor cat. She loved to wander the back alleyways for an hour or so and then return to the McMurphy to receive treats from Frances and attention from the guests.
"Mella," I called to her. "Here, kitty." She walked over to me, and I leaned down to pick her up.
"Wow, looks like you already have a costume started for Mella," Liz said.
I looked at the cat. Her paws were wet and covered with a distinct brownish-red color. Her face had remnants of the same damp substance. "What did you get into?" I asked her. She wiped her feet on my sweater. "Is that blood?"
"Eww," Liz said. "She's coated with it."
I glanced around. It was too dark to see anything in the half-lit alley. We got closer to the McMurphy, and the sensor lights I had installed came on. "It certainly looks like blood," I said, holding her up to the light. "Are you okay, Mella?" I asked. "Did you get hurt?"
She meowed at me as if indignant that I might think she wouldn't win in a fight.
"I don't see any obvious puncture wounds," Liz said.
"That means someone else is hurt," I said. I glanced back down the alley. It was darker now that the lights were on behind the McMurphy. "Let's take her in and have Frances give her a bath and make sure she's not hurt."
"And while she's doing that?" Liz asked.
"I'll get a flashlight, and we can check the alley. Whatever Mella got into has lost a lot of blood. We need to see if we can help it."
Just then, there was a scream from the dark alley. I hugged Mella tight and turned toward the sound.
"Oh, my gosh!" It was Sophie. "Thank goodness you're out here."
"Are you alright?" I asked.
"No," Sophie said with trembling hands. She was dressed as a biker babe zombie. "I think I found a dead man."
"Where?" Liz asked, pulling out her phone.
"Just over there," Sophie said and pointed toward the dark corner of the building that backed up against the alley. We all hurried over to where she pointed. "I was coming around this way to avoid the crowd when I stumbled over something. I got out my flashlight, and there was a crumpled body."
"Are you sure it's real?" Liz asked.
"There's a lot of blood, and paw tracks from Mella," I said, looking at the ground as I walked. "I don't think this is fake."
"But look at us, we're dressed like the walking dead." Liz waved a hand over her costumed self. "What if it's fake blood?"
Sophie paused. "Do you think it might be a decoration? It's pretty gruesome."
We stopped in front of a dark lump. Liz and I pulled out our phones and shone the flashlight apps to get a better look. The lump looked like a man. The head was obscured by a large hat. He wore an old suit coat with patched elbows, and one of his shoes was off. His limbs were at odd angles. A large, dark pool seeped from under his jacket. There were kitty tracks in the blood. It looked like this was the mess Mella had found, after all.
"He looks real," I said. I hunkered down.
"Are you going to touch him?" Sophie asked.
"Should you touch him?" Liz asked.
"It's the only way to know if he's real," I said. "It's what they tell you to do with first aid." I touched his shoulder and gently shook it. "Sir, are you okay?"
His head rolled to the side. His jaw opened, and his tongue flopped out. I jerked back. Mella squirmed in my arms. I held her tight and put my fingers on his neck to feel for a pulse. The body was stone cold, and the blood was dark.
"He's either dead, or he's a very good Halloween effect." I stood and looked at my friend. "But . . . if he is a Halloween effect, why hide him in a back alley?"
"I'm calling 9-1-1," Liz said.
I petted a squirming Mella, who seemed only to want one thing—to leave. The blood she had gotten on her was currently getting all over me, but I didn't want to let her down. She might make things worse. Especially if this poor man was dead—it was clear she had already walked through the crime scene.
"Hi, Charlene, it's Liz McElroy," Liz said. "I'm in the alley behind Doud's and the McMurphy, and I think we might have stumbled across a crime scene." She paused. "Yes, I know that the whole island is full of the walking dead right now, but we think this one might actually be dead."
Sophie shivered and hugged herself. I rubbed her arm to comfort her.
"Who is 'we'?" Liz said. "Sophie and Allie and me." She looked at us. "Yes, Allie McMurphy."
"I'll call Rex," I said.
"No, don't call him," Liz said. "Charlene is contacting him now. She started calling him the minute I said I was with you." Liz covered the phone with her hand. "She said you're the Grim Reaper."
"Oh, for goodness sakes," I said and rolled my eyes. "I am not the Grim Reaper. Besides, Sophie found him."
"I think Mella found him first." Liz pointed to the dirty paws of my cat. Mella had given up on her struggle and sort of hung there, indignant.
I sighed. "My pets seem to have good noses for dead men."
After what felt like an hour but was more like ten minutes, Rex and Officer Charles Brown walked into the alley carrying flashlights. They were an imposing pair. Officer Brown was tall and square with green eyes, while Rex was about five foot ten with an action-hero physique and a shaved head that was currently covered by a hat. I knew from memory that he had killer blue eyes ringed with black lashes, and that his kiss could curl my toes.
I let out a breath. It was somehow reassuring to have them there.
"Charlene said you had a situation," Rex said.
Liz shone her flashlight on the dead man. "Sophie found him."
Rex squatted down to feel for a pulse.
"We thought maybe it was fake," I said. "But I followed first aid protocol and shook his shoulder and called out. Then I felt his neck, and he was cold as ice."
"What's up with the cat?" Office Brown asked.
"I think she walked through the blood," I said, waving her dirty paw. "I didn't see her do it."
"There are tracks through the blood," Rex said.
"Is he dead?" Sophie asked, biting her nails. There was nervous hope in her voice. "It's probably just a fake, right? You know, put here to scare people. For the zombie walk."
Rex frowned and stood. "I think some of this is makeup, but this man is clearly dead. I'll call Shane out here." He reached for the walkie-talkie on his shoulder.
"Let's step away from the scene," Officer Brown. He motioned us across the alley.
The door on the building behind us opened, and Margaret Vanderbilt stepped out. Maggs was Frances's best friend, and she worked at the drugstore next to Doud's. Maggs had long, curly gray hair, incredible skin, and wide blue eyes. "What's going on?" She asked, looking at us in our zombie makeup. "Are you going to the Walking Red walk? It's starting in a few minutes."
"We were," Liz said, "but something more important has come up."
"What's more fun than raising money for heart disease awareness?" Maggs joked, then turned serious when she saw Officer Brown and Rex. "This doesn't look good." Her gaze went to the crumpled heap on the ground at Rex's feet. "Anthony?"
"Who?" Officer Brown asked.
Maggs pushed through us, but Charles held her. "Anthony? Anthony!"
"Who's Anthony?" I asked.
"My son," she said and covered her mouth with her hands. "Please, tell me—tell me it's not Anthony."
Rex stepped across to hide the body from her. Thankfully, the man's hat still covered his face. "We don't know who it is, Maggs." He touched her trembling arm. "Why do you think it's Anthony?"
"He was supposed to meet me here. He was going to dress as a business zombie. I think that's his suit coat. The one with the patches." She started trembling hard.
"You need to sit down," I said, handing Mella to Liz. I took Maggs by the shoulder and helped her sit on the edge of the brick flower bed beside the door. "Does anyone have a blanket?"
The ambulance rolled up to the mouth of the alley. Ambulances were the only type of motor vehicle allowed on the island. EMT George Marron came out. He was a handsome man with high cheekbones and coppery skin. He wore his hair long in a traditional braid down his back. "Charlene called," he said.
"We need a blanket," I said. "I think Maggs might be in shock."
"Got it," George said. He reached into the ambulance, grabbed a blanket, and came over to tuck it around Maggs's shoulders. "Are you hurt?" He asked her quietly and calmly.
"No," she said, gasping for air, "No, I'm okay."
"Are you sure?" He studied her with his dark eyes. His handsome face and copper skin gleamed in the light over the door to the drugstore.
"It can't be Anthony," she said, tears welling in her eyes. "Please, tell me it's not Anthony."
George looked up at Rex. I noticed Rex shake his head subtly and my stomach tumbled. From the look on his face, he was sure it was Anthony. I sat down and put my arm around Maggs's shoulders. She rested her head on my shoulder. I looked at Sophie. "Call Frances."
Sophie nodded. She turned her back to us and got out her phone.
"We're going to find out what happened," I said. Scooching in closer and closing ranks, Liz and I stayed with Maggs, chatting aimlessly until Frances arrived.
Rex cleared his throat. "Margaret, Frances is here. Go with her, please. You shouldn't be here, and we need to work this crime scene and find out what exactly happened."
I helped Maggs to her feet as Frances came over. "I've got her," Frances said. She put her arm around Maggs, carefully and quietly speaking to her as they walked the short distance to the McMurphy.
Shane walked into the alley with his crime scene investigator jacket on and his kit in hand. In addition to being the crime scene tech, Shane was Jenn's boyfriend, so I had become friends with him over the past few months. "What do we have?" he asked.
"A crime scene less than a block away from a crowd of zombies," Rex said grimly. "What's worse, the man's in costume, so it's hard to tell what's real and what's fake."
Shane glanced at Mella in Liz's arms. "Is that fake blood on the cat?"
"I'm afraid not," I said. "Do you need to bag her feet?"
"I need you to put her in a crate and take her to the vet clinic," Shane said with a serious tone. "I need to process the scene, and I need evidence collected off of her before she cleans herself."
"Right," I said, lifting Mella out of Liz's arms. I glanced at Rex. "Do you need me to stay?"
"No, go," he said. "I'll come around later for a debriefing interview. Whatever you do, don't change clothes. It looks like the cat smeared evidence on you, as well."
"Right." I looked down at the bloody paw prints on my pinup girl outfit. "What about chain of evidence? Do I need a policeman to go with me to ensure there isn't contamination?"
"Shane?" Rex asked.
"Probably a good idea until I'm sure I have all the evidence," Shane said from his position beside the body.
"Fine," Rex said. "Officer Brown, escort Miss McMurphy and her cat to the vet clinic, and ensure the chain of custody isn't broken."
"Will do," Charles said. "Shall we?" He pointed toward the McMurphy.
"Okay. Liz?"
"I'm going to stay. I've got a story to write." She started texting on her phone. As the town reporter, Liz took her job seriously.
That left me and Officer Brown to circumvent the crowds and wake the island's only veterinarian. I blew out a long breath. This was a fine kettle of fish. I was becoming an expert in crime scene investigation . . . and so were my pets.
(C) Nancy Coco, Kensington, 2019
A Candy-Coated Mystery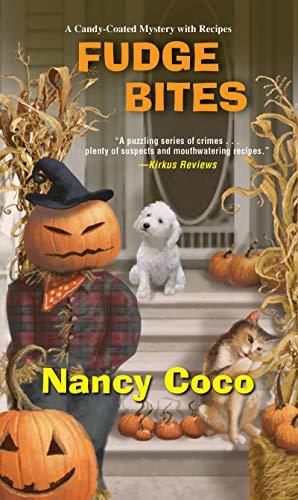 Halloween on Mackinac Island is a season of fun tricks, but finding a corpse is no treat for fudge shop owner Allie McMurphy . . .
NIGHT OF THE REALLY DEAD
It's late October, off-season for tourists, but locals are up and lurching for the annual zombie walk charity event. Though everyone's living it up, trouble is just a few pawprints away. Allie follows the bloody tracks of her calico cat, Carmella, to a body in the alley behind the Historic McMurphy Hotel and Fudge Shop. Unlike the island's other walking dead, this one's flatlined for good. It seems that someone is using the zombie fest as the perfect backdrop for murder. Now amateur sleuth Allie and dreamboat officer Rex Manning must use every trick in their treat bag to unmask a killer in disguise.
 
Praise for Nancy Coco and the Candy-Coated Mysteries
 
"Memorable characters, a charming locale, and a satisfying mystery." —Barbara Allan
 
"It's probably best not to read this while you're too hungry, as the assorted fudge recipes may send you right to the kitchen." —The Oakland Tribune 
 
"I will be counting down the days until the next mystery with Allie McMurphy." —Cozy Mystery Book Reviews
Mystery Cozy | Mystery Paranormal [Kensington, On Sale: September 24, 2019, Mass Market Paperback / e-Book, ISBN: 9781496716088 / eISBN: 9781496716088]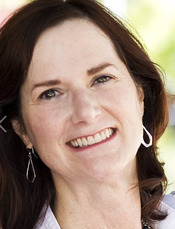 Nancy Coco is the acclaimed author of the Candy-Coated Mysteries, the Oregon Honeycomb Mystery series, a number of romantic suspense novels, Western historical romances, and four additional mystery series written under the name Nancy J. Parra. An Air Force veteran who rose to the rank of sergeant, Nancy is a member of an online group of female veterans called RomVets: Military Women Who Have Turned Sword to Pen (RomVets.com). She is also a member of Mystery Writers of America and Sisters in Crime. Nancy lives in Oregon with a Bichonpoo affectionately known as "Little Dog" on Facebook and Twitter. Visit her online at www.NancyJCoco.com.