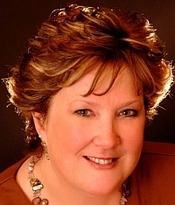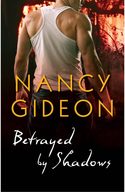 A good man drowning in bad deeds  . . . A bad girl denying a good heart . . .
I love stories about complex characters with dark pasts searching for the means to personal redemption, so that's what I write.  When choosing secondary characters to step into the roles of hero and heroine in BETRAYED BY SHADOWS, the 7th book in my dark paranormal shape shifter "By Moonlight" series, readers were surprised by my choice of Giles St. Clair, the steadfast rock of advice for Max Savoie who goes from thuggish knee breaker to pseudo-CEO in Max's 'absence.'  They never considered him hero material and, until the later books, I probably would have agreed.  But there were things about Giles I really liked.  His loyalty.  His wry sense of humor.  His practicality.  And I got to thinking, what's this guy's story?  You won't believe what I found in his past!! Talk about getting pulled off the right path . . .
So I've got Giles, hero in the making, with his soft protective spot for Charlotte Caissie and Tina Babineau – females who will never belong to him.  What kind of woman should I throw in his path?  Someone flashy to catch his eye.  Someone smart and sassy to challenge his wit.  Someone with secrets to coax his protective instincts. Someone out of reach.
When Brigit MacCreedy appeared at her brother Silas's doorstep in HUNTER OF SHADOWS, she spelled trouble with a capital B.  Brash, gorgeous, seemingly selfish and manipulative, used to bending men around her finger, I'll admit, she wasn't someone I wanted to bond with. Until she reluctantly revealed her fierce devotion to her brother and their cousin. The three of them had endured terrible events and had been looking for the means to right their lives ever since.  As a female in an Alpha driven society, Brigit lacked the resources Silas had, so she made do with what she did have – her looks, her smarts, her courage.
Okay, so she isn't a warm cuddly, LIKABLE heroine in the first few chapters of BETRAYED BY SHADOWS. I don't want her to be. She's lived on the edge of danger, surviving by her wits, keeping her fragile cousin safe, and her dangerous secrets hidden.  Trust comes hard. Love even harder. But when she starts letting down her guard with Giles – a HUMAN, no less – an entirely different woman begins to emerge.
Why am I making excuses for Brigit when she can obviously fight her own battles? Because of the hero/heroine double standard that sometimes rears its head.  Why is it okay for the hero to be harsh, brutal, cold and manipulative in those early chapters and we make allowances for him, but the heroine . . . not so much.  We tend to be far more critical of her behavior –  even though we recognize she has good reason for it.  Cut a sister some slack!
Some of my favorite heroines didn't start out heroic.  Scarlet O'Hara.  Eve Dallas.  Ellen Ripley. Strong women fighting by their own rules for their own place in a harsh world.  I like that about a heroine.  How about you?
Do you find it more difficult to relate to a heroine who is more prickly pear than rose petals, even if her actions are justified by circumstance, or do you cheer for her during her struggles to redeem herself?
I'll be giving away a Kindle copy of BETRAYED BY SHADOWS to a commenter chosen at random!
Today is RELEASE DAY . . .
"By Moonlight" Book 7
By Nancy Gideon
Pocket Star * 12-17-12
Balancing a criminal empire and a preternatural clan war, reluctant front man Giles St. Clair doesn't need a problem like Brigit MacCreedy . . . How much trouble can the head-strong and manipulative Shifter beauty get into in two weeks? Plenty when her schemes range from kidnapping to fleeing the retribution of her dead lover's clan.
With her family's lives on the line, Brigit is willing to do whatever it takes to save them. The only thing standing in her way is an immovable stone wall of a man she can't bully or beguile . . . a human, no less, who has promised to protect her from the secrets and dangers she conceals.
Risking her own safety gets complicated when an honorable and annoyingly desirable man puts himself between her and her powerful enemies in a battle he can't win in this Taming of the Shrew meets Shifter Goodfellas on the Bayou tale of consequences, redemption and finding love in all the wrong places.
NOW AVAILABLE!  Pocket Star is offering BETRAYED BY SHADOWS at a fabulous introductory price of $1.99 for the next four weeks for Kindle (Amazon) and Nook (http://www.barnesandnoble.com/w/betrayed-by-shadows-nancy-gideon/1110377156?ean=9781451689471) Start reading . . . Now!
Nancy Gideon is the author of over 54 novels ranging from historical and contemporary suspense to paranormal, with horror screenplays thrown into the mix.  Working 9-to-5 as a legal assistant, she's a self-confessed Netflix addict and sucker for all things fur, feather and fin. Find out more about her, her books and the "By Moonlight" series at http://nancygideon.com.
To comment on Nancy Gideon's blog please click here.