The standard traditions for good luck at weddings include the bride not being seen by the groom on the wedding day before the wedding ceremony. Then there is the bride wearing something old, something new, something borrowed and something blue. We throw rice to bring the marriage good luck and as a sign of fertility. Then there is the cutting of the wedding cake and the happy couple feeding each other. Keeping the top layer of the cake to be eaten on your first anniversary.
So many traditions. All as a way to honor the bride and groom and to bring two families together as one.
On my brother's wedding day we could not decorate the church because there was a funeral scheduled before the wedding. They barely got the casket out and the funeral procession gone before people started showing up for the ceremony. WE went in and quickly changed the flowers from funeral to wedding. People whispered it was bad luck. But my brother is still happily married for over thrity years. My mother said it rained on her wedding day- also a sign of bad luck for the couple. And yet my parents are still together after 56 years.
In the NEWLYWED DEAD, Pepper deals with a death at her sister's reception. She vows to capture the real killer before the whispers that her sister's marriage is doomed reach Felicity's ears. That gives her two weeks to figure out why the bartender died and most importantly who wanted her dead.
Does your family have good luck or bad luck wedding day traditions?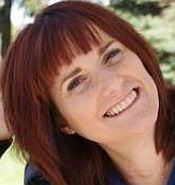 Best known for writing "…strong stubborn heroes and plucky heroines who aren't afraid to go toe to toe with them," (Shelley Mosley, B?ooklist Magazine), Nancy currently has 3 cozy mystery series -the Gluten-free Baker's Treat Mystery Series and the Perfect Proposal Mystery Series with Berkley and the Candy Coated Mystery Series with Kensington-and a total of 15 books in print.
Praise from readers and booksellers made All Fudged Up – by pen name Nancy Coco a 2013 National Bestseller.
Nancy Lives in the Midwest with her Bichonpoo affectionately known as Little Dog on social media. Nancy loves to hear from readers.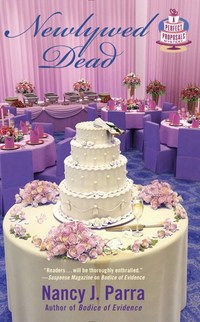 In the new Perfect Proposals mystery from the author of Bodice of Evidence and Engaged in Murder, a country club wedding reception becomes the scene of a baffling crime.
The wedding for Pepper Pomeroy's sister Felicity starts with dearly beloved but it ends with dearly departed when Ashley, the bartender Pepper befriended earlier in the evening, drops dead from a lethal nightcap. Authorities think it's just a tragic accident. After all, who'd want to kill a virtual stranger at a country club wedding reception? That's what Pepper wants to know.
A search into Ashley's past reveals a twisty path of secret sororities, well-connected enemies, and an unsolved slaying still shadowing members of high society—including a filthy-rich battle-ax whose demands for the services of Pepper's Perfect Proposals are starting to sound more like veiled threats. Pepper's business may be booming but continued success means outsmarting a mysterious culprit who's still wedded to the idea of murder.