Welcome to Fresh Fiction, Nghi! Please tell us about yourself and your debut novella, THE EMPRESS OF SALT AND FORTUNE.
So I spent a good many years thinking I couldn't write novels, and that I would always love writing short stories best. Then the Tor call came for novellas, and it suddenly struck me, hey, 20,000 to 40,000 words, I know what that looks like! I can do that!  With respectable parameters and a deadline, I wrote The Empress of Salt and Fortune in about a month. I feel like this says something about me, and I'm still not sure if it's good or bad.
The Empress of Salt and Fortune is a story about memory and love. There's a lot of fear and fury in it, a lot of terrible things that happen to the people who least deserve them, and there is a victory at the end, but yeah, mostly it's about the people we remember, how we love them while they're here, and how we love them after they're gone.
It's also got talking birds, fried morel mushrooms, war mammoths, and a ton of fortunetelling, as well!
The Empress In-yo has gone through great lengths to keep her history secret, but a cleric named Chih comes across the old palace and a woman named Rabbit, who knew In-yo well and was her handmaiden. The story-within-a-story set up was really intriguing, and  learning the truth behind the empire through Chih's own discovery was fascinating. What do you think readers will find relatable about In-yo, Rabbit, and Chih?
Hm! Well, I think In-yo is going to speak to anyone who has ever had what's rightfully theirs taken away. Her arc is all about getting her own back, and taking a good hard swing at everyone who ever decided that they were entitled to what was hers. Rabbit is for people who have had to make a decision where both options are in some ways at least a little rotten, but who made their choice and now stand by it.  Chih is full of curiosity and ambition, and much like Rikki-Tikki-Tavi, they must run and find out. Chih's got a holy mandate to do no less, and I think they stand in for every kid who ever pretended that every rock they found in the playground HAD to be a meteorite, or a broken piece of a castle, or a shard of magic stone.
Even though this is a novella, the worldbuilding and setting are gorgeously described and have such an impact on the overall story. What inspired the world of this story? What, if any, research did you do while writing it?
The story was inspired by stories, the ones I half-remember from an almost-minor in East Asian Languages and Culture, watching old wuxia dramas with my maternal grandfather, and things along that line. The culture of the Palace of Gleaming Light has a few things in common with Heian Japan, with some direct ties to Genji Monogatari, and once we're out in the provinces, we're soundly into the stuff inspired by stories about fox girls and black inns.
Female friendship is a vital part of THE EMPRESS OF SALT AND FORTUNE. In-yo and Rabbit are both considered less-than and are underestimated for different reasons, and yet they form a strong bond that changes everything. How does this friendship drive the plot of this book?
This book – along with In-yo's power grab – does not work without the friendships she has with other women. In-yo needs Rabbit's love and loyalty just as much as Rabbit needs In-yo's approval and regard, and none of this gets very far without Kazu, a certain maid who would rather have fun than be a proper lady-in-waiting. At the end of the day, Kazu and Rabbit provide the flint and steel for what will be In-yo's blaze through history, and those relationships form the core of the book.
This is your debut novella! Will you tell us about your journey into publishing? What has been the most surprising thing about publishing so far?
The BEST thing about publishing so far is how despite everything, no one wants to set me on fire!  I've always said, "Hey, if no one wants to set me on fire, I'm doing pretty well!"  As it turns out, my awesome editor Ruoxi Chen and my cool-as-hell agent Diana Fox never actually want to set me on fire.  Over all?  Less fire than I thought there would be.
I love asking authors what they've been reading! What are some recent reads that you adored?
I finished Docile by K. M. Szpara in one night, and then I did a reread of Revenger's Tragedy for another project I've got going. Docile's just flipping good, and was totally worth the sleep I lost over it. Revenger's Tragedy… continues to be the thing it is, and I love it, but you know. It's a LOT.
What can readers expect from you next?
A lot of yelling about The Empress of Salt and Fortune, probably.  I've got a lot of things going right this moment that I can't yet talk about, but it's me, so it's always safe to say more history, more fantasy, more food, and probably at least a good herd of mammoths. Some tigers.
Rapid Fire Random Questions
Dragons or unicorns:  Dragons. I feel like they have the right idea with hiding in a mountain forever on a bed of their favorite things
Five people you'd invite to your book club (dead, alive, fictional, etc.!):  Margaret Atwood, Angela Carter, Sei Shonagon and both Trung sisters.
Some of your auto-buy authors:  Seanan McGuire, Aliette de Bodard, Sarah Monette/Katherine Addison
Favorite flower: Peonies!
Earliest celebrity crush:  Enjolras from the 10th Anniversary Production of Les Miserables
Random interesting fact you like to tell people: "You'd probably be surprised what I'm willing to candy."
Hobbies you have (aside from reading and writing):  Baking, mandolin, knitting, ruining it for everyone
Sweet or salty snacks: Salty. I don't really eat cuttlefish jerky anymore, but I miss it.
You have a totally free afternoon – no deadlines, no obligations, no Twitter notifications! What do you do?: Check to make sure that I have not made a terrible mistake somewhere, and then probably wander down by the lake like some wide-eyed and wretched heroine from a Gothic. I have a great frilly nightgown just for that purpose.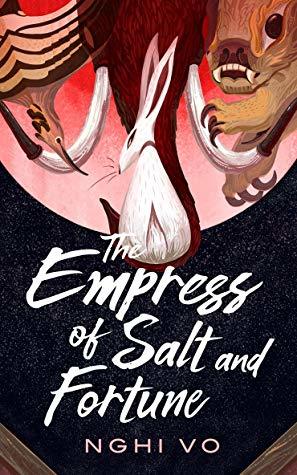 With the heart of an Atwood tale and the visuals of a classic Asian period drama, Nghi Vo's The Empress of Salt and Fortune is a tightly and lushly written narrative about empire, storytelling, and the anger of women.
A young royal from the far north, is sent south for a political marriage in an empire reminiscent of imperial China. Her brothers are dead, her armies and their war mammoths long defeated and caged behind their borders. Alone and sometimes reviled, she must choose her allies carefully.
Rabbit, a handmaiden, sold by her parents to the palace for the lack of five baskets of dye, befriends the emperor's lonely new wife and gets more than she bargained for.
At once feminist high fantasy and an indictment of monarchy, this evocative debut follows the rise of the empress In-yo, who has few resources and fewer friends. She's a northern daughter in a mage-made summer exile, but she will bend history to her will and bring down her enemies, piece by piece.
Praise for The Empress of Salt and Fortune
"An elegant gut-punch, a puzzle box that unwinds itself in its own way and in its own time. I cannot recommend it highly enough. Gorgeous. Cruel. Perfect. I didn't know I needed to read this until I did."—Seanan McGuire
"A tale of rebellion and fealty that feels both classic and fresh, The Empress of Salt and Fortune is elegantly told, strongly felt, and brimming with rich detail. An epic in miniature, beautifully realised."—Zen Cho
Young Adult Coming of Age | Fantasy [Tor.com, On Sale: March 24, 2020, Trade Size / e-Book, ISBN: 9781250750303 / ]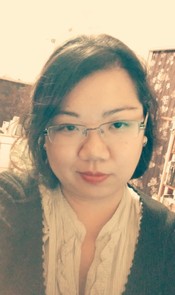 Nghi Vo lives on the shores of Lake Michigan, and her fiction has appeared in Strange Horizons, Expanded Horizons, Crossed Genres, and Icarus Magazine. She likes stories about things that fall through the cracks and live on the edges, and she has a deep love for tales of revolution (personal and political), transfiguration, and transmutation. She's a writer by trade, a storyteller by nature, a volunteer by inclination, and a dreamer by design.
***
Fresh Fiction Editorial Manager Danielle Dresser is an avid reader, lackluster-yet-mighty crafter, and accomplished TV binge-watcher. Once upon a time, she was a publisher publicist and continues to cultivate her love of books and reading by chatting with the best authors in the business. She lives in Chicagoland with her very own romance hero husband, darling daughter, and two tempestuous cats. Follow her on Twitter and Instagram, @dj_dresser.