Developing characters for my romance stories requires inspiration. My volume of names is usually where I start. It lists the meaning and origin of names, as well as associated gemstones, colors, and elements. It helps tremendously with character profiles, but sometimes I need visual inspiration. This was true in writing The Song series. If you haven't read the books, let me share what the trilogy is about.
Two of the alpha heroes served as Army Rangers along with their friends. The team was facing death when Dalir, an ancient warrior, gave them a second chance at life. He also shared one of his special abilities with them: Time travel. They use this gift to protect people. When they're not facing danger, they play music. Their band, Thane's Redemption, gives them an outlet from the stress of their quest and serves as a cover between missions. In short, hot guys in a band with supernatural abilities, teamed with an equally tough, drool-worthy, ancient warrior, on a mission to save the world.
A dream team was a great visual aid and inspiration for writing the books. Here are my picks for The Song series alpha males.
Kit Harington as the hero in Thane's Redemption, Book 1. Yes. I'm addicted to Game of Thrones, but that's not the only reason. Kit's long hair and soulful eyes make him a perfect fit as Thane. A committed and loyal hero, willing to lay it all on the line for the woman he loves.
William Levy as the hero in Reid's Deliverance, Book 2. William captured my attention and votes during Dancing with Stars (Season 14). Lauren, the heroine in the second book, described Reid as a clean-cut hottie who inspired fantasies of holding on for a sinful ride. Can you see the resemblance? I certainly can.
Jack Reynor as Colby, the reconnaissance expert on the team. I wanted more of Jack's character, Shane, in Transformers: Age of Extinction. Shane was not only a protector, but he believed in the woman he loved. In my mind, that makes Shane similar to Colby. A guy who's not afraid to take the lead, keep the faith, and get the job done.
Redaric Williams as Mace, technical guru. I didn't catch Redaric as Tyler on The Young and The Restless, but I'm definitely going to check him out in his future projects. As I think of The Song series, I can see this actor portraying, Mace, the man who's an irresistible mix of brains, looks, and muscle.
Jay Ryan as Wes, the team's logistics expert. If you've watched the reboot of Beauty and the Beast, you noticed Jay as the main character, Vincent. In The Song series, Wes is tough, dangerous, and a loner, but the right woman could bring out his tender side. I can see Jay playing this intense, complex character.
Jason Momoa as Dalir, the hero in Dalir's Salvation, Book 3. Yes. This pick could be related to my weakness for superheroes and loving that Jason is playing Aquaman on film, but imagine what I see. Over six feet of tall, delicious, ancient warrior wielding a sword. Can you deny that Jason isn't a solid match for Dalir?
What qualities in an alpha male hero inspire your fantasies?
Visit www.ninacrespo.com to meet Dalir and join the release celebration for Dalir's Salvation (Release date 27 September 2016).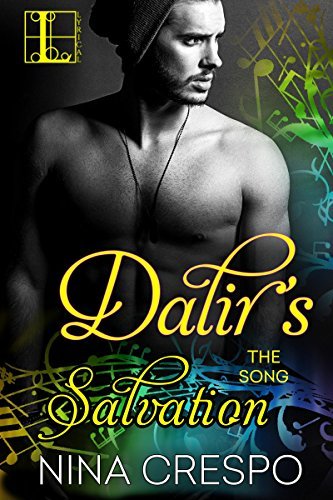 To be with the man of her dreams, she'll have to face her worst nightmares…
Ari is looking to live a normal life. But after she hits her head, normal is no longer an option. A mysterious, rugged man appears, whom only she can see… each night he fulfills her fantasies and leaves her begging for more. She's sure he's a figment of her imagination—until she finds out the hard way that he's all too real. Now, to truly be with him, Ari will have to embrace the parts of herself she's been desperately keeping at bay.
Dalir's been burned by love before, yet he can't resist Ari's beauty and charm. And all it takes is one kiss to spark nights of passion. But there's danger on the horizon that only Dalir and his friends in the band Thane's Redemption can deal with. And the longer he stays with Ari, the greater the peril to them both. Will the two of them be strong enough to fight for their newfound love—and their lives?
Romance Erotica Sensual [Lyrical Press, On Sale: September 27, 2016, e-Book, ISBN: 9781601835444 / eISBN: 9781601835444]
Nina Crespo lives in Florida where she indulges in her favorite passions — the beach, kick boxing, a good glass of wine, date night with her own real-life hero and dancing.
Her lifelong addiction to romance began in her teens while on a "borrowing spree" in her older sister's bedroom where she discovered her first romance novel and became lost in the world of happily ever after.
Curiosity about people and places, including what's beyond the stars, fuels her writer's imagination. This wellspring of inspiration allows Nina to create sensual contemporary and paranormal stories, which she hopes will feed your own addiction for true love and romance.