The Holiday Acres series is set during a snowstorm just before Christmas, when three of the Holiday sisters get stranded with the men they've not yet admitted feelings for. The series is fun and romantic, but it also explores how healing and reconciliation can happen over time, since the two families involved have been in a long-standing feud.
The first book in the series, Stranded on the Beach, is set during the summer before Christmas and is about how Rebecca Holiday and Phil Matheson, who broke up years ago because of their families' fighting, are able to come back to together. The second book, Stranded in the Snow, is about how Olivia Holiday and Scott Matheson act like they hate each other but finally admit they are in love. The third book, Stranded in the Woods, is about Penny Holiday and her old friend, Kent Matheson, who has been a recluse for years but finally comes out of hiding because of his love for Penny. And the final book, Stranded for Christmas, is about how stubborn, jaded Laura Holiday, the oldest of the sisters, finally admits that she's in love with her business partner, Russ.
I hope you enjoy this exclusive excerpt from Stranded for Christmas!
***
"Have you ever been stranded in the snow before?" she asked lightly, hoping some casual conversation might distract her from the tumbling emotions building in her chest and belly.
Russ shook his head. "Not really. I've had to stay home when it's snowed before, but snowstorms like this are few and far between in Richmond."
"We don't get them much here either. I remember in high school we had a lot of snow one evening when I was out with my boyfriend. I ended up stuck at his house all night. Dad wasn't happy about that at all."
"Who was this boyfriend?"
Laura checked his face but saw only leisurely interest. He was simply making conversation. "Danny Fielding. I dated him for two years in high school. My junior and senior years."
"The Daniel Fielding who sells cars at the Ford dealership?"
"Yeah. That's him."
"I didn't realize you dated him. He… doesn't seem like your type."
She gave him a crooked smile. "How would you know my type? I haven't dated anyone in ages. But it was just a high school thing. You know how it goes. You end up with someone just because they're around, whether or not you have a lot in common. I thought I loved him. I thought I would marry him."
"Really?" Russ had turned toward her, and his voice was less casual now. "It was that serious?"
"I thought it was." She shook her head, experiencing all the years' old waves of indignation and humiliation again as she remembered. "He said he loved me. He said it over and over again. But as soon as we graduated high school, he broke it off."
"Why?"
"He said he didn't want to be tied down in college. It's funny. Both he and Tommy's biological dad told me the exact same thing. They said…"
"What?"
That they'd just been having a good time.
She couldn't say the words out loud. They'd hurt too much to hear them. They would hurt even more to speak out loud.
She had to say something, however, so she thought of something safer.
"Just that they weren't serious. Danny acted like I should have known it was just a high school thing that didn't mean anything." Laura stared down at her hands, which were twisting together on her lap. "But I didn't know. I thought it was real. I was so stupid."
"You were not stupid." Russ sounded resentful now, which was very unusual for him. He reached over and covered her hands with one of his. "He was obviously an asshole. He still is, if those smarmy commercials he runs are any indication."
Laura laughed softly, feeling better. "Yeah. I had a near escape, that's for sure. I definitely wouldn't have wanted to be stuck with him. But I didn't know that back then. I was crushed."
"So you haven't been anti-romance all your life then?"
Laura darted him a quick look. "I'm not anti-romance."
He didn't answer. Just gave her a little eyebrow arch.
She smiled and shook her head. "Well, maybe I am a little. I've had nothing but bad experiences."
"So you assume all your experiences will be bad?"
"It's certainly shaping up that way. What about you?"
"What about me?"
"Are you anti-romance? You don't have much of a social life."
"There's no one around here to date."
"That's not true. There are a lot more eligible women in town than men."
Russ gave a slight shrug. "No one I'm interested in."
"Then what about back in Richmond?"
"I dated a lot in Richmond."
She didn't like the sound of that. She didn't like the idea of him dating other women. But she knew enough to realize she had no grounds for feeling that way. "Nothing serious?"
"No."
"What was the longest you dated someone?"
"I don't know. Two or three months."
"And you're talking about me being anti-romance? You're forty-five, and the longest you've dated someone was three months!"
Russ was giving her a careful, thoughtful look. "Not because I'm anti-romance."
"Then why?"
"I just never… never met the right woman." He was staring at the fire, and his voice was soft, slightly stilted.
She gasped. "You're a romantic!"
"I am not." He sounded as defensive as if she'd insulted him.
"Yes, you are! You've been waiting for the right one all this time. You might never admit it, but you are." She was strangely thrilled by this realization, as if she'd discovered the world's best secret.
Russ's face was slightly flushed, although it might just have been the firelight. "You're making things up."
His voice was perfectly calm. And it would have been convincing had she not known him as well as she did.
"I am not. You're secretly romantic. No reason to deny it to me."
He cleared his throat. "You can believe what you want. I wouldn't mind finding a woman to marry, but I'm not sitting around daydreaming about it. At least I'm open to possibilities, which isn't true of you."
"It is true of me."
He lifted his eyebrows.
"Okay. Maybe it isn't true. But I just don't think romance is all it's cracked up to be. I'm happier now than I've ever been before. I'm not going to mess it all up in pursuit of a delusion."
She was liking the feeling of his warm hand on hers too much, so she made herself pull her hands away.
Russ withdrew his hand immediately.
"Maybe it's not a delusion. Some people are happy in love."
(C) Noelle Adams, 2018
***
Holiday Acres #4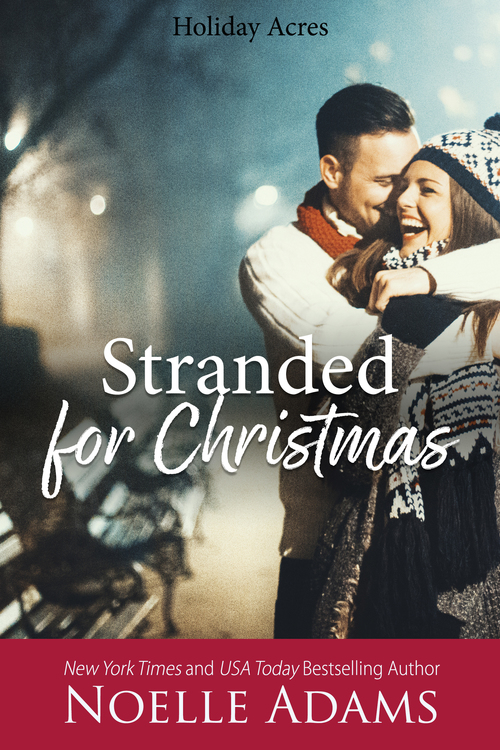 A snowstorm. Her much older business partner. One very hot night.
Laura Holiday doesn't believe in romance. Her life revolves around her work and her six-year-old son. The last thing she wants is a fling with her friend and business partner, Russ Matheson, who is emotionally unavailable and thirteen years older than her. But one night in a snowstorm changes their relationship forever.
The Holiday Acres series
Stranded on the Beach (Book 1, Rebecca and Phil)
Stranded in the Snow (Book 2, Olivia and Scott, published in the
Snowed in for Christmas anthology)
Stranded in the Woods (Book 3, Penny and Kent)
Stranded for Christmas (Book 4, Laura and Russ)
Romance Contemporary | Romance Holiday [Amazon Digital Text Platform, On Sale: December 4, 2018, e-Book, / ]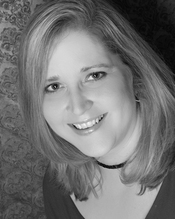 Noelle handwrote her first romance novel in a spiral-bound notebook when she was twelve, and she hasn't stopped writing since. She has lived in eight different states and currently resides in Virginia, where she reads any book she can get her hands on and offers tribute to a very spoiled cocker spaniel.
She loves travel, art, history, and ice cream. After spending far too many years of her life in graduate school, she has decided to reorient her priorities and focus on writing contemporary romances.