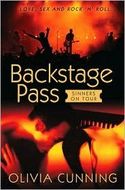 When I first started writing Backstage Pass, I had no idea what I was getting myself into. Yes, I knew the book would be about a smokin' hot love affair between a sexy, albeit romantic rock guitarist (Brian Sinclair) and a professor who appeared stuffy on the outside but was a raging inferno of sexuality on the inside (Myrna Evans). When I least expected it, these four other guys showed up. They happen to be Brian Sinclair's band mates, who make up the rest of his band, Sinners. I thought they were perfectly harmless. Just some secondary characters to progress the story. Boy, was I in for a surprise! I never expected them to take over in the first chapter.
Don't get me wrong. I love the guys in Sinners. All five of them. It's just that writing about them is like herding cats. None of them pay any attention to what I say. They do exactly what they want, when they want to do it, and couldn't care less about my plot.
Behind door number two, we have Sed Lionheart, the lead singer. He has a collection of groupies he uses without apology and hides behind a façade of cool. So why does he treat women so poorly? I didn't know when I started writing, then he told me. He had his heart broken two years ago. Okay, thank you, Sed. I wasn't aware of that. Do you want me to fix it? "Well, duh. You can't leave me this way. I'm miserable." Sed demanded his own book. Thus, my single title romance required a sequel. I guess I can handle that.
Over there, we have Jace Seymour, bassist, doing his best impression of a sweetheart, but I'm not fooled, are you? What is he hiding exactly? And why does he let the other guys pick on him without protest? Yeah, he's up to something. Has to be. Some groupie told me he's too extreme in the bedroom for her and he shows up with this suitcase of pleasure devices. Why are you so dark and emotionally shut off, Jace? Tell me. You say you need a woman to help release you from your past? I guess that means you need a book of your own, too. Sheesh, what am I running here? A rock star dating service? I guess I'll write a trilogy, but that's it. No more books, guys. Do you hear me?
Like cats, rock stars never listen. They run all over me, and I let them. In a strange way, I like it.
Somewhere around here, we have Eric Sticks, who plays drums. He always has a wise crack on the tip of his tongue. Does he even know how to be serious? And what's with the voyeurism thing? He insisted that's what he likes and who am I to argue? He told me once that he's never experienced unconditional love. Awww, I can't have that. All right, you get a book, Eric. I want you to be happy. You sure do make me laugh. I guess four books makes a series. Sigh…
And then there's Trey Mills, rhythm guitarist, and perpetual show stealer. I don't know what it is about Trey that demands attention. Perhaps it's because he is so comfortable in his own skin or so open with his affection. Whatever it is, he has me wrapped around his little finger and I let him get away with everything. "I like guys," he tells me. Okay, fine with me, I'll write a guy for you in this scene. Then he says, "By the way, I like girls, too." Really, Trey? Why is that? Then he does his impish grin thing and says, "Wouldn't you like to know?" Yes, actually, I would. You tease! "And another thing," the tells me, "I'm in love with…whisper, whisper." Are you serious, Trey? You're just going to get your heart broken, baby. So now, I have to write his book as well. Okay, five books, but that's it. Do you hear me guys? I'm in control here! Um, yeah.
Yoo-hoo, over here fellas! Pay attention! Do you see what I mean? They're like a herd of cats. There's only one thing that gets their attention. Running the can opener. They must think I'm going to feed them. They focus long enough for me to write a scene or two, but the second I turn my back, they're batting dust bunnies and climbing the curtains and taking a naps in sunshine beams.
So what's a writer to do?
I can only feel blessed that five easily distracted rock stars chose me as their author and let me write their stories.
Do you have a herd of actual or figurative cats in your life? How do you control them? Or do you even bother trying?
BACKSTAGE PASS BY OLIVIA CUNNING—IN STORES OCTOBER 2010\
Five stunning guys, one hot woman, and a feverish romance…
For him, life is all music and no play…
When Brian Sinclair, lead songwriter and guitarist of the hottest metal band on the scene, loses his creative spark, it will take nights of downright sinful passion to release his pent-up genius…
She's the one to call the tune…
When sexy psychologist Myrna Evans goes on tour with the Sinners, every boy in the band tries to seduce her. But Brian is the only one she wants to get her hands on…
Then the two lovers' wildly shocking behavior sparks the whole band to new heights of glory…and sin…
ABOUT THE AUTHOR
Raised on hard rock music, award-winning author Olivia Cunning has been known to travel over a thousand miles to see a favorite band in concert. She discovered her second love, steamy romance novels, as a teen—first, voraciously reading them and then penning her own. She lives in Hastings, Nebraska. For more information, please visit her website.
To comment on Olivia's blog for a chance to win please click here.