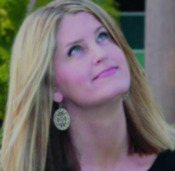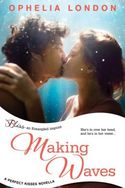 As a California native, I grew up on the beach. But not the typical beaches you might picture when you think of California. No palm trees, no oiled-up weight lifters, no boardwalk and no laying out for a tan. You see, I grew up in Eureka, happily situated between San Francisco and the Oregon border. The average summer temperature is around 65. The average winter temperature is around 55. We like to call that the temperate zone. As a current resident of Texas, I can't tell you how much I miss that weather!
The beaches I grew up on had one consistent attribute: gray. Gray skies, gray water, gray sand. But it was glorious. My early experiences with going to the beach were in sweatshirts, rolled up jeans and bare feet, soaked to the knees with seaweed between my toes and an ensuing earache. But surfing and swimming…never! There are sharks in those waters, dude. And jellyfish and weirdo slimy, gray sea life that bump against your legs and try to pull you down.  Plus, Jaws was, and still is, one of my favorite movies. Needless to say, I have rather polarizing beachy issues.
This might be why—to this day—I have an irrational fear of the ocean, but I also experience overwhelming pulls toward the sea that wake me up at night. Do you see the quandary here, guys? Despite all that, or maybe because of that, I take beach vacations very often, the Florida panhandle, specifically. Of course, I always have to do some major psyching up before I go into the water. It's best if I don't think at all…don't wonder about what's under my feet once I can't touch bottom anymore. *shiver*
Most of all, I love to write about the beach. Happy beaches, where the sun is always shining and surfer boys lounge around like Moondoggie and the Big Kahoona. (see Gidget. Like, literally: go watch Gidget now.) Beaches where there are no sharks and no undertow and no fear of the seaweed that resembles an octopus coiling around my neck. No, "my" beaches are where you have a picnic with no wind, where you read The Scarlet Pimpernel for the first time (true story) and especially where you fall in love (future true story).
Last year, I broke my Florida-beaches-only streak and booked my first trip to Hawaii. Aloha! It was one of the coolest experiences ever. And after being there approximately ten seconds, I knew I had to write a story that takes place on that golden sand. Just a few months later, I'd penned MAKING WAVES, my love letter to the beaches of Oahu.
After crossing Hawaii off my To Do list, I might as well just go for it and hit Santorini next. I'm all about goal-setting and "research" trips for my next novel. I owe that much to my readers, don't you think?
What about you? Where is your favorite beach?
To comment on Ophelia London's blog please click here.