What was your favorite part about writing IN THE COMPANY OF WOLVES? Why?
In the first two books of the SWAT Series (HUNGRY LIKE THE WOLF and WOLF TROUBLE) the stories revolve around the two most senior members of the Dallas Police Department SWAT team (SWAT Commander Sergeant Gage Dixon and squad leader Senior Corporal Xander). IN THE COMPANY OF WOLVES is SWAT Officer Eric Becker's story. Becker is one of the younger guys in the Pack of alpha werewolves and he's only been a werewolf for about two years compared to Gage who's been a werewolf for fourteen years and Xander who went through his change eight years ago. The idea of being able to approach the story from a completely different direction really appealed to me.
Now if the fact that he's simply a "newer" werewolf was the only aspect of Becker's personality I was dealing with during the story, the book probably wouldn't have turned out the way it did. But if you've been paying attention to Becker in the first two books in the series, you might have noticed that he has a somewhat casual outlook on things like rules and pack authority. Plus, he's in a place in his life where he's completely ready to meet The One for him—that one woman out there each werewolf is fated to be with.
Put all this together and you can probably guess that Becker is a young werewolf just looking to get himself into trouble. And when he meets the heroine Jayna Winston in the most insane "meet cute" situation ever, even I was shocked at the things he does! Once he thinks he's met The One, it's like his head just left the building. As you can imagine, Gage gets completely pissed. There was a time about halfway through the story when I wasn't sure who was going to hurt Becker more—the bad guys or Gage!
Beyond Becker and his youthful adventures, another thing I loved about writing IN THE COMPANY OF WOLVES is the chance to develop my particular werewolf mythology a bit more. Not to give anything away, but you've had two books to see how alpha wolves behave, and now it's time to introduce you to the other kinds of werewolves out there. The stuff the reader learns about in this book make for a load of fun, with all kinds of twists and turns. I promise you one thing for sure, I think everyone out there will lose their minds as they start realizing where this series is going!
Giveaway
Win a copy of IN THE COMPANY OF WOLVES by leaving a comment below – just tell us what you think a younger wolf (or alpha male) would need to go through if he was the youngest kid on the block (so to speak).
Paige Tyler is the USA Today bestselling author of sexy, romantic fiction. She and her very own military hero (also known as her husband) live on the beautiful Florida coast with their adorable fur baby (also known as their dog). Paige graduated with a degree in education, but decided to pursue her passion and write books about hunky alpha males and the kickbutt heroines who fall in love with them.
BLOG | GOOGLEPLUS | GOODREADS | TWITTER | FACEBOOK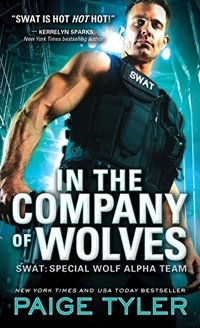 He opened his mouth to order her to drop the MP5 she had aimed at him, but nothing would come out. It was like she'd robbed him of the ability to speak. Shooting her wasn't an option, though. And the idea of arresting her didn't make him feel any better.
There's a new gang of criminals in town who are organized and ruthless in the extreme. When Eric Becker, along with the rest of the Dallas SWAT team, ends up in the middle of a shootout, he immediately senses werewolves-a lot of them. Turns out, the new bad guys are a pack of wolf shifters.
In a spray of gunfire, Becker comes face-to-face with the most gorgeous woman he's ever seen. Becker does the logical thing. He hides her and leaves the scene with the rest of his team.
Jayna Winston has no idea why that SWAT guy helped her, but she's glad he did. Ever since she and her pack mates got mixed up with those Eastern European mobsters, everything had pretty much fallen apart.
So what's a street-savvy thief like Jayna going to do with a hot alpha-male wolf who's a police officer?
Buy IN THE COMPANY OF WOLVES