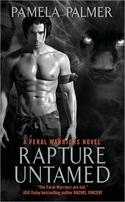 The fourth book in my Feral Warrior shape-shifter series, RAPTURE UNTAMED, hits shelves today! Meanwhile, book five is off to the copyeditor and book six is staring back at me like a wide blank screen. Actually…it's not. Which is one of the best things about writing a connected series of books. If I were simply starting a new book, an unconnected book, the sky would be the limit. And I very well might be staring at a blank screen, trying to decide what to write about, who to write about, the time period, the place, the people.
But I'm writing book six. I already know most of the characters, I know the setting, the place and time, the secondary characters, the over-arching conflict. All that has been set-up in previous books. The Feral Warriors series isn't simply a collection of romances set in the same world. It's one big story with a beginning, a middle, and (eventually) an end.
As I start working on each new book, I first look at where the story ended in the previous book. I'm not writing a new story so much as a new chapter of an on-going story. A chapter with a new lead couple. But what happens in each book is another step in the bigger tale. Which is wonderful for keeping an over-active imagination reined in. The sky isn't the limit. The beginning point is pretty much fixed.
That's the fun part of writing a series for me. That and the fact that I get to revisit old friends in every book and watch their lives progress as the months and years go by. The challenge comes in trying to keep it all straight. My mind likes to take off in a hundred directions at once, exploring, delving deep, imagining. Despite that, in many ways I'm a logical thinker. I can follow an action through any number of potential consequences. What I'm not is organized. Give me something to file and I'll come up with six different places to put it — then think of a different six when it's time to find it again. (Which often means never seeing it again. At least, not when I need it.) This lack of an organizational gene is a handicap when it comes to writing a series of books. Especially since I'm not just writing one series, but three. In addition to the Feral Warriors series for Avon, I also write the Esri series for Harlequin and the Jewels of Time series for Berkley under my pseudonym Pamela Montgomerie.
Details are critical, yet capturing them into some cohesive filing system is very hit or miss for me. So what do I do? How do I keep it all straight? I read the books again. Often. With a highlighter in hand, highlighting every detail that might be important later. One of these days I might even try filing all those juicy little tidbits. Or maybe I'll just leave them in the books where I know I can find them.
I love series, both as a writer and a reader. But what about you?
Question for you: Do you prefer reading books that are standalones or part of a series? If you like series, what are a couple of your favorites? Three lucky commenters will receive a signed copy of the first book in my Feral Warriors series, Desire Untamed.
To comment for a chance to win please click here.