Take a vacation from the everyday, with one of these new paranormal titles coming out this month.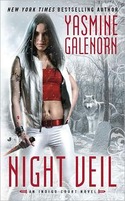 NIGHT VEIL, Yasmine Galenorn (Berkley, July 2011, $7.99, Indigo Court) Cicely Waters had always thought she was simply one of the magic-born- a witch who can control the wind. Recently she's also discovered she's also one of the shifting Fae. Now she must perfect her gift. Cicely and her friends may have escaped from Myst and her Shadow Hunters, but Myst has managed to capture the Fae Prince who holds Cicely's heart.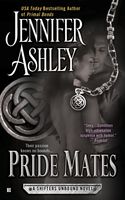 PRIDE MATES, Jennifer Ashley (Berkley, July 2011, $7.99) Like most Shifters, Liam Morrissey has learned that trusting humans leads to no good. But when beautiful attorney Kim Fraser enters Shiftertown alone in order to prove her client's innocence, Liam's alpha nature leaves him no choice but to offer his protection.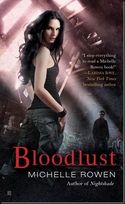 BLOODLUST, Michelle Rowen (Berkley, $7.99, Nightshade) Jillian Conrad's blood has killed the vampire king. Now an enemy to all vampires, she is targeted for elimination. So is the infant daughter of the dead king. If Jillian doesn't stand in the way of her death, then everyone, living or dead, is in great peril.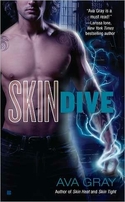 SKIN DIVE, Ava Gray (Berkley Sensation, July 2011, $7.99) Gillie is a fugitive, determined never to be bound again. Because of her special gift, her former captors intend to retrieve her-by any means necessary. Taye can't remember much about his past, but with a bounty hunter hounding them, he'll do anything to assure Gillie's safety and preserve her innocence- for himself.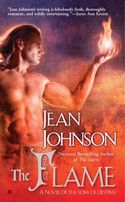 THE FLAME, Jean Johnson (Berkley Sensation, July 2011, $7.99, Sons of Destiny) Koranen of Nightfall is burned out on his Curse- a destructive flame that courses beneath his flesh. How can he find a woman to endure the literal heat of his passion? But when he meets the beautiful Danau, the couple prove that fire and water always make steam.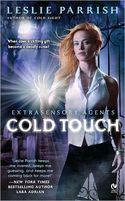 COLD TOUCH, Leslie Parrish (Signet, July 2011, $7.99, Extrasensory Agents) Since being gifted- or cursed- with the ability to touch a lifeless body and relive the deceased's final moments, Olivia Wainwright has died a hundred deaths. And every glimpse into this darkness draws her deeper into danger. Though he doesn't believe in psychics, Savannah Detective Gabe Cooper offers her a glimmer of light. As their bond deepens, Olivia will have to choose between her cold gift and the warmth Gabe can provide. And Gabe can't refuse when she needs his help solving a crime that's haunted her for over a decade- her own murder.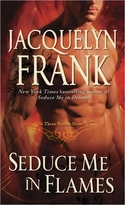 SEDUCE ME IN FLAMES, Jacquelyn Frank (Ballantine, July 2011, $7.99, Three Worlds) Ambrea Vas Allay is the rightful heir to the throne of Allay. When she is summoned home from exile, she discovers that her father has died. Her young half- brother has taken power. Ambrea is torn by an impossible choice: renounce the crown or waste away in prison. The last thing she expects is to be liberated by a huge, tattooed Tarian- or to feel a searing passion for her mysterious rescuer. Rush "Ender" Blakely loves being part of the elite force of the Interplanetary Militia and the mission to save the princess Allay. But the tough Tarian hides a fiery secret- a blazing power that makes him literally too hot to handle.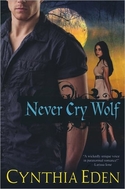 NEVER CRY WOLF, Cynthia Eden (Brava, July 2011, $14.00) Lucas Simone is not the kind of guy you mess with. He's big, he's strong, and his eyes hint at a wilder side most women can't handle. Of course, that's because his predatory instincts are no metaphor—he's a genuine Grade-A top-quality werewolf, tough enough to fight his way to dominance over the scariest pack on the West Coast. There's only one chink in his armor. Unlike most alpha dogs, Lucas has a reputation for protecting the weak and innocent. Sarah King is counting on that protective impulse—it's the only thing standing between her and certain death.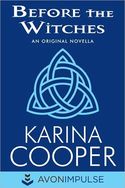 BEFORE THE WITCHES, Karina Cooper (Avon, July 2011, $2.99) Katya Zhuvova fled a country that feared her gifts, but her escape to Seattle left her at the mercy of a ruthless man. With no one left to turn to, Katya hatches a desperate escape plan. Undercover Detective Nigel Ferris is determined to bring down a prostitution ring, whatever the cost. In order to the get answers he needs, he attempts to win the trust of one of the prostitutes involved- but one look at the deceptively sultry Katya and the cool, objective cop disappears. Before either can put their plans into place, Mother Nature shrugs: a cataclysm rocks Seattle, and life is turned upside down. Brought together by chance, Nigel and Katya are in the fight for their lives. Surrounded by death and fear, shattered by immeasurable loss, they have only a bond forged in fire to cling to as they struggle to survive in a world gone straight to hell.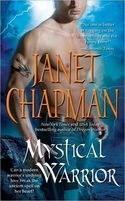 MYSTICAL WARRIOR, Janet Chapman (Pocket, July 2011, $7.99) An eleventh-century lass with a stubborn streak unleashes the red-hot hero inside her modern lover in bestselling author Janet Chapman's irresistible new Midnight Bay adventure. Trace Huntsman's peaceful life has headed to hell in a hand-basket ever since stunningly beautiful Fiona Gregor moved into the vacant apartment above his house. Kidnapped centuries earlier and transformed into a red-tail hawk, Fiona is human once more and must learn how to be a modern woman. But damned if Trace is going to be the one to teach her. Not when her mere presence ignites a fiery passion deep within his cautious heart. Fiona longs to overcome the painful memories of her tragic past- to let down her guard and become a mother again. But so far her handsome landlord is not exactly thrilled with the stray animals- and suitors- that keep following her home. Weird things are happening, and only Trace can save her.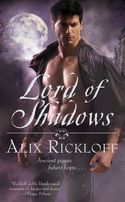 LORD OF SHADOWS, Alix Rickloff (Pocket, July 2011, $7.99) Who is working the demon arts- Was it her murdered father? Her fugitive brother? It has been seven years since Lady Sabrina Douglas cloistered herself with the Sisters of High Danu, but the questions remain. She is Other- a mixture of Fey and mortal- quietly using her powers to heal. That is, until she saves a half-drowned man, his soldier's body a roadmap of scars, his fathomless eyes filled with heartbreaking loneliness. The inexplicable connection overwhelms her defenses, touching her heart, mind, and body. A man with no memory, Daigh MacLir seeks his past even as unknown threats fill him with monstrous rage and inhuman abilities. But as a desperate game of hunter and hunted is played out from ballrooms to bedrooms, what Daigh discovers is more chilling than anyone could possibly imagine.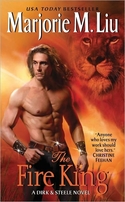 THE FIRE KING, Marjorie M. Liu (Avon, August 2011, $7.99, Dirk & Steele – reissue) Long ago, shape- shifters reigned as gods. But even gods have laws that they break at their own peril. Each member of Dirk & Steele has a unique ability. Soria's is the gift of communication- which is why she's been chosen to learn the language of a tormented warrior resurrected after thousands of years of icy sleep. He is Karr, and once he was a king. Strong as a lion, quick and deadly as a serpent, he saw everything he loved consumed in flames. Death was to be his salvation, but thousands of years later he has been awakened against his will. Now a breathtaking human moves him in ways he neither understands nor desires.
Enjoy- Sara Edmonds