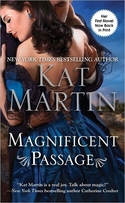 Twenty five years ago I started my first novel, MAGNIFICENT PASSAGE, a sexy western romance set in the eighteen-sixties.  Today the book would be considered an old-fashioned Bodice Ripper–a name derived from the sensuous covers revealing the heroine's, half-exposed heaving bosoms.
In the eighties and before, the romance genre was wide open.  There were no taboos, nothing was considered politically incorrect.  The hero was all-man and the heroine was pretty much at his mercy.
Women got spanked, men pushed seduction to near-rape limits.  Back in those days, men were men, and women knew it.  Today's equal-opportunity women often disapprove, but Lord those books were fun.
I wouldn't write this book today.  Male, female roles have changed drastically since MAGNIFICENT PASSAGE was published in 1988.  In the nineties I wrote mostly historical romances set in Regency England, far tamer faire.
Currently, I'm writing Contemporary Romantic Suspense.  My Raines Brothers Trilogy, AGAINST THE WIND, AGAINST THE FIRE, and AGAINST THE LAW, came out January, February, March, and AGAINST THE STORM will be out the end of October.
But western romances like MAGNIFICENT PASSAGE were all the rage back in the eighties.  Having come from a family that included a grandmother who was a rodeo cowgirl in 1916, a father who was a PRCA team roper, and an uncle who was a famous rodeo bullfighter, choosing a Western setting for my first Romance was a perfect fit.
The story begins on the Wyoming frontier when Samantha Ashton's flighty cousin Julia comes for a visit and falls in love with a handsome cavalry officer.  Her father, the governor of California, discovering what Julia has been up to, sends men to bring her home.  Instead, Julia convinces Mandy to change places with her and return to California with the men, giving Julia time to marry her dashing lieutenant.
Travis Langley, known as Hawk, is a white man raised by the Cheyenne, a man trying to make peace with his dual heritage.  The last thing he wants is a job chaperoning Julia Aston, the governor's spoiled daughter.  But Mandy is more than she seems.  She's strong-willed and brave, he discovers, spirited and wildly sensuous.  It's a long journey to California and anything can happen–and does.  And the fierce attraction between them turns into a fire they can't seem to put out.
The novel was never re-issued so very few copies of the original work remain, and none have the fabulous cover that Vanguard had created for the new edition.
I hope you enjoy the Bodice Ripper that began my writing career, and that you'll look for other of the more than fifty books I have written over the years.
Very best wishes,
Click here to enter to WIN A KINDLE!
Click here to read an excerpt of Magnificent Passage
Click here to visit Kat's website
Click here to view Kat Martin's Magnificent Passage Video
To comment on Kat Martin's blog please click here.