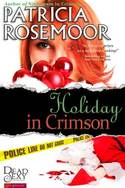 Authors draw on their own experiences, their memories, their desire to give their stories an authentic edge.
Not that I've ever run across a dead Santa Claus as does my heroine in HOLIDAY IN CRIMSON…
Westbrook Department Store's Christmas party wasn't that wild–until, that is, Santa ended up dead. Now window designer Shelby Corbin is the prime suspect in his murder, and the holidays are anything but festive. If Shelby doesn't figure out who killed Santa, she'll be ringing in the new year behind bars.
Westbrook's impossibly sexy co-owner and CEO Rand McNabb's romantic attentions both thrill and frighten Shelby. But is he really helping her search for the truth about that fatal night? Or does Rand have a deadlier motive for courting the only possible witness to the crime…?
So what about HOLIDAY IN CRIMSON comes from my own experiences?
As a child, I used to look forward to the day when Mom would take me to downtown Chicago to see the holiday windows. My favorites were always windows at the iconic Marshall Field's, a department store that took up a whole block on State Street. The windows always told a story that captivated me. So in wanting to tell a holiday story, I immediately thought about a department store and a heroine who was in charge of the windows.
That isn't the only thing about Shelby that comes from my past memories. Shelby lived in my first apartment in the city. Her love of the holiday came from me. She buys one special new ornament each year, so that she has a tree of memories. I used to do that with my husband Edward until a few years ago when I stopped having trees after he died. Now I have lights and wreathes and special ornaments that I hang in the windows.
A really special memory is the scene where Shelby and Rand get to know each other better while cross-country skiing. That was taken from my own experience. Neither Edward nor I had ever been on cross-country skis before. But that year, they did indeed rent them in Lincoln Park, and we had a huge snowfall. We were terrible at it. I kept breaking through the snow crust and getting stuck with a ski two feet below the surface. I remember having to take off the ski and let Edward help me get it back on. It was an exhausting day. And a magical one.
What makes Christmas magic for you?
Share a holiday memory for a chance to win one of my digital backlist romantic suspense novels.
Patricia Rosemoor is the author of 93 novels with more than seven million books in print. She loves combining love with danger, so most of her novels have been romantic suspense, romantic thrillers and even romantic horror. You'll find her at http://PatriciaRosemoor.com and at Facebook. She's also on twitter – @PRosemoor.
To comment on Patricia Rosemoor's blog please click here.