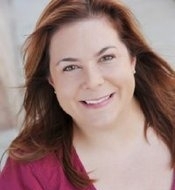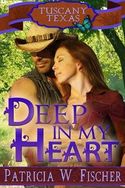 It's official. On February 3rd, 2014 amazon.com announced that San Antonio, Texas is the most romantic city in the US.
According to the site, the annual sales of romance and relationship books, romantic movies, and love music as well as (cough, cough) adult toys purchased by the people of San Antonio last year rated at the top in the nation.
Why is this important?
One, because the Romance Writers of America's 2014 National conference will be held in the Alamo City in July.
Two, because I call this city my home and I'm thrilled to find that people are figuring out just how cool we are.
Three, ended up being total irony because the day after the announcement was made, I, along with two of my fellow San Antonio Romance Authors (Sasha Summers and Laurie Olerich) appeared on a local morning show called, San Antonio Living.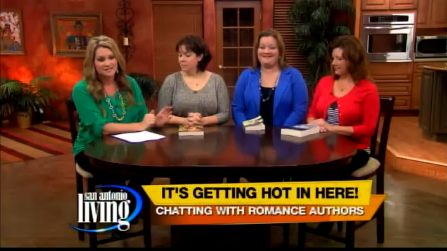 Now understand, we three arrived with great plans to pimp our books and talk about the group book signing we had following Saturday. We didn't anticipate that we would be asked to give advice for viewers about their relationships.
Gasp!
This had sudden fame or total disaster written all over it. As they geared up to start the show, the host explained she wanted us to present our answers as though we were the characters in one of our books.
Whew! That was a huge sigh of relief.
I knew my character, Dr. Jocelyn Davis from DEEP IN MY HEART, all too well. Even though I knew how she would answer the question, but it made me wonder:
Who am I to give such words of wisdom about love?
Just because I'm a romance writer there are certain things people do assume about me:
One, I know all about love.
Two, that I have an amazing sex life. 🙂
Three, that things always work out for me and small forest creatures clean my house.
Four, that I sit around, eating chocolates, while creating literary masterpieces as my four children sit quietly and wait until I'm done.
Yeah, the only four legged creatures that enter my house are our dogs and they have yet to figure out how to plug in the vacuum.
Things didn't always work out for me. In fact, there was a time years ago, that it really didn't work out for me at all, but that's another blog entry.
My kids are kids. They eat my chocolate and don't sit still, but are wonderful and do know how to plug in and use the vacuum.
As we waited to return from the break, I kept thinking, "Please for the love of Pete, don't let me say something that ruins a relationship."
In retrospect, my worry had been unnecessary. The host kept it light and fun and the segment went very well. No one called in saying we'd ruined anyone's marriage.
Rest assured. These romance writers have got it under control.
Comment to win a copy of DEEP IN MY HEART (e-copy) Just tell us what you think of the romance authors' advice on the show.
To comment on Patricia W. Fischer's blog please click here.