1–What is the title of your latest release?
2–What is it about?
The Titanic of the South — the true and untold story of the sinking of the luxury Steamship Pulaski. 
3–What do you love about the setting of your book? 
Savannah, Georgia past and present! 
4–How did your main character(s) surprise you? 
I have three main characters and they all surprised me with their utter resilience! I spent a lot of my time wondering — would I have been as strong as they were/are?
5–Why will readers relate to your characters? 
They must survive to live a deeper life, and who doesn't want to do that?
6–What was one of your biggest challenges while writing this book (spoiler-free, of course!)? 
What people chose to do with their survival! It varied so much. 
7–Do you look forward to or do you dread the revision process? 
Half and half. Part of me loves revision and getting my hands back into the clay of my story, and the other half of me dreads the very hard work of digging out the weeds. 
8–What's your favorite snack to have on hand while writing? 
Popcorn! 
9–Where would you go for an ideal writer's retreat? 
The mountains! The quiet and the deep forest sounds; the sense of being in a cocoon and the lovely sense of time standing still. 
10–What's the best piece of writing advice you've received? 
Know what your character wants! This changes everything. When the want is vague, the story is vague. 
11–Who is the fictional character you want to hang out with the most? (anyone in literature!)
Aslan from THE LION, THE WITCH, AND THE WARDROBE.
12–What's one of your earliest book memories? 
Hiding in a hammock on summer break as a pre-teen reading to my heart's content. 
13–If you had to write in a different genre, what would it be and why? 
I'd love to have the chops to write a damn fine fairy tale!
14–What song will automatically put you in a good mood? 
Anything by Vince Gill. 
15–What is your favorite way to practice self-care?
Reading something inspiring, most likely poetry. Walking and journaling. 
16–What can you eat and never get sick of? 
Dubliner cheese
17–Will you share a favorite, recent-ish book you recommend? 
Paula McLain's upcoming When The Stars Go Dark. 
18–Do you have any hobbies? 
I love reading and writing and those seem to be not only my job but my hobbies! I love hiking, yoga, and interior design, and those sneak in once in a while. 
19–Are you an early bird or a night owl?
Early bird!
20–What can readers expect from you next? 
SURVIVING SAVANNAH comes out on March 9th and I am so ready for everyone to read this book I've spent years working on!  And I have a short story in an anthology coming out in April to honor Dorothea Benton Frank; it is titled REUNION BEACH and includes other authors like Elin Hilderbrand and Adriana Trigiani. I also have a surprise project coming out in October of 2021. Keep your ears and eyes open 🙂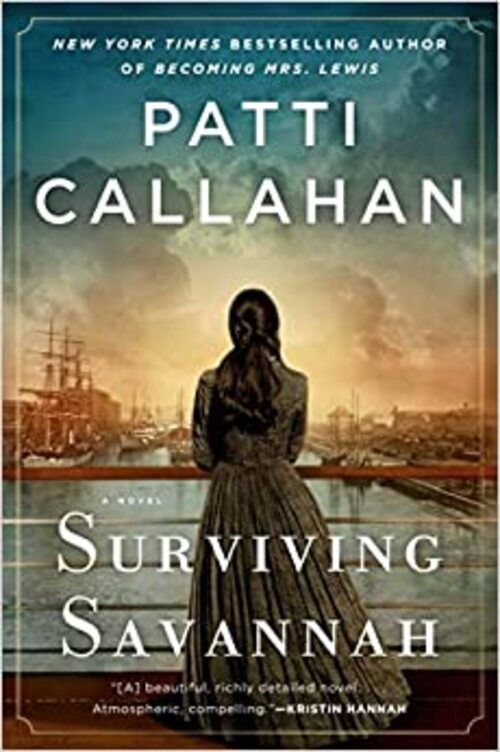 It was called "The Titanic of the South." The luxury steamship sank in 1838 with Savannah's elite on board; through time, their fates were forgotten–until the wreck was found, and now their story is finally being told in this breathtaking novel from the New York Times bestselling author of Becoming Mrs. Lewis.
When Savannah history professor Everly Winthrop is asked to guest-curate a new museum collection focusing on artifacts recovered from the steamship Pulaski, she's shocked. The ship sank after a boiler explosion in 1838, and the wreckage was just discovered, 180 years later. Everly can't resist the opportunity to try to solve some of the mysteries and myths surrounding the devastating night of its sinking.
Everly's research leads her to the astounding history of a family of eleven who boarded the Pulaski together, and the extraordinary stories of two women from this family: a known survivor, Augusta Longstreet, and her niece, Lilly Forsyth, who was never found, along with her child. These aristocratic women were part of Savannah's society, but when the ship exploded, each was faced with difficult and heartbreaking decisions. This is a moving and powerful exploration of what women will do to endure in the face of tragedy, the role fate plays, and the myriad ways we survive the surviving.
Historical | Women's Fiction Southern [Berkley, On Sale: March 9, 2021, Hardcover / e-Book, ISBN: 9781984803757 / eISBN: 9781984803764]