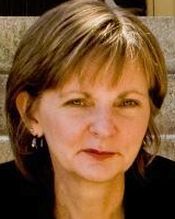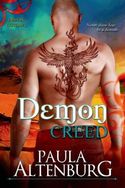 I've been reading for what feels like forever. I love, love, love it.
Love.
And I love reading romance in particular because, no matter what kind of mood I'm in, there's a story out there for me. They come in all genres: contemporary, fantasy, paranormal, historical, and when I get tired of those, I can look for the mash-ups of genres.
I have more of a love/hate relationship with writing, however. Confession time – I never wanted to be a writer. It looked like a lot of hard work, and hard work makes me sweat.
I don't like to sweat.
So that's what I'm less than enthusiastic about.
Now let me give you five reasons why I love writing fantasy romance so much.
I love to make people think.
If my story resonates with even one person, then I feel I've done okay. I try to include a lesson. In DEMON CREED, and really the entire Demon Outlaws series, it's about acceptance and prejudice. FYI, the demons in my stories aren't necessarily the bad guys.  Two of the heroines and one of the heroes are half demons. They're also very human at heart.
I love to make people feel.
Sometimes I want them to feel happy. Sometimes I want them to feel sad, at least for the characters. I want them to feel like they're a part of the world I built. And always, I want them to feel like I gave them a good story.
I love to make people see.
I want my stories to come alive. I want people to see what I see when I write, or sometimes, I want them to come up with their own vision. That's where detail comes in especially handy. Give a little, and the reader sees what they want. Give a little more, and they see what I want them to. Give too much, and you've got a travelogue.
The Demon Outlaws series are fantasy romance westerns with a touch of urban fantasy. Their world is built around the characters. It's meant to test them, and prove that they're worthy, but also to offer them hope. They can't just survive it—they have to change it somehow. If a world is beyond redemption, why would anyone, including a reader, want to spend time in it? I tried not to fill the Demon Outlaws world up with too many details.  (See number 3.) World building is all about taking readers on a ride they can experience along with the characters. And maybe letting them share in the driving.
And I love to entertain people.
I want my characters to be complex, but not so angst-ridden that they suck the joy out of life. I have a demon hunter, a former assassin once almost eaten by demons, and a half demon Godseeker assassin. I have a half demon heroine who has the ability to draw men to her. Another heroine is a former slave searching for her half demon son. And one heroine is half demon, half goddess. I want the reader to believe in them, and in their happily ever afters. I want my worlds to be vivid. I want my action and plot to be engrossing. I want my readers to come away feeling like they just rode one of the rides at Disney World. (A fun one—not the one that makes little kids throw up.)
In DEMON CREED, and the Demon Outlaws series, I hope I've made the reader experience at least some of the above.  And what I've learned from all this?
Like it or not, getting sweaty goes hand in hand with doing something you love.
As a reader, what's the experience you want to walk away with from a story? What makes you pick up a book in the first place?
To comment on Paula Altenburg's blog please click here.