My second Love Inspired Suspense from Steeple Hill came out this week! Seeing SCARED TO DEATH on the shelf in my favorite bookstore is the continuation of a dream come true that started in April when my debut novel, NOWHERE TO HIDE, was first released.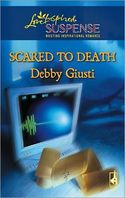 If you've ever worked to accomplish a goal that at times seemed almost unobtainable, I bet you can relate to the elation I feel having two books in print. The path to publication can be long and winding, filled with dead ends and detours. Constructive feedback is hard to come by, yet rejection abounds. Taking an idea and developing it into a full-length manuscript demands intense effort and self-discipline.
Unfortunately, many would-be authors don't persevere long enough to see their books in print. Because perseverance and determination are the key. Everything else can be learned.
I made it because I kept trying.
So can you. No matter what you're hoping to achieve.
Most dreams start with a tiny spark of an idea. For a writer, the process usually begins with a "what if!"
What if a woman's husband was murdered and the people who killed him are now after her son? If you read NOWHERE TO HIDE, you'll recognize that storyline.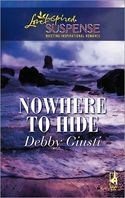 And the "what if" for SCARED TO DEATH? What if a woman answers an estranged friend's call for help and ends up in the middle of a sinister medical scheme that's killing people in small town Georgia?
My third book, MIA: MISSING IN ATLANTA, comes out in March. What if a returning war hero's search for a missing girlfriend leads him into a web of corruption and exploitation that almost costs him his life?
I'm working on book four now, with book five and six in the lineup. Guess that means I'm hooked on writing stories and seeing them in print.
But I'm getting ahead of myself. Right now, I need to know what you think of SCARED TO DEATH. Visit my Web site, http://www.debbygiusti.com/, or post a comment on my blog, http://www.ladiesofsuspense.blogspot.com/
I'm waiting to hear from you.
Wishing you abundant blessings and may all your dreams come true!