Instead of trying to find your perfect match in a dating app, we bring you the "Author-Reader Match" where we introduce you to authors as a reader you may fall in love with. It's our great pleasure to present Pintip Dunn! 
Writes:
DATING MAKES PERFECT is an #ownvoices Thai YA rom-com that includes heartwarming family dynamics, fake dating, and an enemies-to-lovers romance. The Tech girls have never been allowed to date in high school. But when Winnie's college-aged sisters declare that they won't marry for 30 years –not until they've had lots of practice dating, their parents decide that their youngest daughter, Winnie, must date in high school in order to gain the necessary relationship skills. They'll pick the boy and design the dates around classic rom-com movies. The only problem is… their first candidate is Winnie's sworn enemy.
About:
First-generation Thai-American author seeks devoted reader who loves to laugh and swoon. From small-town Kansas to Harvard University and Yale Law School, I've lived in lots of places and have had many diverse experiences. Maybe that's why I love writing within different genres of the YA category. I'm proud of my accomplishments (NYT bestselling author, two-time RITA® Award winner), but even prouder of my stories.
Oh, you should also know that I'm obsessed with penguins, and my childhood dream was to marry someone whose last name is "Gwynn"–so that my name could be "Pin Gwynn." Alas, I got stuck with Dunn, but my husband and three children are worth the sacrifice.
What I'm looking for in my ideal reader: 
-enjoys a mash-up of tropes, namely best friends to enemies to lovers
-adores witty banter
-likes their romances with the sides of deep family bonds and strong sisterly relationships
-appreciates a slow build-up to that perfect first kiss
-identifies with slightly awkward heroines who feel like they can never measure up to their beloved sisters
-relishes gorgeous but infuriating heroes who are slightly arrogant but have goodness at their core
-loves reading about cultural traditions
-possesses a deep abiding love for food in general — and Thai food in particular
What to expect if we're compatible:
-heartfelt stories in a range of genres, from sci fi to thriller to rom coms
-consistent themes of family love, sacrifice, and impossible moral dilemmas
-#ownvoices Thai main characters and diverse secondary characters
-journeys of self-discovery, where the person the protagonist turns out to be is braver, stronger, and smarter than they ever dreamed possible
-a strong thread of love in all my books, from epic romance to romantic comedies
-my heart and soul on the page
-a deep appreciation and gratitude for my readers
The Tech sisters don't date in high school. Not because they're not asked. Not because they're not interested. Not even because no one can pronounce their long, Thai last name–hence the shortened, awkward moniker. But simply because they're not allowed.
Until now.
In a move that other Asian American girls know all too well, six months after the older Tech twins got to college, their parents asked, "Why aren't you engaged yet?" The sisters retaliated by vowing that they won't marry for ten (maybe even twenty!) years, not until they've had lots of the dating practice that they didn't get in high school.
In a shocking war on the status quo, her parents now insist that their youngest daughter, Orrawin (aka "Winnie"), must practice fake dating in high school. Under their watchful eyes, of course–and organized based on their favorite rom-coms. 'Cause that won't end in disaster.
The first candidate? The son of their longtime friends, Mat Songsomboon–arrogant, infuriating, and way too good-looking. Winnie's known him since they were toddlers throwing sticky rice balls at each other. And her parents love him.
If only he weren't her sworn enemy.
Young Adult Contemporary | Romance Comedy [Entangled: Teen, On Sale: August 18, 2020, Trade Size / e-Book, ISBN: 9781682814970 / eISBN: 9781682814987]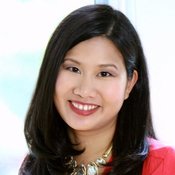 Pintip Dunn is a New York Times bestselling author of YA fiction. She graduated from Harvard University, magna cum laude, with an A.B. in English Literature and Language. She received her J.D. at Yale Law School. Pintip's novel, FORGET TOMORROW, won the RWA RITA® for Best First Book. It is also a finalist for the Grand Prix de l'Imaginaire, the Japanese Sakura Medal, the MASL Truman Award, and the Tome Society It list. In addition, THE DARKEST LIE was nominated for a Romantic Times Reviewers' Choice Award. Her other books include REMEMBER YESTERDAY, SEIZE TODAY, and GIRL ON THE VERGE. She lives with her husband and children in Maryland.