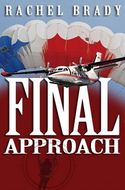 Last time I visited Fresh Fiction we talked about the Stupid Things I Do for Excellent Books. In the spirit of Halloween, I'll follow up with a similar confession regarding the ridiculous things I do because of my out-of-control sweet tooth. When I'm finished, I'll tell you how to score a bunch of free books.
Candy problems first.
1. I wait until the 31st to stock up . . .
Experience shows that the earlier in the month I buy the Halloween candy, the more times I go to the store to replenish it. So now I save myself all those bags of calories and just shop at the last minute with the slackers. Or maybe I'm shopping with the replenishers.
To read more about Rachel and her candy problem and to comment for a chance to win please click here.