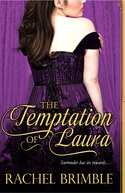 THE TEMPTATION OF LAURA is the second book in my ongoing series with eKensington. The books are set in and around the famous historical city of Bath, England. I am lucky enough to live just a short, thirty-minute drive from the city, which means I can go back and forth as often as I like.


Bath is rich in history. From the Roman times, right through to the late 19th century, there are many sights, museums, talks and festivals to educate and entertain. My books are set in the late Victorian era, and I tend to focus on the social entertainments and issues of the time rather than specific historical events. My stories are peppered with descriptions and referrals to real and existing Bath buildings, streets and homes that I have been lucky enough to visit, and I hope each adds enough to ground the reader in the beauty and mystery of this beautiful city.
Very little has changed in Bath over the years and it was my absolute pleasure to show one of my dearest online US friends around in September last year. We had spoken online for around six years so when she intended to fly in from Texas to attend the annual Jane Austen festival I was thrilled.
We had an amazing two days!
Anyway, back to the books – the first in the series (THE SEDUCTION OF EMILY) focused on arranged marriage and revenge, whereas THE TEMPTATION OF LAURA is about ambition and the struggle women had to succeed and flourish in a career of their choice. Set against the backdrop of Bath's Theater Royal, Laura Robinson is a prostitute striving for a better future. An avid admirer of the stage and its stars, she one day meets Bath's current star, Adam Lacey. He puts before her a proposal she would be foolish to dismiss…but is Adam the kind, caring man he appears to be or is his agenda entirely sexual? Laura has to learn to trust — a concept she has no idea how to nurture or even believe possible…
Laura Robinson has always been dazzled by the glamour of the stage. But perhaps acting and selling one's favors are not so different—for Laura must feign pleasure with the men she beds to survive. Now, with her only friend at death's door and a ruthless pimp at her heels, escaping her occupation seems impossible. Hoping to attract a gentleman, she attends the theater. Yet the man Laura captivates is no customer, but a rising star and playwright…
Adam Lacey has been driven to distraction since the moment he saw Laura. She is his ideal leading lady come to irresistible life—and so much more. Certain they can make the perfect team on and off stage, he is determined to win her heart—and discover her story. But that is precisely what Laura fears. And she has no idea that Adam harbors shameful secrets of his own. Will the truth free them to love—or destroy all their dreams…?
Amazon US | Amazon UK | Barnes & Noble
About Rachel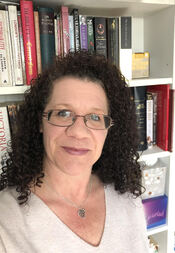 Rachel lives with her husband and two young daughters in a small town near Bath in the UK. After having several novels published by small US presses, she secured agent representation in 2011. In 2012, she sold two books to Harlequin Superromance and a further three in 2013. She also writes Victorian romance for Kensington–her debut was released in April 2013 and she has since signed for three more.
Rachel is a member of the Romantic Novelists Association and Romance Writers of America. When she isn't writing, you'll find Rachel with her head in a book or walking the beautiful English countryside with her family and beloved black Lab, Max. Her dream place to live is Bourton-on-the-Water in South West England.
She likes nothing more than connecting and chatting with her readers and fellow romance writers. Rachel would love to hear from you!
Connect: Website | Blog | Twitter | Facebook
To comment on Rachel Brimble's blog please click here.