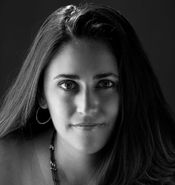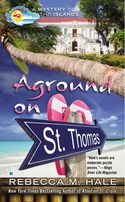 The third installment of the Mystery in the Islands series, AGROUND ON ST. THOMAS, opens with a grand jury indictment of the sitting governor, his cabinet, and the entire VI Legislature. Chaos ensues as the FBI attempts to arrest those accused of corruption. The governor and two VI senators evade capture, leading to a chase through Charlotte Amalie's narrow alleyways and steep streets. Competing conspiracies among the locals hamper the search, leaving a hapless Agent Friday to sort out who's scheming whom.
With the area's regional airport, the seat of government, and a thriving cruise ship port, St. Thomas is the commercial center of the Virgin Islands. Everyone who lives or visits this part of the Caribbean spends at least a little time in the island's main town of Charlotte Amalie, the primary setting for AGROUND ON ST. THOMAS
The waterfront streets are mostly flat, but as the city moves inland, it curves upward, covering the lower slopes of several flanking hills. The result offers a surreal perspective of neighboring properties and the surrounding city. The densely populated landscape is both elevated and cupped within the side slope.
The area around Government Hill, in particular, feels like a stage set inside an amphitheater. Public staircases built by the Danish run up and down the hillside. The steps are set far apart, designed so that donkeys could navigate the passages carrying heavy loads. These walkways crisscross through closely packed housing, providing unique vantage points of the harbor – and of the adjacent residences.
During one of my research trips to St. Thomas, I stayed at a hotel on Government Hill. The structure was built into the slope, so that its upper levels comprised a series of terraces. I felt like a voyeur as I stood on the building's many decks and panned my camera lens around the city, zooming in on balconies and front porches.
I wasn't the only one peeping.
As I talked with people about local events and listened to the regular island gossip, I realized that eyes were pointed across Charlotte Amalie's hillsides, day and night. The comings and goings of elected officials, the police on patrol (or not), a robbery among the alley jewelry shops, the arrival of a cruise ship, and anything else that happened of note fell under the residents' close observation.
Making St. Thomas the perfect setting for a mystery of political intrigue…