Your book has been described as Mad Men meets Devil Wears Prada – a very enticing combination! What sort of research did you do for this novel, and what was the most surprising thing you learned?
I was lucky with this book because there were several excellent biographies on Helen Gurley Brown, as well as all the books she wrote herself. Naturally, the place for me to start was HGB's scandalous bestseller, Sex and the Single Girl. It was published in 1962 and sold two million copies the first month it was out. It was basically a guide on how to find men and what to do with them once you've found them. It was truly groundbreaking material because, at that time, no one else was speaking to single women in that way. Sex and the Single Girl gave me a good feel for Helen Gurley Brown's philosophy and her views on men, dating and of course, sex. The blueprint for her future makeover of Cosmopolitan can be easily found in the pages of her book. I also watched the Sex and the Single Girl movie and lots interviews with HGB—there's a slew of them on YouTube. (Also I was fortunate to have met a dear friend of Helen Gurley Brown's, but we'll talk more about that later.)
But at the end of the day, there's no substitute for hands-on research, so I went to New York. Even though I had lived on the Upper West Side for a short period of time, it was important to go back there and see the city through the eyes of Alice Weiss. I spent my time there living in Alice Weiss and Helen Gurley Brown's worlds. I went to Helen's apartment building on Park Avenue, saw which bus route she took to her office every day (yes, she rode the bus to work!). I went to the building that originally housed the old Cosmo offices on West 57th Street. I also found the exact apartment that Alice would have rented on the Upper East Side in what was called the Girl's Ghetto back in the 60s. (And it really did have a butcher shop on the ground floor.) On the more glamorous side, I went to the Russian Tea Room, the St. Regis, the Plaza, the 21 Club and some of HGB's other famous haunts.
As for the most surprising thing I learned, it's hard to pick just one, but I suppose the most shocking of all was Helen's advice and sometimes outright encouragement of having affairs with married men. Ironically, Helen and David Brown were happily and faithfully married for 51 years, but I have to wonder what she might have done had some other woman made a play for her husband.
A writer's process is as unique as the book they finish. How do you approach writing a novel, especially one with such an interesting premise? 
I've found that each book requires a slightly different approach. This book was especially tricky for me. I remember it took us quite a few tries to get it right. I think I wrote about a hundred pages and after sharing them with my editor, I knew I needed to throw them out and start over again. (My agent reminded me that I usually do this with every book!) For me it's hard to find the jumping off point, a little like finding the starting point on a roll of cellophane tape—I go round and round until one tiny piece catches! The biggest challenge early on was getting the Alice Weiss character right. I wanted her to be wide-eyed but at the same time, smart enough to catch on to big city living fast. Once I had Alice's voice and felt I really knew her, the rest of the story rolled out and started to write itself.
I understand that you met Lois Cahall, a close friend of the formidable Cosmopolitan editor-in-chief, Helen Gurley Brown. What was that like, and how did it enrich your story?
Meeting Lois Cahall was a gift from the writing gods. I remember I was having lunch with Andrew Gross and his wife, Lynn.  Andy asked about my next book and as soon as I mentioned Helen Gurley Brown, Andy and Lynn both said, "We have to introduce her to Lois."
Lois Cahall (a writer herself and founder of the Palm Beach Book Festival) met HGB at Studio 54 and the two became fast friends. In fact, Lois regarded Helen as her second mother. Lois and I finally met face-to-face over lunch at the Breakers in Palm Beach and she was so warm and lovely. She immediately put me at ease and in a way, getting to know Lois made me feel as though I knew HGB just a little bit.
I'm very grateful that Lois trusted me with her stories and memories of Helen. She shared information that I never would have found through any other source. It was very important to Lois (and to me) that Helen be portrayed as accurately as possible. To that point, Lois vetted the book and was quick to point out wherever Helen started sounding like Anna Wintour or where I'd overlooked an opportunity to bring out her smarts and strength. A lot of my favorite Helenisms came straight out of my conversations with Lois.         
One of the great things about historical fiction, whether they are based on actual historical figures or not, is the vast availability of time periods to explore and enjoy. What are some of your favorite historical fiction novels?
A Gentleman in Moscow by Amor Towles—actually, it's a tossup between that and Rules of Civility. I just love Amor Towles' writing. I think the man is a genius.
The Alice Network by Kate Quinn.  Kate Quinn combines page-turning storytelling with unique and fully realized characters and she wraps it all in such elegant prose.
Water for Elephants by Sara Gruen—I think I've read this book three or four times and have loved it more with each reading.
Summer is about to begin – do you have any fun summer plans this year?           
Since I'll be on the road quite a bit this spring and into early summer, John and I decided that our big plans for summer would be to stay in Chicago and redo our kitchen. We both love to cook and it's time we made our space work for both of us. But… I have a feeling we might sneak away to visit friends and family out West while we're under construction.
What can readers expect from you next?      
 Right now, I'm working on my next novel, The Social Graces. It tells the story of Mrs. Astor and Alva Vanderbilt vying for control of New York society during the Gilded Age. It's scheduled for release in January 2021.
Rapid Fire Random Questions
Favorite candy: Chocolate, preferably dark chocolate.
Favorite way to be kind to yourself:  Getting my hair done at Lira Gurzi Salon. Lira always brings me back to life. It's a real treat to visit her salon and I leave feeling like a new woman!
Best compliment you recently gave to someone: "You make wherever you are a better place to be."  
Favorite flower: Hydrangeas. They remind me of pompoms, and I think the wannabe cheerleader in me likes them for that very reason.
Random interesting fact you like to tell people:  I just started driving again after a 20-year hiatus
Best vacation you've ever taken: A ten-day trip to Israel with my family in celebration of my mother's 80th birthday. It was a once in a lifetime experience that had a deep impact on me.
Earliest celebrity crush: Dean Martin –I remember thinking those Gold Diggers showed such restraint. Oh, how he made my young heart swoon!
Cake or pie: Cake. Devil's food with white icing.
Last book you read that you really LOVED: The Great Believers by Rebecca Makkai. It just blew me away.
You have a totally free afternoon – no deadlines, no obligations, no Twitter notifications!  What do you do?:  I would be "a lady who lunches". I would grab my BFFs and go have a beautiful lunch somewhere, followed by a trip to the nail salon for mani and pedis and perhaps an afternoon cocktail! Ah, yes, that's what I call a perfect day.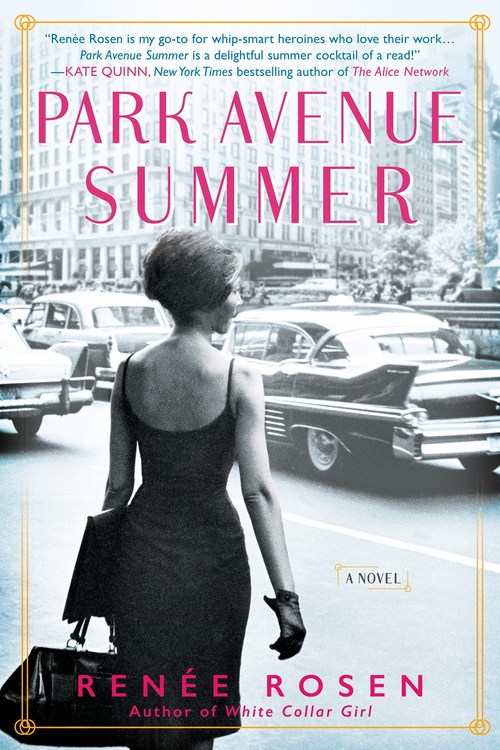 Mad Men meets The Devil Wears Prada as Renée Rosen draws readers into the glamorous New Yo k City of 1965 and Cosmopolitan magazine, where a brazen new editor-in-chief—Helen Gurley Brown—shocks America and saves a dying publication by daring to talk to women about all things off-limits…
New York City is filled with opportunities for single girls like Alice Weiss, who leaves her small midwestern town to chase her big-city dreams and unexpectedly lands the job of a lifetime working for the first female editor-in-chief of Cosmopolitan magazine, Helen Gurley Brown.
Nothing could have prepared Alice for the world she enters as editors and writers resign on the spot, refusing to work for the woman who wrote the scandalous bestseller Sex and the Single Girl, and confidential memos, article ideas, and cover designs keep finding their way into the wrong hands. When someone tries to pull Alice into a scheme to sabotage her boss, she is more determined than ever to help Helen succeed. While pressure mounts at the magazine and Alice struggles to make her way in New York, she quickly learns that in Helen Gurley Brown's world, a woman can demand to have it all.
Women's Fiction Historical | Historical [Berkley, On Sale: April 30, 2019, Trade Size / e-Book, ISBN: 9781101991145 / eISBN: 9781101991152]

It's delicious, it's delightful!! You will love it !!!!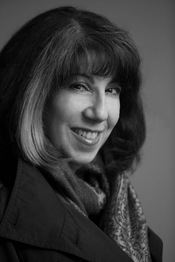 As clichéd as it sounds, Renée is a former advertising copywriter who always had a novel in her desk drawer. When she saw the chance to make the leap from writing ad copy to fiction, she jumped at it. A confirmed history and book nerd, Renée loves all things old, all things Chicago and all things written.
A graduate of American University in D.C., Renée has contributed to many magazines and newspapers, including Chicago Magazine, The Chicago Tribune, Complete Woman, DAME, Publisher's Weekly and several other now sadly defunct publications. She is the author of Every Crooked Pot and Dollface, A Novel of the Roaring Twenties and What The Lady Wants: A Novel of Marshall Field and the Gilded Age. She lives in Chicago.
***
Fresh Fiction Editorial Manager Danielle Dresser is an avid reader, lackluster-yet-mighty crafter, and accomplished TV binge-watcher. Once upon a time, she was a publisher publicist and continues to cultivate her love of books and reading by chatting with the best authors in the business. She lives in Chicagoland with her very own romance hero husband, darling daughter, and two tempestuous cats. Follow her on Twitter and Instagram, @dj_dresser.