Danielle Jackson: Welcome to Fresh Fiction, Rhys! We are so happy to have you here to chat about your long-running series, Royal Spyness. What are some of your favorite things about writing about Lady Georgiana and all of the mysteries she gets involved in?  
Rhys Bowen:  I have become so fond of these characters, it's rather like going back to a high school reunion and reconnecting with old friends. And who wouldn't want the chance to spend time with the royal family and eccentric aristocrats?
The newest book, GOD REST YE, ROYAL GENTLEMEN, is a holiday mystery novel! Did you do anything fun to get in the mood while writing a Christmas novel? Were there any unforeseen challenges writing a mystery with some added holiday cheer? 
I was actually writing this last October to December so it was a good time of year as the stores already had all their Christmas items. Also, I usually spend my winters in Arizona where it isn't cold and Christmassy. Because of Covid, I stayed home in California so there were cold winds and occasional rain. It would have been harder to write it in July. The big challenge about writing a holiday mystery is to walk the line very carefully. I want to create that lovely warm holiday vibe so the mystery can't be too dark. On the other hand, it is fun to play with setting—to make the reader believe she is in a safe place and then suddenly something bad happens and she is shaken out of composure,
Georgie is navigating her first Christmas as a married woman to her beloved Darcy, and though her plans are upended by a royal request, Georgie still wants to make the holiday season special. What are some of your Christmas traditions, and did any of them inspire what happens in this book?  
I think one of the reasons for writing a Christmas novel is to recreate my own childhood Christmases. One of the major differences from today is that it was not, in any way, commercial.  Very low-key, in fact, but to a child it was magical. We bought the Christmas tree on Christmas Eve and then decorated it together as well as putting paper chains and greenery around the house. When I was old enough I joined the adults at Midnight Mass. We didn't go out to gather a Yule log but other people did. Children came around singing Christmas carols and were given pennies. On the day there were stockings with presents, a big turkey lunch with Christmas crackers (the kind you pull with hats and toys inside), and then the Christmas pudding, brought in flaming with tiny silver treasures inside it.  So all these things happen to Georgie in the book. Also, we loved to play sardines ( a kind of hide and seek) and that is when they find Mrs. Simpson is missing!
I love that historical figures show up in your books! Who was one of your favorites to research for this book?  
I have written 15 books in this series now so I know my characters' backgrounds very well. I have already read all the books on Edward and Mrs. Simpson and done my research on the other royals. I do enjoy writing about Mrs. Simpson because she really was as obnoxious as I portray her, and I make sure to point out her admiration for Hitler.
I enjoyed checking up on the details of Christmas at Sandringham House—the walk to the church on the estate, the fact that George V kept all the clocks half an hour fast, that there were Christmas trees EVERYWHERE at Sandringham—in every room and along the hallways. Some had real candles—a tradition passed along from Prince Albert. And there was usually a shoot on Boxing Day.   
Before we get to Christmas, Halloween is just around the corner! If you were invited to a costume party, what would you dress up as and why? 
I have been to a Halloween party as Lady Georgie before and still have the flapper wig! I've been a big game hunter, a mermaid, a fallen angel when John was the devil with fake horns that looked horribly real. I try to be clever but I also don't actually want to sew a costume. My favorite costume recently was worn by my friend Hank Phillippi Ryan. She and Jonathan went as the Arcs—Noah and Joan of.  Maybe John and I could be the Coronas—the beer and the virus?
What can readers expect from you next? 
In the spring there will be a new Molly Murphy book, now co-written by me and my daughter Clare. It is called WILD IRISH ROSE. And later in the year, a new big stand-alone called WHERE THE SKY BEGINS.  And I am just about to start writing the next Georgie. I don't have a title yet but it will take Georgie and Darcy to Paris where Belinda is working in the fashion industry and there will be a murder at a fashion show. Such fun! 
Rapid Fire Random Questions
Dragons or unicorns:  Dragons
Five people you'd invite to your book club (dead, alive, fictional, etc.!):  Maya Angelou, Peter Ustinov, Morse, Dorothy Sayers, and Louise Penny (because she's a great friend and would feel left out if I didn't include her)
Some of your auto-buy authors:  Deborah Crombie, Jacqueline Winspear, Louise Penny, Charles Todd, Kate Morton
Favorite flower: Daffodils
Earliest celebrity crush:  Glynis Johns when I was about eight and saw The Court Jester. I wanted to be just like her!
Random interesting fact you like to tell people:   I'm good at boogie boarding?
Hobbies you have (aside from reading and writing): Sing, paint watercolor, play the Celtic Harp, travel.
Dream vacation: Right now, anywhere in Europe but probably the Amalfi Coast. 
Sweet or salty snacks:  Salty
You have a totally free afternoon – no deadlines, no obligations, no Twitter notifications!  What do you do?: Go to the beach!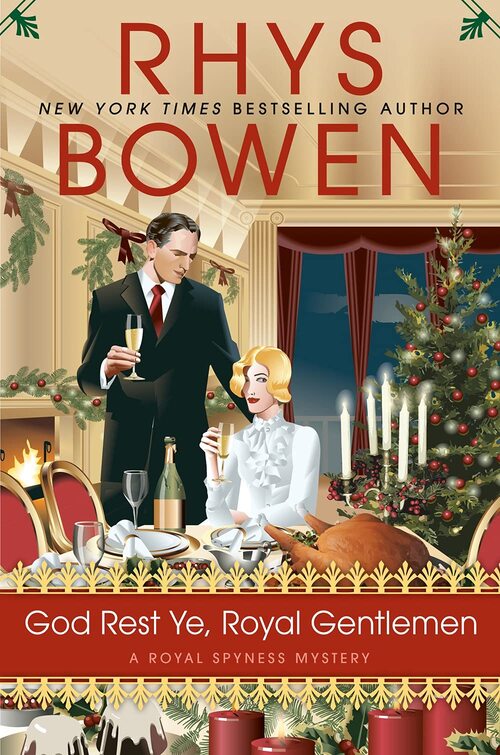 Georgie is back and hanging the stockings with care when a murder interrupts her Christmas cheer in this all-new installment in the New York Times bestselling Royal Spyness series from Rhys Bowen.
Georgie is excited for her first Christmas as a married woman in her lovely new home. She suggests to her dashing husband, Darcy, that they have a little house party, but when Darcy receives a letter from his aunt Ermintrude, there is an abrupt change in plans. She has moved to a house on the edge of the Sandringham estate, near the royal family, and wants to invite Darcy and his new bride for Christmas. Aunt Ermintrude hints that the queen would like Georgie nearby. Georgie had not known that Aunt Ermintrude was a former lady-in-waiting and close confidante of her royal highness. The letter is therefore almost a royal request, so Georgie, Darcy, and their Christmas guests: Mummy, Grandad, Fig, and Binky all head to Sandringham.
Georgie soon learns that the notorious Mrs. Simpson, mistress to the Prince of Wales, will also be in attendance. It is now crystal clear to Georgie that the Queen expects her to do a bit of spying. There is tension in the air from the get-go, and when Georgie pays a visit to the queen, she learns that there is more to her request than just some simple eavesdropping. There have been a couple of strange accidents at the estate recently. Two gentlemen of the royal household have died in mysterious circumstances and another has been shot by mistake during a hunt. Georgie begins to suspect that a member of the royal family is the real target but her investigation will put her new husband and love of her life, Darcy, in the crosshairs of a killer.
Mystery Historical [Berkley, On Sale: October 5, 2021, Hardcover / e-Book, ISBN: 9780440000082 / eISBN: 9780440000136]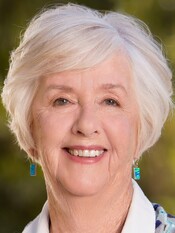 Rhys Bowen is the New York Times, Wall Street Journal and USA Today bestselling author of two historical mystery series as well as three internationally bestselling stand-alone novels. Her books have won multiple awards and been translated into over twenty languages. A transplanted Brit, Rhys now divides her time between California and Arizona, where she escapes from those harsh California winters.
***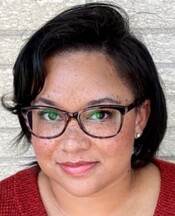 Danielle Jackson is a contemporary romance author (her debut novel with Berkley will be out in 2022!), avid reader, lackluster-yet-mighty crafter, and accomplished TV binge-watcher.
Once upon a time, she was a publisher publicist and continues to cultivate her love of books and reading by chatting with the best authors in the business as the Editorial Manager of Fresh Fiction and co-host of the Fresh Fiction podcast. Danielle is one of the Boozy Book Broads, a monthly author chat show streamed live on YouTube. She also moderates panels, interviews authors, and hosts a book club at Love's Sweet Arrow, the romance-focused independent bookstore.
Danielle lives in Chicagoland with her very own romance hero husband, darling daughter, and two tempestuous cats. Follow her on Twitter and Instagram, @DJacksonBooks.