In addition to my love for romantic suspense, I have a fondness for non-fiction. Really, truth can be stranger than fiction. I think research is fun, but more importantly, I wanted my story to feel as real as possible. SURRENDER AT THE BORDER takes place mostly in Cuidad Juarez, Mexico, and my research led to some fascinating and scary things that really exist.
Here are six things about SURRENDER AT THE BORDER that are real:
The Feds vs. the Librarians. Surrender opens with B.J., an ATF agent, investigating a case by getting information from library computers. This is in opposition of everything Callie, the head librarian, believes in. This conflict comes directly from my own days as a librarian. Even before the Patriot Act, law enforcement officials targeted the reading habits of people who were, for one reason or another, suspicious. Librarians saw this as a violation of every citizen's constitutionally protected right to privacy and developed policies and procedures to handle just this kind of situation. So if you see a television program where a cop goes up to a librarian and asks what so-and-so has been reading, a real librarian would refuse or at least make a fuss.
"Murder Capital of the World." As the story line for Surrender evolved, the privacy issue took a back seat to much bigger issues. Horrendous violence between drug cartels erupted in Mexico and left the world stunned. In 2010, Juarez was declared "Murder Capital of the World," and the majority of Americans, and even Texans, were surprised by the danger lurking so closely to its border. Life for the ordinary citizen in Juarez became paralyzed in light of this violence and I was reminded of Sarajevo and Baghdad where people daily faced gunshots and bloodshed to simply find something to eat. The violence has settled down enough that the Pope traveled to Juarez as part of his visit to Mexico, but travel warnings are still in place from the U. S. State department.
Not all drug cartel criminals are from Mexico. In Surrender, the villain is actually a U. S. citizen who cashes in on cartel money that is mere hours from the border with Texas. Karl is a gun smuggler who takes advantage of his location and the ability to buy guns in the U. S. The phenomenon of American cartel criminals is nothing new. One of Mexico's most notorious drug lords was Edgar Valdez Villareal, an American who was drawn into the drug business and became successful because he could easily move between countries. He is known as La Barbie because of his blond hair.
Outside of Juarez, there is a horse painted on the side of the mountain, which is a replica of a famous geoglyph in England known as the Uffington White Horse. Both chalk figures are something of a mystery. The one in England is thought to date back to the Iron Age (800 BC-AD 1000) and its purpose is unknown. The horse outside of Cuidad Juarez is its own mystery. Some say a drug lord "ordered" it. Juarez architect Hector Garcia Acosta takes credit for it, saying it was a problem-solving exercise he did with his son.
El Pastor, the shadowy man who has an asylum in the Juarez Mountains, is really Jose Antonio Galvan. His mission serves the mentally ill homeless he finds in Juarez. The story B.J. and Callie hear about the people being dumped onto the streets of Juarez is all too real. El Pastor's mission is called Vision in Accion, and he takes care of the people no one else will.
A Super AR-15 assault weapon is involved in Callie and B.J.'s kidnapping. The gun in Surrender is based on the Tracking Point Precision-Fire gun. The weapon is able to turn a single gunshot into a laser-guided missile. The part I found disturbing is the weapon's ability to use a smart phone to video tape the shot so that you can share with family and friends. Karl uses this technology to terrorize Callie.
Now you know the story behind the story.
Risa Leigh writes her love stories set against a backdrop of adventure and suspense. She grew up in wide-open spaces of west Texas then moved all the way across the state to the Dallas-Ft. Worth metroplex. She has been a librarian in community, school and college libraries and worked as a bookseller. Naturally she likes to read.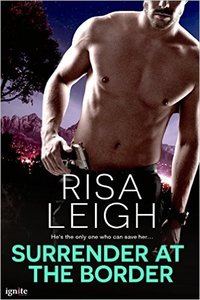 He's the only one who can save her…
ATF agent B.J. Carleton's first priority is stopping the flow of guns into Mexico until sassy Callie Snowden finds herself in the sights of a ruthless gunrunner, a man B.J. suspects killed her husband. After the tragedy Callie retreated home to her small Texas town, thinking she'd found safety. Now secrets from the past plunge her into a nightmare.
When she and B.J. are kidnapped by ruthless cartel henchmen and taken into the Chihuahuan desert, B.J. must protect Callie from the killers and harsh terrain. As they run for their lives, the past continues to play itself out and catches them in its deadly spiral. And if B.J. gives in to his overwhelming attraction for her, he may lose everything…for both of them.