The adage that life is a juggling act is a cliché for a reason. It's true. It's so stupendously true that it's a joke. I mean, seriously, is there anyone out there who is actually on top of said ball, at least without the stupid thing periodically rolling out from under them and putting them on their butts? (Exercise balls, I'm looking at you.) The truth is, we juggle. And my juggling goes something like this.
Monday: I have all week to do all the things. I make a schedule…on a spreadsheet. Writing, homeschooling, meal prep, housework…it's all neatly partitioned by day and allotted with help from the weather forecast. Beautiful day? The kids will spend it outside, so that is when I'll write all the words. I'll get ahead, I will! Cold rainy day? Homemade soup it is! I got this.
Tuesday: I spent Monday making that pretty spreadsheet. I'm behind, a little, but all is not lost. Only the kids can smell "flustered" like they can smell burgers grilling, so suddenly I'm the most popular person in the world. Even my teenagers won't stop talking to me. This feels like one of those awesome parenting wins, so I go with it. Words can wait.
Wednesday: I forgot to add laundry to that list, which I realize when I don't have any clean. I'm behind on words, and I haven't hit 5,000 steps once this week. The shrill sound of panic fills my ears.
Thursday: I SHALL WRITE ALL THE WORDS TODAY. An illusion that's shattered when I realize I've slept past nine. I spend the entire day playing catch up. Catch up is apparently playing hide and seek, because that's one elusive little sucker.
Friday: The week is shot. I've accomplished nothing. I've failed so hard at juggling that my balls have hit the floor and disappeared. They're probably under the sofa with my missing marbles. But that's okay, because it's the weekend, and Monday is right around the corner. I SHALL ROCK MONDAY.
Monday, I shall begin again.
If I ever find my balls.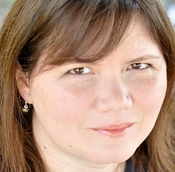 Sarah and her husband of what he calls "many long, long years" live on the mid-Atlantic coast with their six young children, all of whom are perfectly adorable when they're asleep. She never dreamed of becoming an author, but as a homeschooling mom, she often jokes she writes fiction because if she wants anyone to listen to her, she has to make them up. As it turns out, her characters aren't much better than the kids, but nevertheless, you'll find her writing sexy contemporary romance for Entangled Publishing until they throw her out.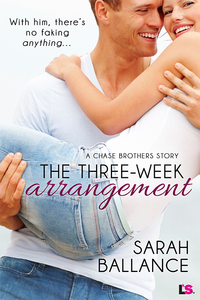 With him, there's no faking anything…
Ethan Chase isn't interested in dating. After losing the woman he loved more than life itself, he'd much rather ride solo, but his family is dead set on fixing him up. To get them off his back, he hooks up with ultra-adventurous, ultra-temporary adventure photographer, Rue Campbell. All he has to do is survive three weeks in her orbit and he'll be single again, only without the pitying looks and pressure to move on.
Rue is literally counting the days until her plane leaves New York City. The last thing she wants is a relationship, but being Ethan's pretend girlfriend can't hurt, right? Wrong. With Ethan, there's no faking anything—in or out of the bedroom. With the sheets burning hot and the clock ticking on their arrangement, Rue realizes she's falling for a man guaranteed to derail her goals…and break her heart.