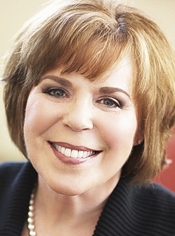 My readers wasted no time telling me they loved Thunder Point – the sales were insane! All three original Thunder Point novels, THE WANDERER, THE NEWCOMER and THE HERO were #1! I got the message loud and clear – they want more.
Well, it's going to be another exciting year in Thunder Point, beginning with THE CHANCE on February 25.
Do opposites attract? Sometimes they do. Or maybe I should say, on some issues couples are as different as night and day. Looking at my own marriage, there are times my husband and I come up with the same idea at the same time – it can be spooky. Yet on some important points we couldn't be more different. For example, if the temperature is over 75 degrees, I melt. I like to sit up late and read and I think I enjoy my bed most after six a.m. So who did I marry? A guy who is bundled up in summer, goes to bed at eight p.m. and is up before the roosters! I like the house well lit and he walks around behind me turning off lights and turning up the temperature. But for some mysterious reason it still works and I was married when God was a boy.
We first met Eric Gentry in THE NEWCOMER when he discovered he had a sixteen year old daughter in Thunder Point. He found a way to be closer, a chance to get to know her better, when he bought the only service station in town. After a screwed up youth, a dark past he's worked hard to overcome, he feels like the luckiest man in town to have this second chance.
Eric's opportunity for second chances are multiplying. There's a woman new to town and she immediately gets his attention. Laine Carrington has chosen Thunder Point as a nice, quiet place to rehab her shoulder after surgery. Eric can't help but notice her – she's so beautiful, so sassy, so funny. So sexy. The chemistry between them is irrefutable and neither of them can deny it. Small problem – they have nothing in common. Less than nothing! She's an FBI agent whose shoulder injury came from being shot on the job. And he's an an ex-con. If these two are going to fall in love, they have to take a big chance.
When a man and a woman decide they can make it together in spite of serious differences, there are sparks. Make that fireworks.
And while we're on the subject of second chances, there's another book coming your way soon that examines a group of FOUR FRIENDS who all need to re-tool their lives and reach for a new beginning. Gerri, Andy, Sonja and BJ are friends and neighbors and it's almost epidemic when their personal lives begin to fall apart, all at the same time. These are smart, devoted, loyal women who have depended on their families and each other to get through the tough stuff, but this spring and summer is a tsunami of issues that leave them grasping for purchase. And desperate for answers.
FOUR FRIENDS is women's fiction, a girlfriend book in the tradition of THE HOUSE ON OLIVE STREET and A SUMMER IN SONOMA. Those of you who know me know that I love my series and also really dig into women's fiction.
I'm looking forward to these new stories and I hope you'll join me. While I was writing I made it my mission to talk to every one of you. Welcome back to my world.
To comment on Robyn Carr's blog please click here.