There's something for everyone in YA; it only seems like paranormal dominates the shelves in September. Okay, maybe it does a little, but fortunately you have your intrepid Fresh Takes Column to help you find what you're looking for.
Paranormal

I don't know what is its about autumn (Halloween? The shortening of the days? Some sort of Jungian fear of the approaching dark of winter?) but there is a plethora of paranormals coming out these next few months. I don't even know where to start with all these great books.
Yes, I do. FIRELIGHT, by Sophie Jordan. Here's what she had to say about her YA debut.
RCM: What's the book about?
Sophie Jordan: With her rare ability to breathe fire, Jacinda is special even among the drakiÑthe descendants of dragons who can shift between human and dragon forms. But when Jacinda's rebelliousness leads her family to flee into the human world, she struggles to adapt, even as her draki spirit fades. The one thing that revives it is Will, whose family hunts her kind. Jacinda can't resist getting closer to him, even though she knows she's risking not only her life but the draki's most closely guarded secret.
RCM: What's the coolest thing to write about a character who is a dragon? Flying? Breathing fire? Kicking ass?
Sophie Jordan: Well, my protagonist can both fly and breathe fire. The breathing fire ability was probably the most fun to create. I really had to think how her lungs and throat would work … how her core insides would feel.  Very cool stuff.
RCM: Jacinda has some pretty serious romantic complications, loving a boy who hunts her kind. What can we expect in their romance?
Sophie Jordan: Well, Will saves/spares Jacinda at the start of the book when he sees her in draki form. He has no reason to do this. He hunts her kind. But he spares her. This sets the tone for her attraction to him. He's simply a good guy, resisting the traditions if his family. Hmmm, exactly what Jacinda is doing — resisting the pressure her pride is placing on her as the last fire-breathing draki. So, in a sense, they are very alike. Isolated among their own kind … they're alike in their aloneness and that's what draws them to each another. And like any forbidden love story, you can expect to find lots of sexy tension in FIRELIGHT. It's starcrossed love at its best.
FIRELIGHT is the first book in a series (two more are in the works) and you can see a trailer for the book on Sophie's website. (September 7, from HarperCollins) )
Other YA Paranormals I'm excited about:
PARANORMALCY, by Kiersten White (August 31): Evie is a normal teenager with a serious job: she's the only one in the world who can see through paranormal glamour that lets supernatural creatures hide among humans. Rave reviews for this debut: Fresh, fast paced, flirty and fun.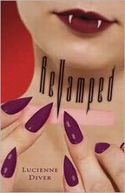 REVAMPED, by Lucienne Diver (August 31):  The sequel to VAMPED, which reminded me of the "Undead and" series by MaryJanice Davidson, in the best possible way. Teen vampire fashionista Gina goes undercover to discover nefarious doings in a NYC high school. Worse, she's undercover as a Goth.

GHOST HUNTRESS: THE COUNSELING, by Marley Gibson (September 6): The fourth book in Gibson's series about a teen ghost hunter with a knack for finding restless spirits. How much do I love that (real life ghost investigator) Gibson has a cover blurb from the TAPS team from Ghost Hunters? Authentic feeling, but also full of humor and adventure. (You might start with the beginning of the series.)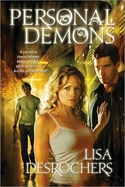 PERSONAL DEMONS, by Lisa Desrochers (September 14): There's something special about Frannie that has heaven and hell each wanting to pull her over to their side. Cue love triangle as the ultimate bad boy and nice guy battle for her heart and her soul. (Seriously. How can I resist this book?)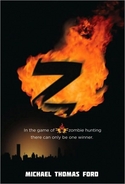 Z, by Michael Thomas Ford (September 7): Zombies, virtual reality, flamethrowers. Do you need more reason than that to check out this book? There's also a boy protagonist, so I am 99.9% sure this will be a hit with boy readers. And also flamethrowers, people.
Contemporary
Not interested in zombies, vampires and flamethrowers? Here's some books for you.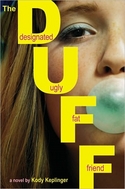 THE DUFF, by Kody Keplinger is getting lots of buzz because (1) DUFF stands for Designated Ugly Fat Friend, (2) the film rights have been optioned by McG (Director of Charlie's Angels and Terminator Salvation) and (3) the author is 20 years old. I mean, that's nine whole years younger than me.
Protagonist Bianca (the title character) is cynical, smart and funny. She already hates 'man-slut' Wesley, even before he calls her the DUFF to her face. Her sarcasm keeps everyone at arms length, so when she needs comfort while dealing with her harsh home life, she hooks up with Wesley. (And yes, hooking up means sex. )
Their physical intimacy leads to emotional intimacy, and before long, Bianca has to acknowledge that Wesley isn't what he seemsÉ and there's more to her than just the DUFF, too. This is a book that deals with self-image and stereotypes, though the story is largely centered on the romance. The amount of sex and cursing, and Bianca's irreverent voice, may be a love/hate thing with readers (and parents), but I'm hearing many more great reviews of this than otherwise.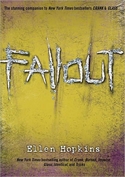 FALLOUT, by Ellen Hopkins (September 14) is the conclusion of the trilogy Hopkins began with Crank and Glass. Written in free verse, these books are stark and harsh and haunting. I especially want to mention these because Hopkins has been in the news (YA writer news, anyway). She was 'uninvited' to a Teen Lit Festival in Texas, because her books are full of objectionable content.
Which they are. They're gritty, gripping stories about how addiction is horrible and messes up lives. They are also about the triumph of the human spirit. The last book in particular, is about three teens with a legacy of addiction, who find the hope and courage to break the cycle.
Pick one up and read it for Banned Books Week at the end of the month. (More information about Banned Books Week)
Want something a little lighter until then?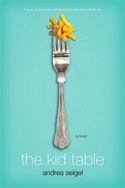 THE KID TABLE, by Andrea Seigel (September 14) won me over from the title alone. I still sit at the kid table at Thanksgiving. I had to go look up what it was about, and the reviews echo the cover copy: Touching and hilariously funny.  Laugh out loud observations interspersed with uncomfortably accurate insights about growing up, family dysfunction, and Life and Love in General.
But who couldn't love a coming of age story told from the perspective of the kid table? What better metaphor for the rite of passage is there? (Oh, and Ivan Reitman is apparently rumored to be producing an adaptation of this book. Sounds about right.)
Happy reading, and if you know any movie producers who haven't already got a book they've picked up for adaptation, sent them my way.
Rosemary Clement-Moore
Rosemary Clement-Moore writes Young Adult books because she loves to read them.
Visit her webpage or blog to find out more about her award winning Maggie Quinn: Girl vs. Evil series, and her gothic romance, THE SPLENDOR FALLS.