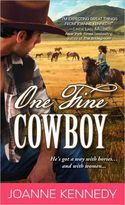 What is it about cowboys? Readers these days love them—Linda Lael Miller's McKettrick boys, Catherine Anderson's Coulter brothers, and Carolyn Brown's Honky Tonk cowboys, among others. I love them too—obviously. My September release, One Fine Cowboy, is my second contemporary cowboy romance, and there are more to come.
So what's the appeal of these rough-and-ready Westerners? Part of it's the outfit. Worn jeans, slant-heeled boots, rugged, rakish hats—they all set off a man to perfection. Then there's the body type. Whether it's the tall, slim cowpoke slouching casually against a fence or the rugged, muscular type wrestling steers, the work a cowboy does makes for a perfect combination of muscle and sinew.
Then there's the fact that they work with animals. Whether they're ranch hands, rodeo riders, or weekend wranglers, these men work with horses—and anyone who's ever sat in a saddle knows you can't just force horses to do what you want. Working with them requires a certain kind of sensitivity, a give-and-take that bodes well for the bedroom.
But another part of their appeal is the old-fashioned simplicity of Western life, which translates into an old-fashioned morality that makes a cowboy the perfect romantic hero. Here in Wyoming, the Cowboy Code is literally the law of the land; it was enacted into law this past March by Governor Freudenthal.
Living by the cowboy code means you live each day with courage, take pride in your work, always finish what you start, and do what has to be done. It tells us to be tough, but fair, keep our promises, talk less, say more, and remember that some things are not for sale.
That's not just the cowboy code; it's the romantic hero code — the definition of a good man. The only problem is that "talk less, say more" business.
There's an exception to every rule, but a lot of cowboys don't talk much, and this can make romance a challenge. A cowboy might scorch your shirt off by flashing a meaningful look out from under that Stetson, but the sweet nothings don't exactly pour from his lips.
For Charlie Banks, the heroine of One Fine Cowboy, that takes a lot of getting used to. Charlie's a graduate student in psychology who comes to a Wyoming horse-training clinic to study interspecies communication. She realizes early on that horse trainer Nate Shawcross is a good man, but he's sure as heck not going to say so. Along the way, she figures it out from the way he treats his horse and the way he loves his family—and later on, she decides his non-verbal communications skills make up for the lack of conversation. He's more than willing to show her how he feels.
Charlie takes on Nate the way she meets every challenge, with fists clenched and feet planted, ready for a fight. Nate, on the other hand, meets the world with a clenched jaw and an unshakable determination to keep his emotions under control. The prickly Jersey girl and the laconic Wyoming cowboy might as well be two different species, but when an accident forces them to depend on each other they find they have more in common than they ever imagined.
The official release date for One Fine Cowboy is September 7th, but it's already in stores, so you can see for yourself how Charlie and Nate manage to find a way to communicate that works for both of them. And if you want to communicate with me, I love to hear from readers at my website.
So is a cowboy your kind of man? Would you rather have a man tell you how he feels—or show you?
To comment for a chance to win on Joanne's blog please click here.
ONE FINE COWBOY BY JOANNE KENNEDY
IN STORES — SEPTEMBER 2010
He's got a way with horses…and with women…
Nate Shawcross is perfectly content to spend his days training wild horses. So when a beautiful greenhorn unexpectedly shows up for a seminar from the famous "Horse Whisperer" of Wyoming, all Nate wants to do is send her packing…
The last thing she expects is a lesson in romance…
Graduate student Charlie Banks came to the ranch to learn about horse communication, but when she meets the ruggedly handsome cowboy, she starts to fantasize about another connection entirely…
Nate needs to stay focused if he's going to save his ranch from foreclosure, but he can't help being distracted by the brainy and breathtakingly sexy Charlie. Could it be that after all this time Nate has finally found the one woman who can tame his wild heart?
About the Author
Joanne Kennedy has worked in bookstores all her life in positions from bookseller to buyer. A member of Romance Writers of America and Rocky Mountain Fiction Writers, she won first place in the Colorado Gold Writing Contest and second in the Heart of the Rockies contest. Joanne lives in Cheyenne, Wyoming. For more information, please visit my website.