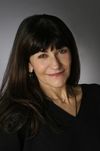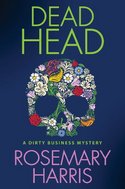 That's the tagline for Dead Head, my latest suburban noir novel (Minotaur April 2010). I started asking that question two years ago when a middle class mother of two in southern California was taken away in handcuffs after authorities learned she was a fugitive from the law.
Ripped from the headlines is hardly a new concept – writers as varied as William Shakespeare and Dominick Dunne have looked to news reports for inspiration, so that puts me in good company! Almost every day there's a news item that has the fledgling writer as well as the more experienced one thinking "that would make a good story."
Most writers I know have idea files – mine is six inches thick and filled with clippings and printed articles ranging from the story of a Chicago woman who poisoned the trees in a public park because they were obstructing her view to last year's much more serious violent chimp attack, which took place five minutes from my home in Connecticut. (Yes, I had met the chimp once.)
But this woman's story really resonated for me. I've lived in cities and suburbs and it's so easy not to know the person next door. We wave at them over fences and hedges, see them working in their gardens, at the market or the gym and having a catch with their kids but what kinds of secrets might they be hiding? And what do we know about them except what they choose to tell us, which may or may not be the truth. Who does a background check on her neighbors?
I was also intrigued by the practical aspect of walking away from one life and starting another. How do you not slip up? How do you create a fictional past and not worry every single day that you will be discovered – either by someone from your past or someone who realizes you couldn't possibly have done something you claimed to have done. How many times must this woman have heard someone call out her real name – in the supermarket or a playground – and frozen on the spot wondering if they were calling her?
One of the interesting things I learned researching the book was that it wasn't enough to simply run away. You had to put out misinformation for anyone who might be following you. Of course all of this was easier to do in the eighties when my character reinvents herself. Nowadays we leave trails with every credit card purchase, EZ Pass transaction, GPS and cell phone signal, and our images are everywhere. Still, there are over 100,000 missing persons in the United States at any given time and some of them have disappeared themselves. So, inspired by the woman in southern California that's what I had one of my characters do.
Paula Holliday is sucking down coffee and donuts at her favorite diner and wondering how she'll keep her gardening business afloat during the off-season when her small town is rocked by the news that one of its favorite citizens is not who they thought she was. When Paula is hired by the woman's distraught family to find out what happened and why, she learns a lot more about her neighbors than she bargained for.
"Fast, funny dialogue, clever description and a good mystery make Harris' latest a very strong, entertaining cozy. With excitement and a surprise ending, this one's a winner."
4 stars! Romantic Times Magazine
Rosemary Harris was born in Brooklyn, New York, and now splits her time between Manhattan's East Side and Fairfield County, Connecticut. After careers in book retailing, direct marketing, and television she turned to writing. Dead Head is the third title in the Dirty Business mystery series (Minotaur Books) following the Anthony and Agatha-nominated Pushing Up Daisies and 2009's The Big Dirt Nap (now available in paperback.)
Like Paula Holliday, the heroine of her series, Rosemary is a master gardener. With her husband and through the generosity of many friends, she has helped to build a library in central Tanzania. She is a member of Mystery Writers of America and Sisters in Crime. Come visit my website.
Leave a comment and you'll be entered to win a Fugitive Survival kit – everything you need to go on the lam – a wig, dark glasses, a toothbrush, soap lifted from your last motel, postcards (to pretend you're someplace else), a good book to read – that would be a signed copy of Dead Head and a lightweight sportsak to carry everything, in case you have to flee.
To comment on How Well Do We Really Know Our Neighbors? and for a chance to win please click here.