Sometimes (usually) when I sit down to begin a new mystery, I literally freeze. "Breathe," I remind myself. So I do, slowly. In and out. That blank computer screen is sometimes as terrifying to me as rewatching The Shining.
And that's where I am these days—staring at the screen, trying to remember how I started MURDER AT LAMBSWOOL FARM (the newest seaside knitters mystery) as I begin the next one.
What came to my mind first as I began writing MURDER AT LAMBSWOOL FARM? The murderer? The motive? The victim? The answer came to me with a start. It wasn't any of those things. In the case of the Lambswool Farm book, it was an article I read about an organic farm that hosted dinners in a beautiful field, the well-set table groaning with the farm's fresh produce. It had little to do with a murder, but was rather a place where I'd be happy to spend the months I would devote to writing the book.
So I began creating the farm itself, its fields and lambs and a barn turned into my dream kitchen. Without a murderer. A victim. A motive. It's the way I write: scene by scene, conversation by conversation, not a single outline in sight.
In writers' lingo it's often called writing as a pantser, writing by the seat of your pants. Sometimes I envy those writers who carefully plot and outline a whole book. But I can't work that way. The mystery of the mystery stays alive for me because I don't always know what's going to happen next. I wait for my characters—for Izzy, Nell, Cass, and Birdie—to take me by the hand and help me out.
And that's what they did in MURDER AT LAMBSWOOL FARM. Pieces slowly began to fall in place, some around the farm itself: Ben breaks his arm in the barn; a stranger's car breaks down outside the farm gate; Birdie begins inviting friends to the first Lambswool Farm dinner.
And a friend gets killed, slowly, uncomfortably.
The motive came to me early on, about the same time as I realized who was going to die. It revolves around an issue both the knitters and I were interested in. The perp emerged as a surprise, but in retrospect, not so much. It fit, although for a while I thought the knitters were taking it all in a different direction.
And so it goes. Piece by piece, some pieces floating down slowly and others falling with a thud. Until finally peace returns to the idyllic farm and Sea Harbor life resumes its gentle pace.
I hope you enjoy it!
Thank you!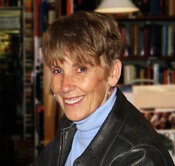 Sally Goldenbaum is the author of more than thirty novels, most currently the Seaside Knitters Mystery Series, set in a seaside town north of Boston. MURDER AT LAMBSWOOL FARM, the eleventh in the series, was released this month and A FINELY KNIT MURDER is being released in paperback. Sally divides her time between land-locked Kansas and Cape Ann, MA, the geographic inspiration for her series.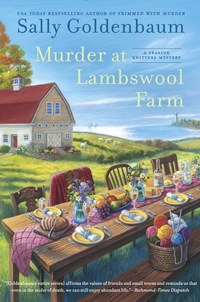 Late summer blooms in beautiful Sea Harbor, Massachusetts, and while a harvest thrives, Izzy Chambers Perry and the other Seaside Knitters will need to cast on their sleuthing skills to save a local farm. Unfortunately, finding a killer can be like looking for a needle in a haystack. . . .
Seaside Knitter Birdie Favazza has long loved knitting, but lately she's taken on a new challenge—making a family farm operational again. With help from friends, Lambswool Farm is now up and running, with thriving crops and grazing sheep. In addition, the farm will host rustic, six-course prix fixe dinners plated by local chefs and served on a gorgeous restored harvest table, decorated to perfection with colorful knitted vegetables crafted by Izzy Chambers Perry, her aunt Nell, and the other Seaside Knitters.
But on the night of the first meal, everything spins out of control when one of the guests, Seaside Harbor's family physician, becomes fatally ill. It seems that behind Dr. Alan Hamilton's friendly bedside manner was a man with enemies and secrets.
Soon the town is gossiping and pointing fingers at all possible suspects—including the women at Lambswool Farm. Now the Seaside Knitters must join together to uncover the truth in Dr. Hamilton's complicated past—and restore peace to town and country alike.