In JORDAN'S RETURN, she's taking her kids on a month-long vacation to help her get her focus on what she where she wants their lives to go from here. So in honor of that, I'm looking at the top five vacation ideas for when you need a retreat.
The beach. It may be a cliché, but there is just something soothing and healing about sitting on the sand and listening to the waves crash on the shore. In Jordan's Return, she chooses Virginia Beach. When you're needing to go someplace to relax and think, it's important to choose a place that doesn't have a lot of distractions. Coastal rather than tropical would be the key here. And if you can get a bungalow on the beach or only a block or two in? Even better!
The mountains. There is also something to be said for looking out at the mountains and the greenery that surrounds it. I live in North Carolina and I don't make that four hour drive west often enough! But when I do? There is nothing better. I love just sitting outside and breathing the fresh air and being out of the city. It's so quiet and peaceful and renting a house or cabin that isn't right on top of another house or cabin is a perfect retreat.
A lake house. And it doesn't have to be of the time-traveling variety! We did this only once and I was pleasantly surprised. I think it's just having the ability to step outside and see the water that makes it so tranquil and relaxing and has you just wanting to almost be one with nature. It doesn't need to be a cabin or a mansion, just someplace where you have that view.
A spa. And you know what? It doesn't even MATTER where it is – beach, mountains? Who cares? As long as you are away from all of your worries and getting pampered, all will be right with the world.
The open road. Yup. Sometimes the most peaceful place for you to get your head in the right place is on a long drive. I've always loved to drive and if I could simply avoid ever driving on I-95 up and down the east coast I'd love it even more! But a beautiful scenic drive could be the ultimate way to really get away from it all. There are so many routes to choose from that you can pretty much pick what kind of scenery you want and go for it. From the historical routes through New England to driving the California Coast and the Blue Ridge Highway here in North Carolina, there really is something for everyone.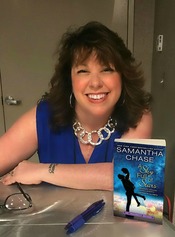 New York Times and USA Today Bestseller/contemporary romance writer Samantha Chase released her debut novel, Jordan's Return, in November 2011. Although she waited until she was in her 40's to publish for the first time, writing has been a lifelong passion. Her motivation to take that step was her students: teaching creative writing to elementary age students all the way up through high school and encouraging those students to follow their writing dreams gave Samantha the confidence to take that step as well.
When she's not working on a new story, she spends her time reading contemporary romances, playing way too many games of Scrabble or Solitaire on Facebook and spending time with her husband of 25 years and their two sons in North Carolina.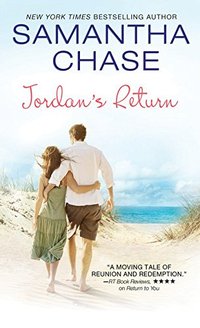 First Time in Print
For the first time in print, New York Times and USA Today bestseller Samantha Chase's debut novel is a heartwarming story of second chances
WILL ONE SUMMER TOGETHER
All Jordan Manning wants is a quiet summer on the Virginia coast with her sons to recover from a near-fatal accident and an abusive relationship. Her plans to find a new direction for her future are turned upside down when she runs into the first man who ever broke her heart…and he's determined to win it back.
BE ENOUGH TO HEAL OLD WOUNDS?
Rob Tyler thought he'd moved on, but when fate drops a second chance with his first love right in his path, his feelings rush back stronger than ever. Rob is determined to give Jordan the future they should have had years ago, but making up for past mistakes isn't easy…