For those who know me know how much I love summer. Which begs the question, why do you live in Nova Scotia where winters are eight months long? I often ask myself the same thing but the answer is the same. Family. I want to be close, so I'm willing to put up with the cold winters. But having said that, I live summers to the fullest and spend as much time as possible outdoors. I give myself a little bit of a lighter work schedule in the summer and try to get outdoors on the deck early afternoon so I can read in the sun. We live right on the beautiful Atlantic Ocean so when I'm not on the deck, I can be found reading at the beach (I'm seeing a theme here, lol)
A few years back we also built a fire pit and spend many fun nights drinking wine around the fire and roasting marshmallow with friends. In our garden this year we planted tomatoes, squash pumpkin, and blueberries. For fruit trees we have peaches, apples, pears and cherries, but forget about the cherries, the deer hover close and eat them when they are perfectly ripe! They like our blueberries, too but I do manage to get a handful every now and then.
A few years back, I salvaged this lovely wrought iron post my grandfather made over 45 years ago. I love it so much. He was born in Germany and at seventeen traveled to Charlottetown PEI, Canada for work and was the first man to introducing welding to the island. My husband cleaned this piece up and restored it for me and every summer we hang it at the fire pit and hang the family sign on it that the kids made me for my birthday a few years back.
Anyway, looks like the sun is beginning to peek out from the clouds so that's my cue to grab my Kindle and go get some sunny D!
Happy Summer everyone. I hope you all have your e-readers loaded with some awesome books and are out enjoying the sunshine!
When I'm not out in the sunshine, you can find me here!
If you're interested in joining FOXY FICTION Street team, we'd LOVE to have you. We have a lot of fun over there, and lots of special prizes and contests for my lovely FOXY ladies!
A former government financial officer, Cathryn Fox graduated from university with a Bachelor of Business Administration, majoring in accounting and economics. Shorty into her career, Cathryn quickly figured out the corporate life wasn't for her. Needing an outlet for her creative energy, she turned in her briefcase and calculator and began writing romance full-time. Cathryn enjoys writing dark paranormals and humorous contemporaries. She lives in eastern Canada with her husband, two kids, and chocolate Labrador retriever. When Cathryn isn't writing, you can find her reading, relaxing with her family, or watching a big-action flick.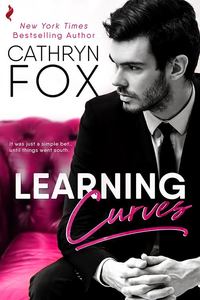 When he wins a sexy bet, billionaire Linc Blair can't wait to get Lauren Neill naked. He's never gone for her type in the past, and he's pretty certain it has more to do with her buttoned-up hotness than the nagging sense that something is missing from his life. But when he gets a glimpse of the vulnerable woman beneath the conservative, yet oh-so-sexy clothes, it's a game changer.
Lauren can't believe she's spending a few days with one of sexiest, and most annoying men she's ever met. But she can't deny the chemistry between them, and for once in her life she's letting down her guard so she can explore a different side of herself. The side only Linc brings out in her.
Taking it slow, he unleashes her sexuality and it quickly occurs to him that what started out as a bet for him has become something more. With their weekend nearly over, and her ex showing interest in this new confident version of Lauren, Linc will have to risk it all if he wants to win the game of love.