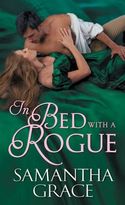 Hi, everyone! I'm Samantha Grace, historical romance author of the series Rival Rogues. It's great to be back at Fresh Fiction on release day for IN BED WITH A ROGUE. Book two focuses on the romantic connection between Lady Helena Prestwick and Sebastian, Baron Thorne, and it was a relief to finally give Sebastian the happy-ending he deserved, especially since he was jilted in the first book. Poor guy. But introducing him to his true love would never have been enough to satisfy me. There was a broken friendship to fix, too.
Give me the BROMANCE!
I'm sure most of us are familiar with the term, but a bromance is a close non-romantic friendship between two or more men. In the past, maybe it was called a sidekick? Some of my favorite bromances include:
Butch Cassidy & the Sundance Kid
Sherlock Holmes & John Watson
Tom Sawyer & Huckleberry Finn
The Three Musketeers
Joey & Chandler (Friends)
Spock & Captain Kirk (New Star Trek)
Napoleon Dynamite & Pedro
Forest Gump & Bubba
Shrek & Donkey
The list could go on, but I'll stop here. I've always loved the dynamics of the male buddy relationship. Maybe it's because I grew up with two brothers who were close in age and like best friends. My husband and his brother also are close in age, and I've enjoyed watching their interactions over the years. I have to say I really like my husband's best friend, too, but how could I ever dislike someone who recognizes how awesome my hubby is? It probably helps that his BFF supports our relationship and includes me.
In my previous books, the heroes had their brothers to provide that friendship, but Sebastian only has a younger sister, and Anthony Keaton, Earl of Ellis, has no living family. The two became friends at Eton, although it was a rocky start. To protect himself from bullies, Sebastian's 9-year-old self figured out that he needed to be better than Anthony at everything, so he began challenging him to contests and winning. (Anthony came to his rescue when bullies were beating him up, and suddenly the bullies saw Sebastian as even weaker and their bullying became worse.) By the time Sebastian established a reputation that protected him, challenging Anthony had become a game that continued into adulthood. Everything changed, however, when the men were competing for the same lady. It was sad to see their friendship suffer like it did, but it was a lot of fun bringing them back together in IN BED WITH A ROGUE.
Here's a sneak peek at the two friends beginning to come back together:
Benjamin Hillary's stare was sullen as Sebastian and Anthony crossed the tall grass, their boots glossy from morning dew. Hillary's brother Jake was holding a wooden box one would use for pistols and exchanged a smirk with Anthony.

Sebastian's gaze narrowed on his own second. "I should start on you once I've finished with Hillary. Fighting like ladies. How am I to show my face at Brooks's after today?"

The earl laughed. "Come now, ladies don't fight. Besides, you've made a bigger fool of both of us in the past. Don't you remember the time you bet me that you could knock the apple from my head?"

"That was your idea."

"Well, you got us in trouble for stealing the vicar's wife's bonnet and dressing their cow in it."

"It looked better on the cow." Sebastian laughed too. "We were lads. You cannot hold the mistakes of my youth against me."

"And the time you challenged me to a drinking contest? That was only a year ago."

Sebastian waved his hand. "Oh, do stop prattling on. I have a duel to win."
And what a duel it is! I understand the reason Sebastian and Benjamin Hillary would expect ribbing from their fellow gents. But that's what happens when younger sisters are allowed to choose the weapons.
Do you enjoy a good bromance? Who are some of your favorite buddy pairs?
I'd like to thank Fresh Fiction for hosting me on my release day. I always have a great time chatting with readers when I come. In addition to celebrating my release at Fresh Fiction, there is a virtual party going on with more teasers, multiple authors, and even more giveaways. Any and all are welcome to stop by Samantha Grace's Soiree 9 am (EDT) – 10 pm (EDT).
To connect with Samantha…
Samantha Grace Author | Facebook | Twitter | Goodreads | Pinterest
About Samantha
Historical romance author Samantha Grace discovered the appeal of a great love story when she was just a young girl, thanks to Disney's Robin Hood. She didn't care that Robin Hood and Maid Marian were cartoon animals. It was her first happily-ever-after experience and she didn't want the warm fuzzies to end. Now Samantha enjoys creating her own happy-endings for characters that spring from her imagination. Publisher's Weekly describes her stories as "fresh and romantic" with subtle humor and charm. Samantha describes romance writing as the best job ever.
Part-time hospice social worker, moonlighting author, and pilates nut, she enjoys a happy and hectic life with her real life hero and two kids in the Midwest.