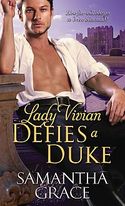 Hi, everyone! I'm Samantha Grace, author of the regency historical romance LADY VIVIAN DEFIES A DUKE, and it's great to be at Fresh Fiction today. I don't know about you, but I love behind the scenes looks at upcoming movies, TV shows, and books. It's fun to learn a bit of trivia while checking out the newest releases, even though I'm horrible at any type of trivia games. (Seriously, never pick me to be on your team for Trivial Pursuit!) Today I thought I'd reveal a few secrets about the last book in my Beau Monde Bachelor series, and give you insider information on what comes next.
1. LADY VIVIAN DEFIES A DUKE is a stand-alone story. If you've never read one of my books, you can still pick up this one and not feel lost. In fact, all my books can be read in any order, even though some people prefer to start with the first book. I like to read a complete love story all wrapped up with a bow. The first regency historical romances I ever read were part of Johanna Lindsey's Mallory series. I read them in whatever order I could find them and I never felt lost. I thought that was how it was done.
2. This was the first book I worked on with my new editor, Leah Hultenschmidt. She was my dream editor when she was with Dorchester, but I never thought I'd get a chance to work with her when I signed with Sourcebooks. Lo and behold, fate has a way of working things out. I think we make a good team.
3. LADY VIVIAN DEFIES A DUKE is a rewrite of the very first book I ever wrote.
4. My husband came in very handy in the writing of this book. He's a psychologist and one of his specialties is concussion management, so I was able to corner him in the kitchen and pepper him with questions related to Luke's injury. He has always been a good sport about talking through my plotlines and getting into the minds of men. And he attends all the Romance Writers of America conferences with me. What a keeper!
5. There are two versions of the cover for LADY VIVIAN DEFIES A DUKE floating around the Internet. Goodreads has the older version and it keeps popping up on review sites and blogs. The new version doesn't have pink flowers. But the hero is so hot, who's looking at flowers?
6. The end of the Beau Monde Bachelor series doesn't mean saying goodbye to favorite characters or the regency world I've created. Rival Rogues (new series to be released Jan 2014) is about two childhood rivals who find themselves competing for the same lady, but one of those rogues will be a familiar face. Anthony Keaton, Earl of Ellis, has made appearances in his friends' stories, and his love interest isn't a stranger either. Lady Gabrielle Forest is the Duke of Foxhaven's younger sister, and she plays a supporting role in MISS HILLARY SCHOOLS A SCOUNDREL.
And here's a little peek at Luke and Vivian's love story.
THE NAKED TRUTH
Lady Vivian Worth knows perfectly well how to behave like a lady. But observing proper manners when no one is around to impress is just silly. Why shouldn't she strip down to her chemise for a swim? When her betrothed arrives to finally meet her, Vivi will act every inch the lady—demure, polite, compliant. Everything her brother has promised the man. But until then, she's going to enjoy her freedom…
A REVEALING DISCOVERY
Luke Forest, the newly named Duke of Foxhaven, wants nothing to do with his inheritance—or the bride who comes with it. He wants adventure and excitement, like the enchanting water nymph he's just stumbled across. When he discovers the skinny-dipping minx is his intended, he reconsiders his plan to find Lady Vivian another husband. Because the idea of this vivacious woman in the arms of another man might be enough to drive him insane—or to the altar.
I'd love to offer a copy of LADY VIVIAN DEFIES A DUKE to one reader (US and Canada) today. Do you enjoy reading series where familiar characters make a reappearance, and if so, what are some of your favorite series?
About Samantha Grace
Samantha Grace is the author of several Regency romance novels. LADY VIVIAN DEFIES A DUKE is the final installment of her Beau Monde Bachelor series. Publisher's Weekly describes her stories as "fresh and romantic" with subtle humor and charm. She writes what she enjoys reading: romantic comedies about family, friendship, and flawed characters who learn how to love deeply.
Samantha is a part-time hospice social worker, moonlighting author, and full time wife and mom. She enjoys life in the Midwest with her husband, two witty kids, and a multitude of characters that spring from her imagination.
To Connect with Samantha, you can find her at:
Samantha Grace Author | Facebook | Twitter | Goodreads | Lady Scribes
The Beau Monde Bachelors
To comment on Samantha Grace's blog please click here.