As I contemplated this week's blog I was really struggling for a good topic, and decided to read instead of worrying over the blog…either an idea would come to me or it wouldn't!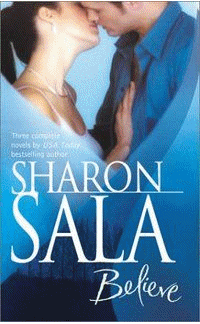 The book I chose to read is titled Believe by Sharon Sala, but what it is really an anthology collection of three of her earlier releases; Miracle Man, When You Call My Name, and Shades of a Desperado. Now this poses an interesting set of questions…when you read a book that has three complete stories in it, do you count that as one book or as three separate stories? Do you like when the book is stories by just one author, or do you prefer two or more authors to have a story in one volume? Do you want each book to be a full length story, or when you buy an anthology do you prefer short stories that you can read here, there, and everywhere?
Here my indecision comes shining through. I like to have more than one author in the book because it's a great way to experiment with new authors, but I will only buy the anthology if an author I either love already or having been wanting to try is featured.
I guess this week my question boils down to are you an anthology lover or hater? Longer previously released single titles or a variety of short stories? Do the stories need to have a common link or just be entertaining?
Until next week happy page turning!