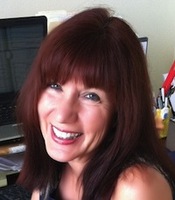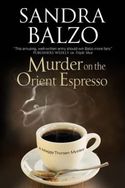 As my protagonist, Maggy Thorsen, recently put it: "If things had gone as I'd planned that weekend, the book would be called Fifty Shades of Sunburn, not MURDER ON THE ORIENT ESPRESSO."
But let me explain: This being the eighth installment of my Wisconsin-based Maggy Thorsen mysteries, I decided my coffeehouse owner should take a well-earned break from the cold and accompany her main squeeze, Sheriff Jake Pavlik, to South Florida for a mystery writers' conference, where Pavlik is to speak.
This wasn't as much of a stretch for me as it was for Maggy. I now live in Fort Lauderdale and am treasurer of the Florida Chapter of Mystery Writers of America, which puts on the premier mystery writers' conference in the world, Sleuthfest.
For the record, Sleuthfest does NOT pile various warring factions of writers, reviewers and fans onto a night train into the Everglades to re-enact Agatha Christie's MURDER ON THE ORIENT EXPRESS. And if we did, we'd make damn sure the weather was good, the tracks were solid and . . . well, I can't promise you an absence of critters. They are a bit of a nuisance down here.
Anyway, I'd been dying to give Maggy some alone-time with Sheriff Pavlik, he of the tousled dark hair and mood-ring blue eyes. Sending them away together was just the ticket–both for the relationship to develop, but also to give Pavlik a co-starring role.
But, alas, the romantic, sun-drenched weekend is not to be.  Upon arrival, conference organizer Zoe Scarlett rushes Maggy and Pavlik onto an excursion train into the Everglades, explaining to the jet-lagged couple that Pavlik is to play Christie's murder victim, Ratchett. Guests of Honor Rosemary Darlington and Laurence Potter will be Mary Debenham and Hercule Poirot, respectively.
The weather is threatening as the train chugs out of the station, but things inside are deteriorating even more quickly.  Reviewer Potter and author Darlington obviously detest each other, though whether because of a rumored affair or Potter's appraisal of Darlington's long-awaited comeback novel as "badly-written pornography," nobody seems to know. A knife disappears and Zoe Scarlett makes a play for Pavlik. Potter's wife turns up and, on her heels, a young man claiming a stolen manuscript.
And then things really take a turn for the worse.
Sandra Balzo is an award-winning author of crime fiction, including nine books in two different mystery series from Severn House–the Maggy Thorsen Coffeehouse Mysteries and Main Street Murders, set in the High Country of North Carolina.  Balzo's books have garnered starred reviews from Kirkus and Booklist, while being recommended to readers of Janet Evanovich, Charlaine Harris, Mary Daheim, Joan Hess and Margaret Maron. A Wisconsin native, Sandy now splits her time between South Florida and North Carolina.
To comment on Sandra Balzo's blog please click here.