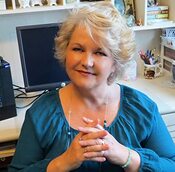 According to Wikipedia, the Romans made promises each January to the god Janus for whom the month was named. The Babylonians, likewise, promised their gods at the start of the year to return borrowed items and repay debts. The impulse is deeply human, and so is the tendency to let those good resolutions fall by the wayside as daily life intrudes.
Yup… no matter how you sugarcoat it, that means most of us will make promises to ourselves that we fail to keep. Depressing. That's no way to start a brand, sparkling new year!
So this year I'm going to make some resolutions right now that I know I will be able to keep. Join me in my attempt to stamp out self-loathing resulting from year end madness!
In 2014 I resolve:
1 – To watch what I eat. If I watch it closely enough, nobody can steal the best goodies!
2 – To not buy anything frivolous. After all, the tablet I bought was absolutely necessary for promotional purposes, as proved by the one time I actually used it to update my Facebook page. Perfume? Everyone deserves to smell nice, right? And no one knows the perfume I like better than myself. Jewelry? Well, okay… uh, it makes me happy, and that could be considered medicinal, right?
3 – To start a savings account. I probably won't put any money in it, but I can still open the account.
4 – To smile at strangers. Pause to rethink… maybe I'll change that one, given the skeezy look of some strangers.
5 – To get some form of exercise daily. I will run up bills, tread lightly on sensitive topics, bend over backwards to try to please my loved ones, and stretch a dollar till it squeaks, as usual.
Do you make New Year resolutions? Do you keep them?
Tell me all about it; comment here for a chance to win a gift package to help you keep your New Year reading resolutions! What can you win? How about a couple of mysteries and a tote bag to carry them in, as well as a couple of other goodies!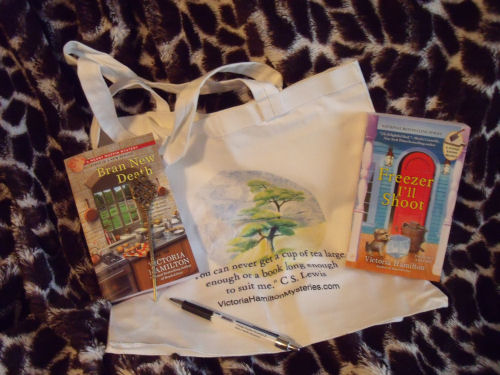 About FREEZER I'LL SHOOT:
Trying to escape her overbearing mother, vintage kitchenware enthusiast and soon-to-be columnist Jaymie Leighton retreats to her family's cottage on Heartbreak Island. While there she hopes to write an article about the Ice House restaurant, owned by good friends and neighbors, siblings Ruby and Garnet Redmond. Once and actual icehouse, the restaurant is charmingly decorated with antique tools of the trade, including a collection of ice picks.
One night, while working on her article, Jaymie overhears an argument, and, ever the sleuth, sets out to explore. But when she stumbles upon a dead body, her blood runs cold. It's Urban Dobrinskie, whose feud with the Redmonds is no secret, and he's got an ice pick through his heart. Now Jaymie's got to sharpen her sleuthing skills to chip away at the mystery and prove her neighbors' innocence – before someone else gets picked off…
Victoria Hamilton, nationally bestselling author of the Vintage Kitchen Mystery series, is the pseudonym of Donna Lea Simpson, bestselling author of romance and historical mystery novels.
Victoria starting reading mystery novels at the age of 12 and devoured Agatha Christie mysteries, as well as those of Dorothy L. Sayers and Ngaio Marsh. She still adores mysteries, especially the cozy mysteries of Janet Bolin, Krista Davis, and others.
She loves to cook, and collects teapots and teacups, as well as vintage kitchen utensils and bowls. She also enjoys crafts, especially cross-stitching and crocheting, and spends summer days in the garden, drinking tea or wine. Besides the Vintage Kitchen Mystery series Victoria also writes the Merry Muffin Mystery series and the Teapot Collector Mystery series (writing as Amanda Cooper) which debuts with TEMPEST IN A TEAPOT, out June 3rd, 2014.
Connect with Victoria: Victoria Hamilton Mysteries website |
Facebook – Victoria |
Facebook – Vintage Kitchen Mysteries |
Blog |
@MysteryVictoria
To comment on Victoria Hamilton's blog please click here.