I've always loved Gothic romances, a little creepy around the edges, the kind of book wherein you devoutly hope the hero is who you want him to be, not who you suspect he might be. I especially love those with a historical and British bent, with a heroine who is both vulnerable and strong. I've fond memories of sharing Victoria Holt books with my grandmother -and sneaking a flashlight into my room so I could read them long past when I said I'd be sleeping. When I was done reading Holt, I moved onto favorites such as Mary Stewart.
Those books seemed to be popular some time ago, but what about lately? Not so many were being published. I still wanted more: I wanted new, I wanted fresh but… with all of my favorite gothic elements. So I set out to write what I'd love to read. Would other modern woman want to read them?
Ann B. Tracy, the author of the romance chapter in the compilation, THE JOURNAL OF THE GOTHIC, tells us that, "The jocular description of modern Gothic Romances like Victoria Holt's The Mistress of Mellyn is 'Girl Gets House.' " In a day of HGTV, what could be apter?
She continues, "The heroines of Gothic Romance are not the vaporous, swooning creatures of caricature, undone by over-sensitivity; their troubles are real… they lift the black veil, go to the attic, confront the possible spectres— attempt, in short, to shed some factual light on their mysterious surroundings and find their ways out of the Gothic dilemmas." These are women who are the kind of people we want to be, the friends we'd turn to on a dark and stormy night when we wanted someone trustworthy at our back.
And what about those dark and stormy knights? Mmm hmm. Gothic romance heroes are called Byronic heroes, after Lord Byron, he dubbed "mad, bad, and dangerous to know." Perhaps Byron was romance's original bad boy? We women love to know whether or not we can tame a man who seems untamable, and gothic romances are rich with just that sort of challenge. Tracy says that our gothic heroines have the challenge of figuring out whether the "difficult or possibly villainous men around her will turn out to be the one she can trust and marry." Or if he, as Victoria Holt so engagingly named one of her best novels, would turn out to be "The Devil on Horseback."
One final requirement of a Gothic is it's creepy, mist-filled, dangerous setting. In the Gothic Journal, Jesse de Knight explores one of Gothic romance's best-loved authors, Daphne du Maurier. Knight explains, Du Maurier was in her late teens when she first visited Cornwall… she instantly fell in love with the place. Knight goes on to tell us that, "The Cornish coast did note than merely bring du Maurier pleasure; it served as a genuine catalyst for her imagination… The gothic tale—with its emphasis on atmosphere – was ready-made for her. Du Maurier's fiction is imbued, saturated, permeated with the ambiance, aura, and moodiness of Cornwall."
Of course it is. On a fragile night when the mist crawls in, and I cannot sleep, I might still dream of falling-down houses and wounded heroes, both in need of love and repair. Might you?
BRIDE OF A DISTANT ISLE, which has earned Romantic Times' Top Pick, is Sandra Byrd's latest novel and the second in her gothic romance series, Daughters of Hampshire. Please visit Sandra at her website and leave her a note about what YOU most enjoy about gothic romance books!
Giveaway
What do think appeals about the "Gothic?" You could win Sandra's Daughters of Hampshire series: MIST OF MIDNIGHT and BRIDE OF A DISTANT ISLE.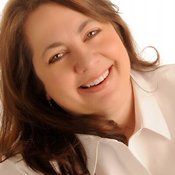 After earning her first rejection at the age of thirteen, bestselling author Sandra Byrd has now published more than forty books. Sandra's new series, Daughters of Hampshire, historically sound Gothic romances, launched in 2015 with Book One: Mist of Midnight. That book earned a coveted Editor's Choice from the Historical Novel Society. The second book in the series, Bride of a Distant Isle, releases in March 2016.
Check out her contemporary adult fiction debut, Let Them Eat Cake, which was a Christy Award finalist, as was her first historical novel, To Die For: A Novel of Anne Boleyn. To Die For was also named by Library Journal as a Best Books Pick for 2011 and The Secret Keeper: A Novel of Kateryn Parr, was named a Library Journal Best Books Pick for 2012.
She is passionate about helping new writers develop their talent and their work toward traditional or self-publication. As such, she has mentored and coached hundreds of new writers and continues to coach dozens to success each year via novelcoaching.com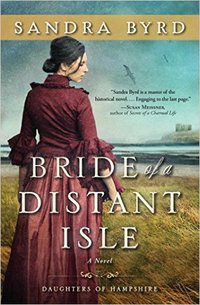 An unforgettable romance set in Victorian England, Bride of A Distant Isle is the engrossing story of Annabel Ashton, who fights to save her family home and her mother's honor while trying to figure out if the man she loves wants her—or just wants to use her to achieve his own ambitions.
Miss Annabel Ashton is a teacher at the Rogers School for Young Ladies in Winchester when she takes a brief visit to her family home, Highcliffe Hall at Milford-on-Sea. She believes her stay will be short but soon learns that she will not be returning to the safety of the school. Instead, she remains at Highcliffe, at the mercy of her cousin, Edward Everedge.
Annabel protests, but as the illegitimate daughter of a woman who died in an insane asylum, she has little say. Edward is running out of money and puts the house up for sale to avoid financial ruin. He insists that Annabel marry, promising her to a sinister, frightening man. But as the house gets packed for sale, it begins to reveal disquieting secrets. Jewelry, artifacts, and portraits mysteriously appear, suggesting that Annabel may be the true heir of Highcliffe.
She has only a few months to prove her legitimacy, perhaps with assistance from the handsome but troubled Maltese Captain Dell'Acqua. But does he have Annabel's best interests at heart?
And then, a final, most ominous barrier to both her inheritance and her existence appears: a situation neither she nor anyone else could have expected. Will Annabel regain her life and property—and trust her heart—before it's too late?