Fresh Pick for Thursday, March 24th, 2016 is DIVINE ENCOUNTER by JoAnna Grace
#SupernaturalThursday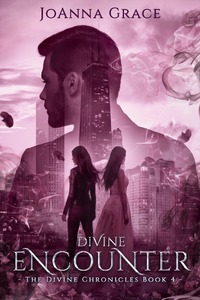 Long before Avery McClain came into the picture, the gods set into motion encounters that would impact the future of her family…
Keona and Piper Nadal are twins with a history that keeps them as far under the Olympian radar as possible. Their last name carries an automatic death sentence if the Thracian Master finds them. The last person they ever wanted to run into was a man with ties to the Castille Clan.
Evander Castille, a healer, finds the gift of a lifetime in Keona Nadal, and Piper is exactly what his dear cousin, Hayden, is looking for. He wants nothing more than to get the girls to the safety of the Haven but they are scared.
When Evander is warned to keep the twins away from the Haven, he has to wonder where the real danger lies. Rogue Olympians are working with Demons and no one is safe anymore.
Start your journey with Divine Awakening!
JoAnna Grace lives in a world of alpha males and strong females where true love conquers all- at least in her mind! Her tales of Olympian demigods, shafeshifters, and romance are spun at her home in Texas. When not hiding behind the computer you can find her camping, boating or shopping. She is active in community outreach and loves music.
The Fresh Pick is chosen by a group of readers and is never a purchased advertisement or promotion. We've picked this book because it appeals to us and we like to share our diverse tastes in reading and hope you'll give it a try.