Welcome to Fresh Fiction, Sandra! We are so excited to have you here today. What inspired your new book, WINNER TAKES ALL? 
First of all, thank you for reaching out to me and requesting the interview. I'm happy to answer any questions that will help readers understand me and my work!
WINNER TAKES ALL is actually the first book of a trilogy I proposed to my publisher, Sourcebooks Casablanca. The trilogy title is The Millionaires Club. There have been quite a number of books about million/billionaires who use their position and wealth as an aphrodisiac to lure women, or as a tool to seduce or buy their way into getting whatever they want. It's said that money is only worth what you can do with it. I wanted to go bigger than just the spending 'til you drop thinking. So I came up with an idea that The Millionaires Club, which is founded in WINNER TAKES ALL, is a club where people who've come into incredible unearned wealth decide, after indulging their fantasy purchases or whatever, that they could also do a lot of social good with some of their money. The "theme" of using wealth for goodwill follow through the second and third book of the trilogy. Each of the stories, and how the newfound wealth came about, are different.
In WINNER TAKES ALL, I began with an obvious way someone finds themselves rich. . . they win the lottery! And to make it even more interesting the hero, Patrick Bennett, is already fairly well off because he works in TV broadcasting. So, when he wins the lottery it also comes with a lot of guilt for him. I mean, really, how lucky can one person get?  But I also flipped the details of how he had a lottery ticket to begin with.
Beyond the whole issue of winning a ton of money, I added one of my trademark story elements of making the main characters and the relationship interracial.
For many people, winning the lottery is a dream scenario! What would you splurge on first if you won the lottery? 
Well, I wouldn't call it a splurge but I'd pay off my mortgage!  BOR-ing, but I'll be getting rid of a debt, and now my home is really all mine. And, honestly, many people who win really big with the lottery would probably think, first and foremost, what can I do for my family? A house for mom and dad? Whatever for their siblings, etc? A car, for sure, something really high-end that you want rather than just any vehicle you can afford that will get you from point A to point B.
Travel! Traveling has been a passion all my life!. . . I'd put Tuscany as one of my go-to vacations. Maybe an extended cruise around the world, at least once. I LOVE cruising. Right now it's my favorite way to travel.  I'm not big into jewelry. . . you can only wear one pair of earrings at a time. But I'd treat myself to a very nice (and expensive) everyday-all-wear necklace and bracelet(s). I might sign on to learn to play the piano, my favorite instrument. I don't think I could get comfortable with spending money just for the sake of spending. I know I'd get a lot more pleasure out of giving to others who don't have what I have, or that I can buy.  
Your main characters, Jean and Patrick, have a history. Do you enjoy writing characters who have interacted in the past? How does what happened in the past between them inform their present storyline?  
I actually had to go back and reread some of the storylines of past books to see if I'd set up a similar situation, where the main characters had known one another before the book's story actually opens. It was a great exercise because I found out I'd written 7 books or novellas where the main characters have an early history. And, like in WINNER TAKES ALL, not all of those earlier relationships were romantic.  As a matter of fact, most of them were not.
I think, for me, when I write about characters who knew each other before it allows for a whole other layer of their personalities to be revealed because it's a little like a back story. The development of where they are when the book opens has more weight and makes more sense. In one of my earlier books, there was a lot of teenage antagonism and resentment between the hero and heroine. In another, the couple had a clandestine affair with life-changing results. In yet another the hero had saved the heroine's life. . .  and then they don't see each other again for years until the book opens.
In WINNER TAKES ALL, Jean and Patrick's earlier connection comes up immediately in the first chapter. But even in the earlier relationship, I wanted to make it different, which also helped to establish each of their personalities, and what they thought of each other as high schoolers. This is aided by the fact that Patrick is white, and Jean is biracial. So their relationship had already visited those complications in their youth, and they had come to an understanding and opinion of each other early on. When the relationship picks up again, after Patrick's lottery win, they already had a significant amount of information about one another. And because of who they are as individuals it was not super difficult for them to move on to developing real "grown-up" feelings. Of course, they are complications. Huge ones, actually. And there is a second romantic subplot that involves Jean's parents!  And more than a few complications for Patrick.   
Jean works for the Mayor of New York and Patrick is an ESPN sports commentator after playing professional baseball. Both of their careers are important to them and big parts of their personalities. What kind of research did you do into their professions?  
I absolutely love doing research. I'm a former librarian and if there's one thing I'm really good at it's research, and digging out facts and details of people, places, and things that I don't know anything about. I know what I want to say in the story. I'm not looking to become an expert on other people's careers or lives. I just want to put enough information in to cover the plot of my stories so I have a voice of authenticity. I'm also learning a lot, and I always appreciate that. Years ago I used to know a lot about sports from watching Sunday afternoon and Monday night football, basketball, and I even got into hockey for a time. Loved the New York Rangers. I learned the lingo, the way TV commentaries addressed an audience or each other. And, at the same time, I'd been in quite a lot of broadcasting studios so I know exactly how they're set up, positioning of cameras and crew, lighting, etc. So, Patrick's work domain was relatively easy to depict. Jean worked, in essence, for city government. I have also visited City Hall in New York, my hometown, lots of times for events, and I've met a few of the city's past Mayors. I know people in event planning or local community agencies who had to work with the Mayor's office for things to get done in the communities. It all had a standard formatting in how things get done. I simply used that very basic knowledge and then embellished it as needed.  Just enough, again, so that I sound like I have some personal knowledge or experience. It was a lot of fun for me to write Patrick and his sports background and knowledge, especially when he was talking about it to Jean who had no real interest herself. Jean has a very clear-minded and detailed way of approaching problems, procedures, and bureaucracy that makes her sound like she's the one in charge!  She is, in a way, and very much on top of her game. . . as is Patrick. I really enjoyed matching them up together as adults. They both brought a LOT to the table! And each found a lot to admire in the other. They both had very responsible, high-profile careers, and to some degree are used to controversy. Both of their professions are very public, and they each got to see and experience how the other handles conflict and difficult public situations. Patrick and Jean are very evenly matched as a couple, but this also presents a certain amount of insecurity when faced with one another's past love lives.
Your first novel, the beloved THE COLOR OF LOVE, came out in 1995! What changes have you seen during your time as a published romance author? Where do you hope to see the romance genre go? 
Wow! Yes, there have been enormous changes. . . gains and losses, but so goes the way of business. I think change is good. . . and it's going to happen anyway, so I think I had to pay attention to those changes in order to stay in the game, so to speak.  And I've had to reinvent myself a few times, and it's all been good for me as a writer! Yes, THE COLOR OF LOVE was my very first written novel, but it took 15 years–until 1995–before I found a publisher willing to take on the topic. It is, arguably, the first interracial romance/women's fiction. I say it that way because I did not write THE COLOR OF LOVE as a romance, but as a bigger, complex, contemporary story around race and relationships as the country was moving toward the 21st Century. So I saw the story as "commercial" or "mainstream" fiction, not genre. When I wrote the book the story was considered "taboo" by publishers, and no one wanted to touch it, although the feedback from editors reading the story was always good. But my story was "different" and they claimed not to know what to do about promoting and marketing a doubly controversial story. But I knew intuitively that I had a winner on my hands, and so I just had to wait for time and circumstances to "change" before an opportunity opened up. It took a while for me to figure out that, not only with this story but with many of my eventually published books, I was writing on topics way ahead of the curve. For all the resistance I encountered to getting THE COLOR OF LOVE published, it remains in print and available after almost 26 years.
Since its publication, the subject of interracial relationships has become a subgenre of romance/women's fiction, and dozens, if not hundreds, of writers have written stories around the premise. And I'm somewhat surprised but pleased that, unofficially at least, I'm credited with being the forerunner for these stories. But, also, over the years I've found that there seems to be a shift in how writers and readers define "romance." The dynamics of relationships haven't changed very much, I don't think, but how couples get to a relationship and sustain one seems more complicated. I've noticed that the heroines in many of the current stories are tough! Not in a brutal don't-mess-with-me kind of way, although there is some of that, but very self-assured, self-possessed, strong, know their self-worth, etc. And I think they expect more from a potential mate.  What the "more" part is, is the challenge in the new 21st C. stories.  And the more the country and its demographics change, the more untold stories I know there are to be told.
I think there will always be a "romance" genre, and it will have different iterations over time. The stories will have to change to keep up with the societal and demographic changes of the country. . . the world and, maybe, reader's expectations. In the end, they want a story about love! Two people meeting, getting to know one another, becoming a couple, overcoming conflicts, tension, misunderstandings, and basically showing that, no matter what, they love one another and want to be together. It's really that simple. It's the details that are hard.
What can readers expect from you next? 
Well, I've just turned in the second book of The Millionaires Club trilogy. The working title is ONE IN A MILLION. So, I'm now working on the third and last story, FINDERS, KEEPERS, also a working title. I don't know if the theme of this trilogy will continue after the first three books are published. We'll see. In the meantime I do have an incomplete project I began a number of years ago, that was meant to be a spin-off of THE COLOR OF LOVE. I'm still not sure where that's headed, when, or if it will get written. I'm also still kicking around an idea based on my family history, which is an interesting African American history. So, I have a lot to occupy me for a while.
Rapid Fire Random Questions 
Summer or Winter?: Summer! I was born in June…and I'm told I'm a "classic Gemini," so I'm pretty much entrenched in that profile.
A favorite bookish memory: There are actually two; the first is when I was about 7 years old and I discovered that when I read a book I was, somehow, converting the story into a visual film in my head!  I like to say that I had a movie screen behind my eyelids, and I was the only one in the audience. The story became a movie. The second memory was the first time I read something that I loved so much that I had to read it again.  I was in middle school and it was a British romance called THE NIGHTINGALE.  It had a surprise ending that was so lovely and appropriate, and the story was written in such a way that I was unable to anticipate how it would end. But, I loved the ending.  I think I read the book three or four times over the years.
If you had to be an animal, what would you be and why?: A cat!  They are soft, not very large, very quiet, more self-sufficient. . . low maintenance, and affectionate.
A book you wish was taught in school:  Any non-fiction children/young adult book about children from different cultures who are struggling to survive against any number of economic, social, and emotional issues. One that comes to mind that I was always deeply moved by was THE DIARY OF ANN FRANK, which was the diary kept by a young teen who lived in hiding with her family for two years to avoid detection by Nazis. Ann and her family were eventually found and sent to a concentration camp. The reader is learning about those few years, and also a lot about the young girl's own humanity in her own voice. The story affected me greatly when I first read it.  I remember that I cried at the end.
Dusk or dawn?: Dawn. I'm an early morning person. I wake up and hit the ground running, energetic and ready to get started with my day. I also like the quiet of early morning before the world really is awake and it starts to get noisy.
A personal indulgence you'll never give up:  Potato chips. And chocolate. I never used to eat candy when I became an adult, but now I think I use it as a self-soothing way to deal with stress. Unfortunately, candy also has unhealthy amounts of sugar and calories. I am getting better at controlling how much I eat.  
Do you believe in ghosts?: I sometimes think of ghosts in a negative context, and I think that's based on the way ghosts have been depicted in books and films. But I have read lovely stories about "ghosts" that are lost souls, wandering and searching for peace. Rather than as ghosts I like to think of them as troubled or restless spirits. I think of them as harmless, maybe actually reaching out, to those who can detect them, for help. That's maybe a romantic way of looking at it, but I prefer that to the kind of ethereal presence that makes someone afraid of ghosts, or spirits.
Vanilla or chocolate?: Vanilla, since I was a little girl.  I think color sprinkles taste better on vanilla. I didn't like chocolate ice cream until I was an adult. But I also widened my taste repertoire to eventually include strawberry, butter pecan, and mint chocolate chip. Now, if I buy ice cream while marketing I go for mint chocolate chip above all.
A movie or TV show that you love but feel like no one else likes: Many years ago there was a season of NYPD BLUE in which the weekly episodes were performed as a musical. No dancing, but the dialogue was all songs. I thought it was a clever and brilliant concept, and I loved it. I was one of very few people who bought into the original premise, and I thought it was a loss when it was pulled after one season. I thought the writers and directors showed great imagination and bravery for trying something totally different.
You have a totally free afternoon – no deadlines, no obligations, no Twitter notifications!  What do you do?:  Probably sleep late, until 9AM. I would be tempted to turn my attention and time to some unfinished project or business at home. Or I might decide that I deserve a break today, and go to a museum for a few hours. Before the pandemic, I would also have taken myself to lunch. I'd probably watch a Netflix feature. Or turn on some quiet listening music and read. But I'd really try to spend the day not thinking about business or projects, or things that I should be doing. I'd try to spend the day just enjoying the time and freedom I have for the day.
The Millionaires Club Book 1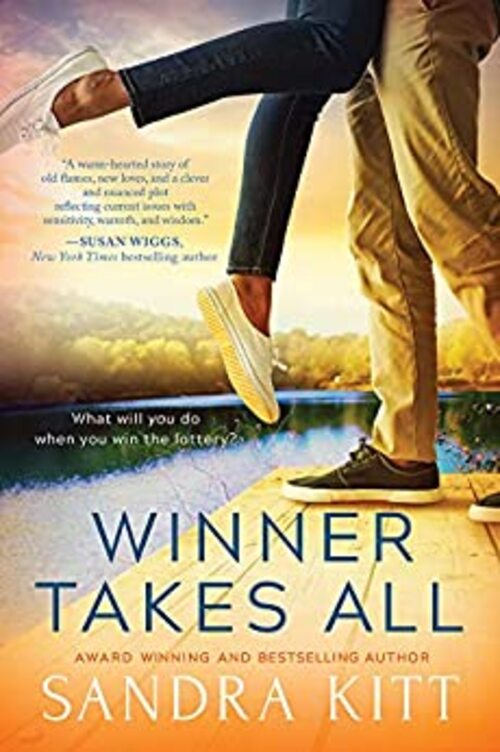 Consummate story-teller Sandra Kitt returns with a brand-new series of contemporary romances featuring inter-racial couples in which either the hero, heroine, or both suddenly and unexpectedly come into a large sum of money. A fascinating look at what winning the lottery can do to a relationship—because aren't we all sure we could handle that big win!
In Book 1, Jean Travis has the job of announcing the latest lottery winner on TV and is stunned to find that Patrick Bennett, her one-time crush, is the top mega winner.
Fiction Family Life | Multicultural | Romance [Sourcebooks Casablanca, On Sale: April 6, 2021, Trade Size / e-Book, ISBN: 9781728214887 / eISBN: 9781728214894]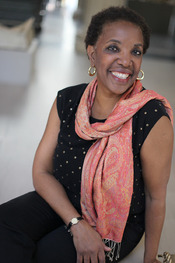 Sandra Kitt is the author of more than twenty novels, including The Color of Love, Significant Others, and Close Encounters, as well as numerous short stories. Her work has been nominated for the NAACP Image Award and has appeared on the Essence and Blackboard bestseller lists. She is the recipient of the Romantic Times Lifetime Achievement Award and the Zora Neale Hurston Literary Award. A native New Yorker, Kitt previously worked as a graphic designer, creating cards for UNICEF, illustrating books, and exhibiting her own work, which is included in the collection of the Museum of African American Art in Los Angeles. She formerly served as the managing director of the Richard S. Perkin Collection in Astronomy and Astrophysics at the American Museum of Natural History.
***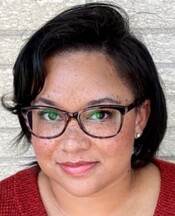 Danielle Jackson Dresser is a contemporary romance author (her debut novel with Berkley will be out in 2022!), avid reader, lackluster-yet-mighty crafter, and accomplished TV binge-watcher.
Once upon a time, she was a publisher publicist and continues to cultivate her love of books and reading by chatting with the best authors in the business as the Editorial Manager of Fresh Fiction and co-host of the Fresh Fiction podcast. Danielle is one of the Boozy Book Broads, a monthly author chat show streamed live on YouTube. She also moderates panels, interviews authors, and hosts a book club at Love's Sweet Arrow, the romance-focused independent bookstore.
Danielle lives in Chicagoland with her very own romance hero husband, darling daughter, and two tempestuous cats. Follow her on Twitter and Instagram, @dj_dresser.