Music can be the sound track to our emotions. A great song can not only change your mood but also change your day. When a song speaks to you and knows your heart, you bond with it. I thought it would be fun to pick my characters brains and pick the top 5 songs for Hök Magnusson and Lady Sovia, the hero and heroine of my new Viking romance, THE NORTHMAN'S BRIDE.
To give you a touch of context, my young Viking warrior Hök Magnusson gets his heart clawed out by his first love, Lady Sovia. Seven years later and his wound has yet to heal. Don't judge my book by the cover models. I promise Hök is not always that grumpy looking.
Hök's Playlist would be:
Bite Hard by Franz Ferinand. After Sovia tossed Hök's love aside, he's gutted and understandable ill tempered. This song is about breaking hearts and breaking minds.
Hopeless Wanderer by Mumford and Sons. Scorned and feeling he has dishonored his family, Hök volunteering joins the neighboring counties civil war to secure his families boarders.
Tick Tick Boom by The Hives. Years later, on his second encounter with Sovia, Hök is a ticking time bomb of a Molotov cocktail of rage, vengeance and unrequited love for a woman he is convinced will be nothing but destruction for him.
Viking Death March by Billy Talent. Protective and possessive is an understatement when it comes to Hök's feelings towards his bride, therefore it is never wise to threaten the life of a Northman's bride.
Love Song by The Cure. Under all his armor and lethal glaring, Hök is a big, mushy, poet. Spoiler alert! Eventually, Hök will help heal Sovia's past wounds with adoring devotion and loving care.
Lady Sovia has been used and abused by her father for her entire life, yet she has a strong, deep inner strength that she is unwilling to be surrendered. Unjustly labeled a whore at court, she refuses to apologize but continues to hold her head high. Her unbreakable spirit becomes her most adored quality by her husband.
Sovia's Playlist would be:
Love Will Tear Us Apart by Joy Division. After a lifetime of pain, Sovia does not believe in romantic love, believing it is a grave disease of the mind.
What Kind of Man by Florence and the Machine. Sovia can never forget her brief encounter with the young Northman. Hök has haunted her dreams.
Kiss with a Fist by Florence and the Machine. Once Hök takes her as his bride, she believes she is beyond redemption and is resigned to living in a contemptible marriage, never believing she is worthy of his love or kindness.
Superwoman by Alicia Keys. To protect her family, Sovia will stop at nothing; prepare to sacrifice her pride, her vanity and even her life for their security.
Total Eclipse of the Heart by Bonnie Tyler. Once Sovia admits to herself that she loves Hök and always has, it opens her up to surrender to her fears of losing him, knowing she wants him, and deserves him will be one of her greatest challenges.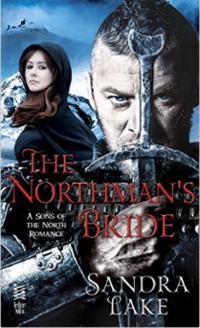 Passions flare in the icy north in the third Sons of the North Romance novel from the author of The Warlord's Wife and The Iron Princess…
Sovia, daughter of Baron Losna, is on a mission to seduce Stål Magnusson, firstborn son of Swedish warlord Jarl Magnus Knutson and heir to his seat. With a civil war on, the stakes are high. The Baron needs the money and political alliance that Sovia's marriage to Stål would secure. Fortunately, Sovia's skill with men, not to mention the rugged good looks of her target, makes the assignment all too easy. But the tables turn when Sovia realizes she has taken the wrong Magnusson— Stål's twin brother Hök—to bed. Wrong brother or not, Hök is enamored, and offers to marry Sovia. When that offer is rejected by her father, Hök's heart and pride are broken.
Seven years later, as Lady Sovia is about to be executed by Norway's usurper king, Hök, now a battle-hardened warrior, comes to her rescue—by finally taking her hand in marriage. Though his intent is to take revenge, as well as her hereditary land, he cannot help but be impressed by her unbreakable spirit. But Lady Sovia has secrets that will make it nearly impossible for them to live happily ever after…
Includes a preview of The Warlord's Wife